Poor Leo - Is This The Year DiCaprio Finally Takes Home An Oscar, Ending His Run Of Bad Luck?
It's no secret that Leonardo DiCaprio has been robbed many times of an Oscar. The fact he's never won has even become a a popular internet meme. Inception? Denied. The Wolf of Wall Street? Deeeenied. Departed? Deeeeniiiied! Titanic? He can't even.
But Leo's misfortune doesn't just extend to not winning an Oscar. He was recently on Ellen (above) where he detailed his bad luck away from Hollywood's Dolby Theater.
Bad luck that involved nearly dying in a plane with a burning engine and nearly dying on a parachute jump when both chutes failed to open. Very harrowing stuff, but neither quite match the trauma of dying inside time and time again when your name isn't on the card.
But now, finally, it seems his run of Oscar non-glory might have changed and his crowning shiny golden statue moment might arrive.
The Oscar nominations were announced today and Mr. Leo is there, in the Best Actor category for his role in The Revenant. I'm not even going to list the other nominees for fear of jinxing him.
The film itself, directed by Alejandro G. Iñárritu, encouragingly has the most nominations with 12 and Leo is being billed as the favorite to win. He's met with disappointment before though, so let's hope that this time we won't see his little face full of rejection when the split screen winner announcement is made.
He needs to win, not just for him but for all of us, because we are all Leo.
The Revenant's already found success at Sunday night's Golden Globes and Leo became the standout celeb of the night for numerous reasons. One was that he won Best Actor in a Motion Picture (Go Leo!) but mostly because he threw epic shade at Lady Gaga when she bumped him as she walked past.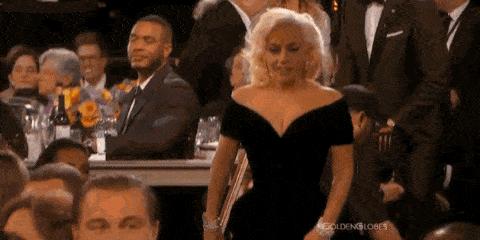 Hopefully that won't give him any bad karma. Please God, no. This feels like it is his moment. He slept in an animal carcass for Chrissakes! Hollywood's cruel joke can only go so far. The internet is behind him.
It wants him to win. It needs him to win.
He's already had to star in movies opposite Oscar winners, no doubt secretly seething at their shiny Golden statuettes. Kate Winslet, Matthew McConaughey, Ben Kingsley, Tom Hanks, Daniel Day-Lewis, Michael Caine, all of them starred with Leo in a movie, all of them Oscar winners.
So come on members of the Academy, end Leo's suffering. Give him that damn Oscar.