Woman's Powerful Message Tells People To Embrace Their Surgical Scars - #ScarredNotScared
In her 22 years Michelle Elman from London, England has undergone quite a bit of surgery. 15 procedures in total which have included operations to remove a brain tumor and a brain cyst. The result is Elman's body has quite a few scars and it has given her confidence issues.
To address this last year Elman posted an image of herself in a bikini to Instagram showing the scars on her body, a step to empower herself and show that having scars shouldn't be stigmatized. Many people found it inspiring, showing support, offering encouragement, and telling their own stories—but it also had some nasty comments because it's the internet after all.
But now, months later, Elman has taken part in a video called Scarred Not Scared, a film produced by activist site Red Flag. The film features Elman in a bikini talking about her body and how she came to embrace it rather than despise it.
She did it both for herself and to teach others that having scars is just part of life, not something to fear or be ashamed of.
"I was getting all these messages and the messages weren't about the scars as much as [they were] about the story," Elman told BuzzFeed News. "I really wanted to make the story behind scars and how scars impact [people's lives]. With the first post some people thought it was superficial, but it's not, because it has a sociological affect on someone. When you get these unfortunate situations where people stare at you weirdly, it affects your self-esteem, it affects your confidence. It has broader implications that people don't think about."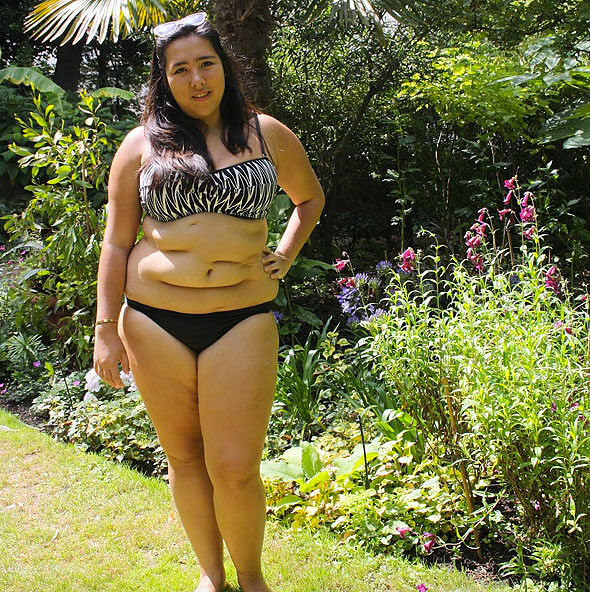 As well as Elman's story the video also features Elman interviewing other people about their scars and the struggles they've gone through. For Elman it's all part of her mission to educate people about surgery scars, inspire and help others, and broaden people's minds.
Elman has now founded her own body confidence company, Mindset for Life and does public speaking in schools about body confidence.
"People would give me funny looks because of my scars, but no one was having an actual conversation about it," Elman noted. "It was frustrating typing into Google 'how do I tell my boyfriend about my scars', and I realised that no one is having this conversation. I [also] started volunteering at Great Ormond Street, I was walking around the ward and all I could think about was the fact that every single one of these children would leave here with a scar. This isn't a conversation held anywhere. And that's why the video happened."
3 secrets to feeling hot and sexy (no weight loss included)!! get your free e-book at www.mindsetforlife.co.uk #body #confidence #bodyconfidence #coaching #coach #weightloss #weight #fitspo #fatspo #body #beautiful #beauty #sexy #hot #quote #quoteoftheday #inspiration #motivation #inspire #motivate #effyourbeautystandards #curves #beautiful #photooftheday
Have you heard about @instagram 's awesome My Story campaign? It's highlighting 28 women on Instagram who are beating the stereotypes. How incredible is that! •••••••••• Here is #mystory : I am Michelle and I am a Body Confidence and the person behind the Scarred Not Scared Campaign. My Instagram is all about self-care and loving your body exactly the way it is and I'm passionate about this because of the scars all over my body. I've had 15 surgeries, a brain tumour, a punctured intestine, an obstructed bowel, a cyst in my brain and a condition called hydrocephalus and my body bears the scars of each of those battles. In person, you might not see them but when you are wearing a bikini, you can see them. When you are changing in PE in front of your friends, you can see them and when you are taking your top off for the first time, you can see them. This is why I launched #scarrednotscared because we should all stand proud that we have overcome our scars, whether they are emotional or physical and that's what I am all about over on my Instagram - loving your body and appreciating the ability it gives you. I love that this campaign is about breaking the stereotypes because despite all of this, I have graduated with a degree in psychology by the age of 20, started a business by 21, and launched by campaign by the age of 22. That is because I am not the stereotypical idea of illness and medical trauma. We are just as capable. I am Michelle and this is #mystory