Batkid Begins: An Incredible Feel-Good Story Will Leave You Reaching For The Kleenex
If ever you wanted a story-line for a movie that was certain to well-up the eyes of even the most hardened, emotionless human being, then this is the one you'd go for. It has all the elements of a classic tear-jerker - a cute kid, a fight to overcome a devastating illness that will reveal his courage and strength, and a dream that comes true and touches the hearts of an entire city.
It's a plot that makes for perfect Hollywood blockbuster material, except you'd probably come out of the movie theater entertained by a fantasy story, but knowing that nothing like that ever happens in real life. Except it does.
Batkid is the superhero name of Miles Scott, an American child and cancer survivor who is in remission. His wish was to be "Batkid", a sidekick of the eponymous comic book superhero Batman.
And thanks to an incredible campaign kickstarted by the Make-A-Wish-Foundation and the people of San Francisco, became a reality.
'Batkid Begins' is a documentary that takes you back to November 15th, 2013, the day San Francisco turned into Gotham City, and the day the internet was nice. More than a billion people took to social media to cheer on BatKid, even President Obama! In all, the #SfBatKid and #BatKid hashtags reached more than 1.84 Billion people on Twitter and Instagram.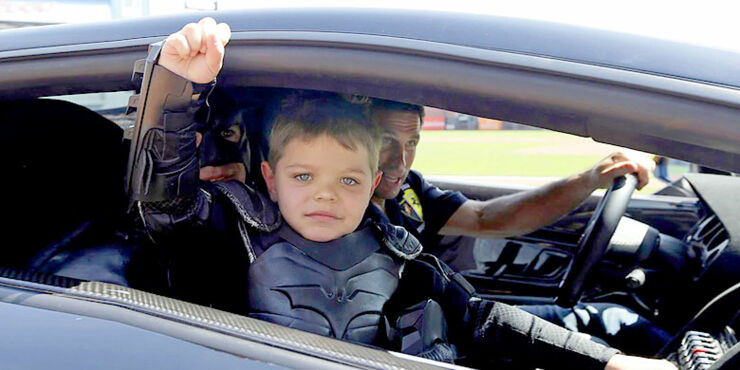 Miles, from Tulelake, northern California, was diagnosed with lymphoblastic leukemia (a form of leukemia, or cancer of the white blood cells characterized by excess lymphoblasts) at 18 months old. He was in chemotherapy treatment for several years but is now in remission, and the whole BatKid celebration was in honor of his completing treatments.
His mother shared that the decision was made to wait until the treatments were complete so that Miles would be strong enough for the day, and also it gave him something to look forward to while undergoing treatments. "This wish has meant closure for our family and an end to over three years of putting toxic drugs in our son's body," said Miles' Mom on the Make-A-Wish site.
During his treatments Miles was "fascinated with superheroes. They were crimefighters and saviors. And they always won in the end." When the San Francisco Make-A-Wish asked Miles what he wanted more than anything else, he replied, "I wish to be Batkid." And the rest is history.
Faith in humanity restored.