Joshua Hoffine's Horror Photography With His Daughters Are Both Terrifying And Brilliant
Photographer Joshua Hoffine is just like every other parent and loves to take plenty of photos of his children as they grow up, but not many people's family portraits are like those that Hoffine shoots. He uses his daughters to stage elaborate and scary scenes using props and costumes to create his unique horror photographs.
Hoffine lives and works in Kansas City and loves creating sets look like they're straight from horror movies and feature zombies, wolves, nightmarish ghouls and demons, creepy clowns, monster hands emerging from under a bed. Anything that would ordinarily scare the hell out of a kid. Heck it would scare the hell out of an adult.
But each scene is meticulously crafted and features his daughters who have grown up in the photos as Hoffine has been making them for over a decade. The end result is an amazing family horror photography album that Joshua has created using his wife Jen Hoffine and his 5 daughters and would make the Addams family jealous.
Joshua Hoffine Talks About His Horror Photography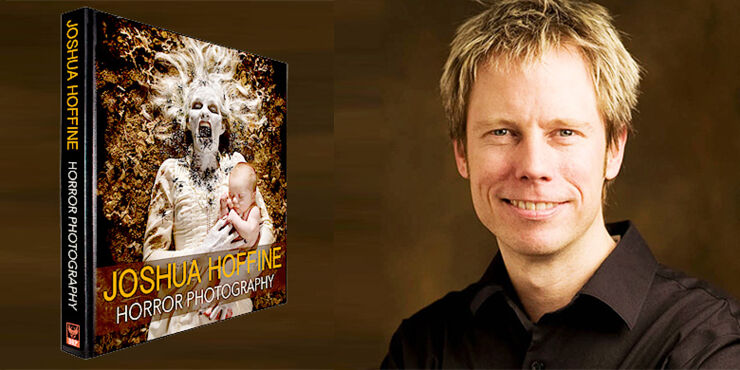 Joshua Hoffine with his new Horror Photography book / Img Source: Dark Regions press.
"I stage my photo shoots like small movies, with sets, costumes, elaborate props, and special effects makeup," Hoffine told Buzzfeed. "I stage everything live in front of the camera, and use friends and family as actors and crew, including my daughters. In many ways, this project was inspired by my children, when I noticed that they were afraid of the same things that I had been frightened of at their age. I became increasingly interested in the psychology of fear — where does it come from? How does it work?"
The photos explore themes and terrors that children are commonly frightened of, but Hoffine notes that staging the photos has never upset his children or made them afraid.
The results are brilliantly realized photos. You can check out some below, head to Hoffine's website for more. He's also released his first book titled 'Joshua Hoffine Horror Photography' which he's funded through Kickstarter.
Images From 'Joshua Hoffine Horror Photography'