Damon Lindelof's 'Watchmen' HBO TV Series Pilot Begins Pre-Production According To Instagram
Confirmation has come that Damon Lindelof is making a TV adaptation of Alan Moore and Dave Gibbon's beloved Watchmen. The 1986 graphic novel, which is heralded as reinventing the format and helping to usher in a new darker age of comic characters, is getting a pilot made by Lindelof for HBO.
The news was reported earlier in the summer that Damon Lindelof, co-creator of Lost and The Leftovers, was in line to develop the Watchmen TV series. The graphic novel has already had a movie version by Zack Snyder which received mixed reviews. Some fans said the film didn't quite capture the complexities of the intricate and layered graphic novel, even if the visuals did look the part.
It's hoped that a TV series might be more able to capture the sprawling story, which at some points goes meta with another comic narrative taking place within a comic that a character in the graphic novel is reading. So far only a Watchmen pilot episode has been commissioned by HBO, but it's still quite intriguing. Damon Lindelof posted a pic to his Instagram with the caption 'Day One' confirming that he was involved.
The image shows the show is in pre-production and featured the writers room along with the base of a trophy which was given to one of the superheroes called Nite Owl.
Check out the image Damon Lindelof posted to Instagram, below.
Damon Lindelof's On HBO's 'Watchmen' TV Series
The comic takes place in an alternate history where superheroes have changed the path of wars but have also brought about their own decline. After the murder of one of their own a group of superheroes begin to uncover a vast conspiracy that coincides with a doomsday countdown that runs throughout each chapter.
In interviews about the project, like in the one above with TV Line, Damon Lindelof has stated that, due to his respect and the influence the graphic novel has held over him, he really doesn't want to mess it up.
"I've been very vocal about my love for those 12 issues, that they were completely and totally inspiring for all the storytelling that I did subsequently, and that I owe a debt to it. I do feel like I have to weigh the balance of 'should it exist' before I decide to take it on, and I'm sort of in that process now. I hold the source material in such high regard, it would literally be the worst feeling in the world to screw it up, all I can say is I'm thinking about Watchmen a lot right now." Well, since then he's obviously made the decision to go ahead and adapt it.
So 'Who watches the Watchmen?' Looks like HBO's decided it's Damon Lindelof. Hopefully he won't screw it up.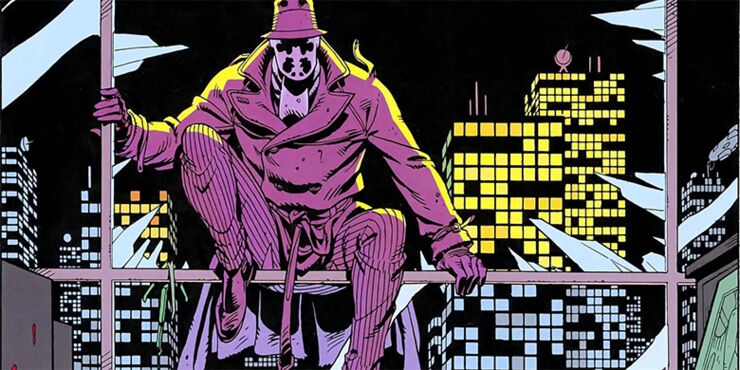 Rorschach. Image: Watchmen / DC Comics