Terror From Above: Drone Strike Reported At TGI Friday's Restaurant In New York City
No doubt someone in the TGI Friday's marketing department thought it would be a great idea to entice diners into their restaurants by flying drones around in an enclosed space with mistletoe attached to them, hovering them over people's heads so they can get cosy.
But the mistletoe drones struck back, specifically they struck a press photographer in the face, who was on assignment for the Brooklyn Daily at the Sheepshead Bay restaurant. And ended up with blood on her nose.
From the Brooklyn Daily:
The two remote-controlled helicopters dangling sprigs of mistletoe were intended to spread holiday romance, but one of them flew out of control and clipped Courier photographer Georgine Benvenuto in the nose with one of its spinning, uncovered blades.

"It literally chipped off a tip of my nose," said Benvenuto, using tissues to stanch the blood. "It took off part of my nose and cut me here, right under my chin."

Benvenuto said she's just thankful she wasn't blinded in the name of love.

"Thank god it didn't go anywhere under my eye — that is my livelihood."

Drone operator David Quiones said an accident like this had never happened before, and even blamed our reporter for the bloodshed.
Quiones blamed the photographer because he says she flinched when he tried to land the drone on her hand, which she'd agreed to, and that caused the propellers to smash into her face.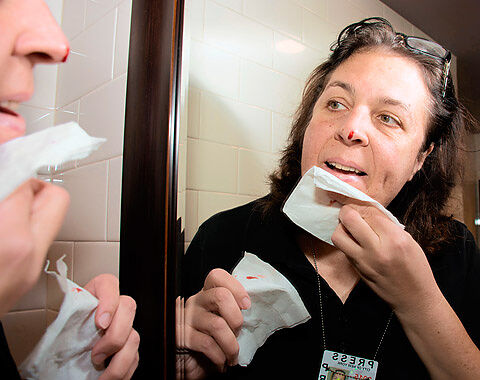 Brooklyn Daily photographer Georgine Benvenuto was hit, cutting her nose and chin.
Regardless, flying drones over people's heads isn't really recommended anyway—and it seems that TGI are happy to ignore the Academy of Model Aeronautics National Safety Code which states in the RC section: "All pilots shall avoid flying directly over unprotected people, vessels, vehicles or structures and shall avoid endangerment of life and property of others."
So be extra careful when dining out at TGI Friday's, lest you get one in the face from a wayward drone.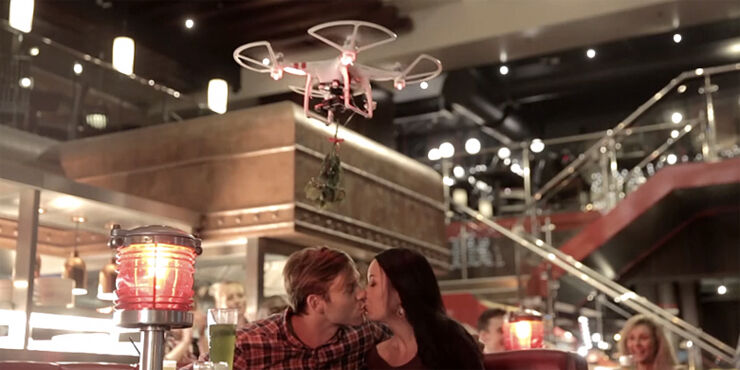 via Brooklyn Daily