46 Amazing Pieces Of Force Awakens Concept Art From Industrial Light & Magic's Art Department
Legendary VFX studio founded by George Lucas Industrial Light & Magic recently released 45 images of Force Awakens concept art related to Star Wars Episode VII.
While many of the scenes and landscapes will be familiar to anyone who's seen the movie, many of the images in this collection didn't make it into the final film. Showing how a different movie might've been made.
For instance there's an image of Han Solo in an unused outfit inspired by Jeff Bridges' character in True Grit.
There's also Force Awakens concept art for a scene featuring Darth Vader's castle. An idea originally conceived by Ralph McQuarrie, the conceptual designer responsible for the look of the original movies. In the image you can see TIE fighters flying out from it, but this never made it into the final film (it did however make it into Rogue One).
And the initial look of Rey's home planet was a little different. In the Force Awakens concept art it still features the downed Star Destroyer, but looked a bit more industrial than the dusty desert planet they finally went with.
As with all films, especially one on the scale of this, from the Force Awakens concept art to the final movie, a lot changed. What this gives us is a fascinating insight into how the Star Wars universe is crafted by ILM.
"Each artist began to explore his individual response, and collectively, we began to answer, with our words and art." Rick Carter, co-production designer of Star Wars: The Force Awakens, says about the concept art. "Out of our brainstorming sessions emerged visual imagery of where we might want to go and what it would look like when we got there. We were not merely illustrating scenes that already existed: we were initiating storytelling concepts through the visual images themselves."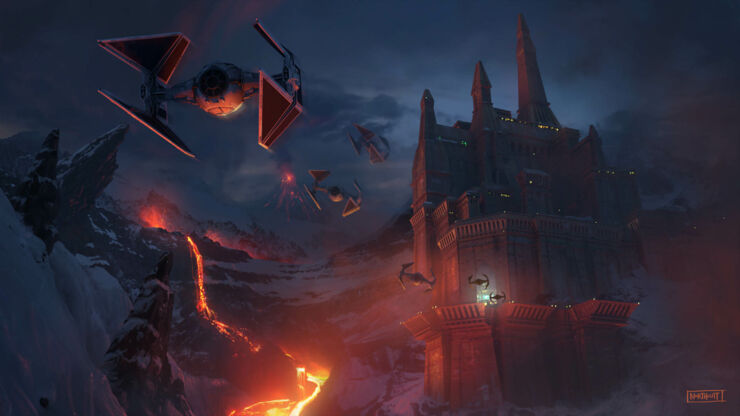 Force Awakens concept art. Vader's castle
See more from Industrial Light & Magic at their website.
–
Below check out a video containing the easter eggs, secret cameos & references in The Force Awakens