Gary The Goat Ponders The Important Question 'What If Baywatch Was Filmed In Australia?'
If there's a sequel to the upcoming Baywatch movie, it really needs to star Gary the Goat and be set in Australia too. After all, as far as i can remember, there has never been any goats in previous Baywatch productions. A little indication of what that might be like is this amusing video titled "What If Baywatch Was Filmed In Australia?"
It features Australian comedian Jimbo Bazoobi and his sidekick, Gary the Goat. As Jimbo readily admits in the video from the outset, Gary is there to walk up to women and charm them with his goaty ways. So, the first thing the goat does is defecate on the sand and then, well, suck his own schlong. Which, if you're a goat, is a totally OK thing to do on a public beach. Presumably, anyway.
And all that happens in the opening few seconds of the video. Still, Gary the Goat does still charm his way around because who doesn't like the spectacle of a goat on a beach? Soon he's sat next to two women, wooing them with his charisma, while Jimbo heads off for a swim. "The best wingman I ever had." notes Jimbo.
Gary The Goat Has His Own Youtube Channel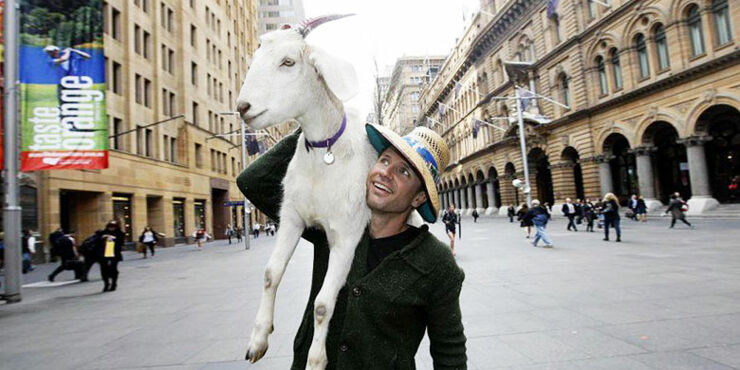 Gary the Goat and comedian Jimbo Bazoobi
But Gary is more than Jimbo's wingman, the pair have become something of a double act. Gary the Goat has his own YouTube channel where Jimbo uploads videos of their comedic adventures. Take a look at some below.
And those comedic adventures amount to the duo traveling around Australia going from bar to bar to perform. Jimbo bought Gary the Goat back in 2011 and, as they say, that was the start of a beautiful cross-species friendship. They've been together ever since, touring, with Gary sitting up front in Jimbo's truck as he drives around doing standup.
The comedian began documenting the trips and that's how the videos started. Many of them have gone viral and now Gary the Goat is an internet star. He has nearly two million Facebook followers and is "the most famous goat on earth." Well, for now. Take a look at five of our favorite shows of Gary the Goat below.
The Day Gary The Goat Disappeared
Gary Goes On An Eye Candy Car Cruise
Gary The Goat Meets Sarah The Hitchiker
Gary Goes Where No Goat Has gone Before
Gary Gets motor-Goated