The Incredible Story Of WWII German Pilot's Act Of Compassion Towards A Damaged US Bomber
It's referred to as the "Charlie Brown and Franz Stigler incident" and it involves a moment of wartime compassion and humanity between two opposing pilots, which led to an eventual friendship many years after the incident took place.
US serviceman Charlie Brown was piloting a Boeing B-17 Flying Fortress which had completed a bombing run on a munitions factory in Bremen, Germany when it was hit and badly damaged by German fighters.
The New York Post recounts how the B-17 was "attacked by 15 German planes and left for dead, and Brown himself had been knocked out in the assault, regaining consciousness in just enough time to pull the plane out of a near-fatal nose dive."
Just then a German plane pulled up to the B-17's right, it was piloted by Luftwaffe ace Franz Stigler. But instead of shooting the B-17 down, Stigler pulled over to the plane's left and began gesticulating wildly. Brown couldn't make out what the pilot was trying to say, and before Brown's gunner could shoot the German plane from the sky, Stigler, bizarrely and entirely unconventionally, gave Brown a salute and then flew off.
Instead of shooting down the damaged plane Stigler left them alone, letting them fly to safety in an act of kindness and generosity rarely found in times of war. It was a secret Stigler kept to himself for the rest of the war.
It wasn't until 40 years later that the pilots would meet again.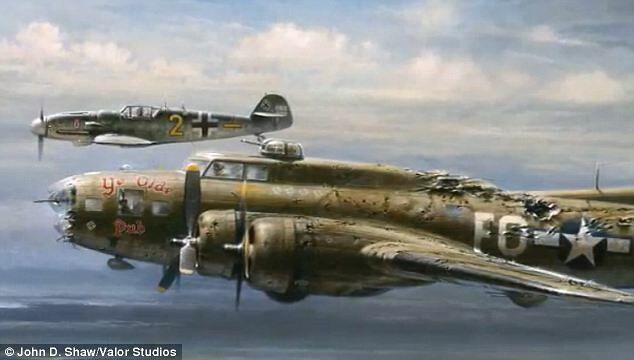 The New York Post says this about how they found each other:
Brown, who was still deeply traumatized by the incident, thought about searching for the German until finally, in January 1990, knowing the odds were against him, he took out an ad in a newsletter for fighter pilots, looking for the one "who saved my life on Dec. 20, 1943." He held back one key piece of information: Where the German pilot had abandoned his B-17.

At home in Vancouver, Stigler saw the ad. He yelled to his wife: "This is him! This is the one I didn't shoot down!"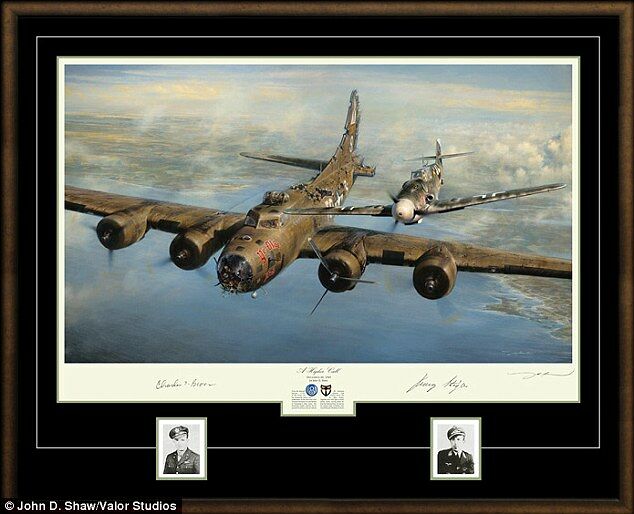 Specially-commissioned painting to mark the incident.
It was an emotional reunion and Brown finally got to find out what Stigler was gesticulating about in the cockpit:
He explained everything: that he could tell that Brown had no idea how bad the plane was, that he was pointing first to the ground, to Germany, and then pointing away, mouthing "Sweden," that he was trying to escort them to safety and that he abandoned them only when he saw the gun swing from the turret.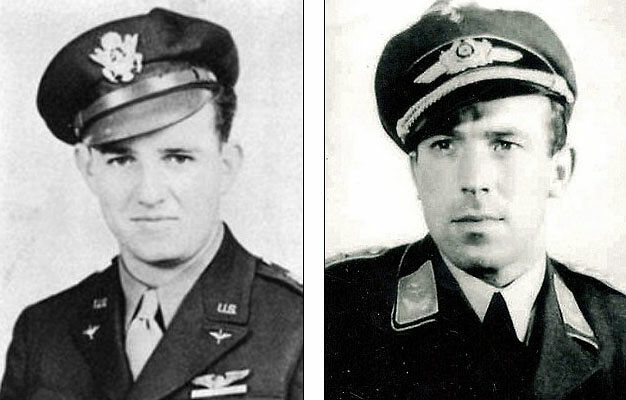 Charlie Brown (left) and Franz Stigler (right).
Both pilots died in 2008 within six months of each other. The book A Higher Call by Adam Makos with Larry Alexander tells the full story of the two pilots.
And you can learn more about this incredible moment in the CBS News piece below.