This iPhone X Parody Video Is A Savage Take Down Of Apple's '$1000 Emoji Machine'
The latest unveiling from Apple is torn apart in this iPhone X parody (the $1000 emoji machine) video from YouTube channel Jacksfilms (aka Jack Douglass). Douglass has made a habit of making spoof commercials each time Apple does one of their overblown events. And in that noble tradition comes Douglass' latest, a very funny and savage iPhone X parody that starts with the line, "10 Years ago Steve Jobs walked on stage and introduced a new product called the iPhone, which marked a milestone in both technology and innovation."
Any sense of admiration stops there though, because the setup then leads into Douglass describing the iPhone X as a "$1000 emoji machine" which is an amusingly cutting way to sum it up. "This is what Steve would have wanted." says a voiceover dripping with sarcasm and snark. "Probably."
The iPhone X parody then addresses the various colors the Apple's new offering comes in, noting they're called "You can't" and "Afford it." Things get darker though, as when talking about the new face ID technology the video notes, "When you look at your phone it'll shoot thousands of lasers straight into your pores, then it sucks out your soul much like a Dementor. That's how our phones get power. Thank you for your life juice."
Apple's $1000 Emoji Machine- iPhone X Parody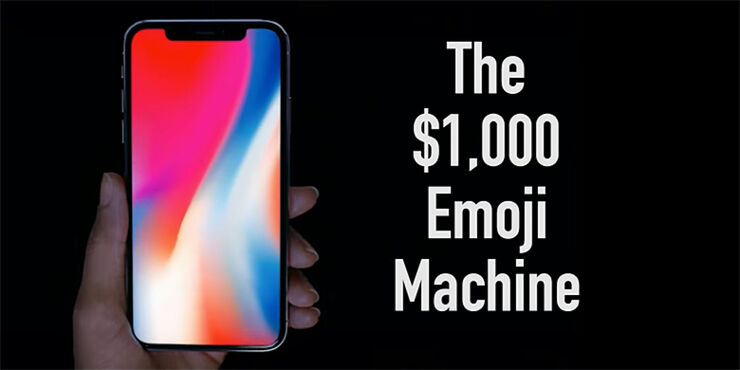 The iPhone X parody then goes on to the new camera's studio lighting mode, explaining it's so you can trick people on Tinder and Bumble into thinking you're good looking. "It's like catfishing for a whole new generation."
It's hilarious stuff, especially if you want the new $1000 emoji machine. Douglass isn't the only person who's been having some fun with Apple's latest phone either. Always at hand to get a good laugh from anything topical, Ozzy Man Reviews gives his hilarious commentary on the iPhone X advert. Watch it below.
Twitter naturally jumped on the opportunity to mock Tim Cook's new offering as well, from its cost to its functions, to whatever happened to iPhone 9? Check out those tweets below.
Also, if you ever wondered which iPhone you are, you can take our quiz to find out.
Ozzy Man Reviews: iPhone X Ad
Twitter Reacts To The iPhone X Unveiling