'Kick Monday (In the Nutsack)' By Watsky & Mody (ft. Wax) Is The Perfect Start To the Week
OK, so today is Monday, it's not snowing (much), but it's cold and looks like rain (again), summer's not here, the sun's not out, and probably never will be again, and you have to haul your butt into work and do the same thing for another five days before you can rest again. Yeah, that's what Monday's do to your state of mind.
But don't despair, all is not lost, instead of wearing your hat of depression it's time to go out and buy a pair of sh#t kickers lined with titanium and prepare yourself.
So when that little bastard sneaks up on you next week from the other side of the weekend, putting a downer on your partying, you can turn to it with confidence and kick it right in the nutsack. Life aint' worth living without a little payback.
It's time to man up and start the week with a smile on your face!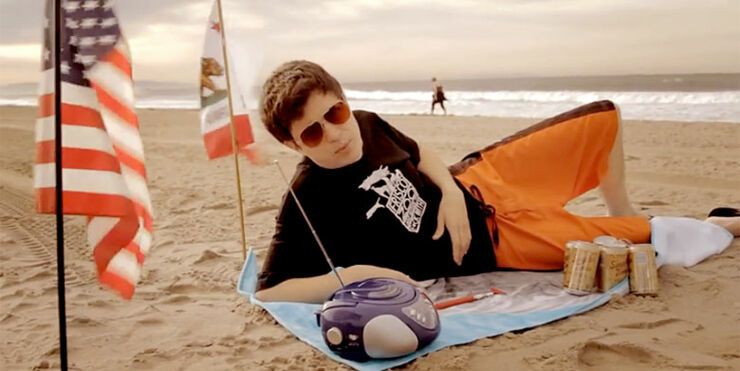 ----------------------------------------------------------------------------
About Watsky:
George Virden Watsky (born September 15, 1986) is an American rapper and poet from San Francisco, California. Watsky performs slam poetry, and was featured on Season 6 of Russell Simmons Presents Def Poetry on HBO. Watsky's talents began to receive national and international acclaim in 2006 when he was the Youth Speaks Grand Slam Poetry Champion, and was also named Brave New Voices International Poetry Slam Champion.
On January 2, 2014, Watsky tweeted that he was beginning work on his third studio album, then tweeted a link to a picture of a microphone with the caption "The Booth #guardianangel" less than a minute later. This is the first sign of new music from Watsky since March 2013, when he released his second album, Cardboard Castles.
On May 21, 2014, during one of his Watsky Wednesday vlogs, he announced that the title of his new album would be All You Can Do, as well as explaining that he wanted to keep his family ties in the album (announcing that his father would be on the cover and that he would like his mother to be on an alternate cover) and that the album would be released soon.