Cubs Legend Greg Maddux Goes Undercover In Beard And Wig For This Epic Kris Bryant Prank
Red Bull team up with Hall of Fame pitcher and Chicago Cubs and Atlanta Braves legend Greg Maddux for this Kris Bryant prank which sees Maddux go undercover in a beard and wig. Bryant, the current baseball MVP (Most Valuable Player) and hero of the World Series heads off to what he thinks is a baseball batting training video.
But, donning his disguise, is Greg Maddux who is pretending to be a bearded (and very chatty) sound guy who is part of the video crew making the promotional video. The National League MVP is then persuaded to let the "sound guy" to take a few pitches at him, and that's when Red Bull's Kris Bryant prank really takes hold.
"This sound guy has got a good curveball. What is this?" Bryant remarks after taking a pitch. "He's pretty good."
That he is and, of course it's no surprise as to why. "The star was under the impression he was going through a basic workout routine prior to leaving for spring training." Red Bull state on their website. "Red Bull cameras chronicled the action as he hit in the batting cage and then on the main field at the College of Southern Nevada.
Little did he know that the sound guy with the boom stick, long hair, beard and goatee was none other than Maddux, a four-time Cy Young Award winner and fellow Las Vegas comrade."
Greg Maddux Pulls The Best Kris Bryant Prank Ever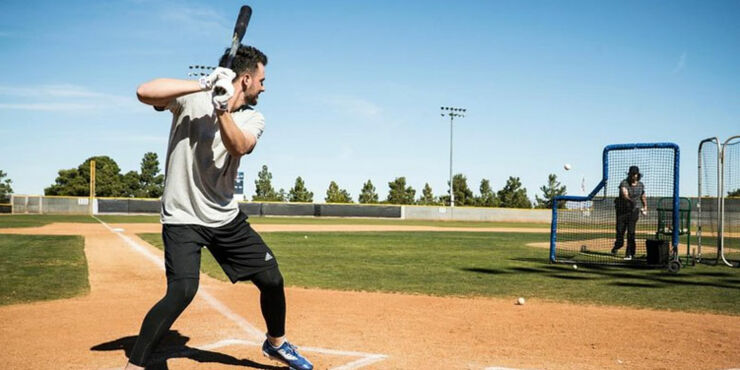 Kris Bryant prank featuring Greg Maddux. Image via Red Bull.
In the video Maddux as the sound guy gets increasingly cocky while pulling off the Kris Bryant Prank which results in the MVP star getting a little frustrated at all the curve balls. Finally Maddux reveals who he is when he asks Bryant to sign the bat for him—and that's when Bryant laughs it up, he's been had and he knows it.
Greg Maddux, who is currently the pitching coach for the UNLV baseball team took it all in his stride when it came to pranking Bryant and from the looks of it, the 50-year-old pitcher (known as 'Mad Dog' or 'The Professor' to his team mates) still has some pretty decent moves when it comes to his legendary curveball.
For hardcore baseball fans the best part is at the end when Bryant asks Maddux, "Do you still want my bat?" And Maddux responds, "No." He's a hall of famer...he don't want your bat.
But don't feel sorry for the MVP, because in 2016 a community college team from Arizona were the unwitting recipients of a Kris Bryant prank. Bryant conspired with their coach to pretend he was the new hot shot transfer, knocking balls out of the park and causing them to gasp in astonishment. Check it out below.
Kris Bryant Pranks Arizona College Baseball Team