Fried Felines - Meowijuana Is High Grade Catnip For The Discerning Stoner Cat In Your Life
Don't bogart that catnip, my friend. Especially not when it's Meowijuana catnip, which is billing itself as a premium product full of the finest catnip the plant world can offer.
This organic good shit is grown in Southern California and Washington State and, although it may look like it, there's no actual cannabis in the company's products, it's just marketed that way.
Meaning you can buy it as little catnip buds in a glass jar (Purrple Passion Catnip Buds priced at $26.95), which you can casually leave on your shelf to freak out any squares in your life, man.
As the company's slogan says, it's "for cats who need the weed."
It's not just buds either, all your cat's high grade catnip needs are catered for. The company not only sells "100% organic catnip buds harvested at the peak of the plants essential oil production, hand trimmed" but also sprays, leaves, and flakes plus t-shirts and stickers.
And just in case they hadn't hammered home the cannabis theme quite enough, you can also buy medical Meowijuana ID cards too. Just make sure your feline keeps an eye out for the cat police next time they indulge.
Far out.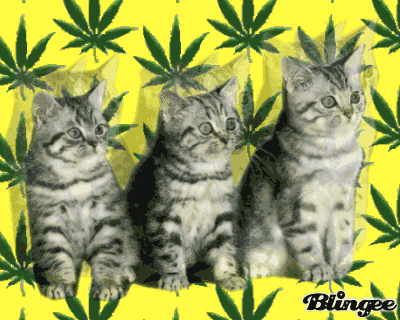 Check out some of their products below and you can go buy them for your lazy-ass stoner cat who needs to get off his butt and go get a job, here.