Take A Dive Into The Stranger Things References And Easter Eggs From Spielberg To Stephen King
It seems that Stranger Things references are everywhere as YouTube channel ScreenPrism takes a look at the Stranger Things movie references from season 1. While we all sit patiently and await the imminent arrival of Stranger Things season 2 ScreenPrism take a look at the easter eggs, film and book references and homages in the Netflix show, starting with Steven Spielberg and oblivious adults in the first part of a multi-part series.
Because as anyone who's seen the show knows, the many Stranger Things references are an ode to the 1980s, a nostalgia trip that pays homage to not only Spielberg but John Carpenter and 80s horror movies, and the novels of Stephen King too. As the video notes, the show updates 80s pop culture and brings in elements and motifs synonymous with film and TV from the decade. Like the emergence of a punk emo culture, where freaks and geeks like Barb and Jonathan Byers, reject popular kids and bullies like Nancy's boyfriend Steve.
Instead embracing the weird over what's normal.
The video also explains that the Duffer Brothers have stated that each different generation in the show—the adults, teens, and kids—all exist in a different 80s universe. The adults are in a Spielberg film, the teens in a 80s horror, Halloween or Nightmare on Elm Street, and the kids are in a Stephen King novel like It or Stand By Me. Other Stranger Things references the video reveals are the Spielbergian combination of supernatural terror mixed with the safe world of children, Stephen King's looming threats that come from both without and within.
Stranger Things References & Spielberg Films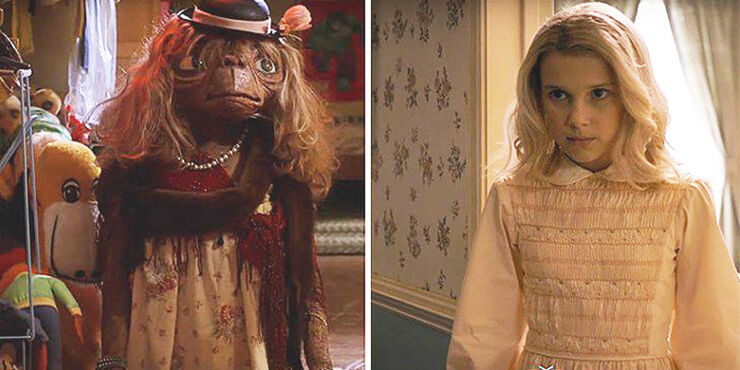 Stranger Things References: ET and Eleven / Image: YouTube / ScreenPrism.
After running through the themes it mirrors, the video calls out some visual Stranger Things movie references to that appear in Spielberg films. Like the homages to ET and Eleven's curiosity which matches ET's, along with shady government agents taking on a bunch of kids that ride around on BMX bikes who are hiding an outsider.
And, of course, the parents who have no idea what's going on, but it slowly dawns on them that something strange and supernatural is happening around them. There are also plenty more Stranger Things references, like the town of Hawkins itself being a nod to the small, Norman Rockwell-like towns in Spielberg movies, and the fact that Sheriff Hopper evokes Sheriff Brody from Jaws.
"Stranger Things is fueled by its bountiful nostalgia and love for the 80s." notes the video's description. "At times it even feels like a creative mash-up of the works of Steven Spielberg, John Carpenter, and Stephen King. In anticipation of Season 2 of Stranger Things, we kick off a muti-part series about the myriad references, homages, and Easter Eggs scattered throughout the first Emmy-nominated season."
Check out more from ScreenPrism at their YouTube page.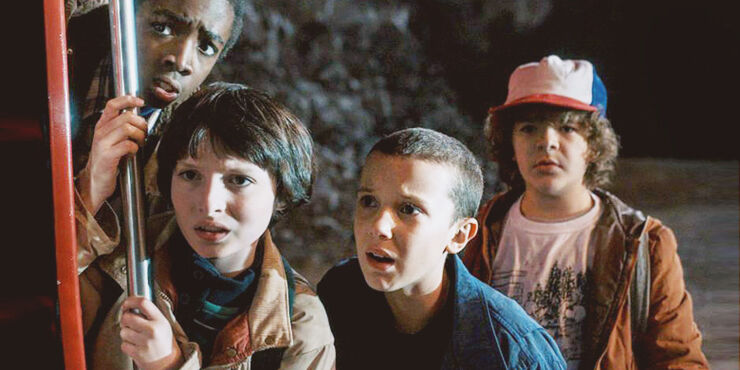 Stranger Things References / Image: YouTube / ScreenPrism.