The Netflix Death Note Trailer Has Dropped, Here's How The Internet Reacted
Netflix has dropped the new Death Note trailer for the upcoming movie based on the popular Japanese manga series. The live action horror, directed by Adam Wingard and based on Takeshi Obata's acclaimed comic, will be available to stream in August. While fans like Willem Dafoe's character the overall reaction seems mixed.
The Death Note movie follows the same idea as the manga about a high schooler who finds a notebook with supernatural powers. The book allows the owner to kill anybody simply by inscribing their name into it, which will then cause them to die. It's discovered by student Light Turner, played by Nat Wolff. With his new god-like powers he starts to clean up the streets of Seattle, killing drug lords and criminals. But his killing spree gets the attention of the police, and Turner is hunted down by a brilliant detective known as L played by Keith Stanfield.
Also in the film is Willem Dafoe who stars as Ryuk, a death spirit who is the owner of the supernatural notebook. Following the release of the teaser trailer and now the Death Note trailer, the casting of Dafoe has been praised as nailing the spirit of the original manga, and also an anime adaptation that went down well with fans.
The Death Note Netflix Trailer has Mixed Reviews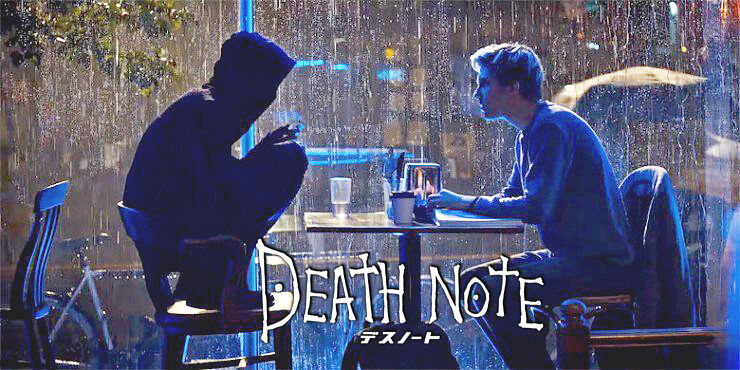 L and Light Turner in the Death Note trailer
However that seems to be the only character who has won praise. Because since the first teaser the Netflix film has been mired in controversy. It has been accused of whitewashing, because while the character of Ryuk was the same as the manga, the other characters were changed from Japanese to American.
Something the film's director has defended in a tweet saying, "There is no conspiracy to remove Japanese culture from Death Note. Its a fresh version of the story set in Seattle. Also see The Departed."
Although this relocation of the story might not bother Wingard, it seems it has bothered some of the fans of the manga, as can be seen from their reactions to the Death Note trailer, which you can see below. There's also a parody, bottom of this post, where the Death Note anime characters react to the new Death Note trailer.
Death Note will arrived on Netflix on 25 August 2017.
Fans Respond To The Netflix Death Note Trailer
Death note has been whitewashed and Americanized. He shouldnt even be called light anymore but mike or chad.
just saw the trailer for the Death Note netflix film and I feel like the anime creators' great ass work is being disrespected
DEATH NOTE reacts to DEATH NOTE Trailer
There's even a hilarious fan-made parody trailer trending that poses the question "What would be the reaction of Death Note Anime Characters when they discover the Netflix Death Note Tailer for the first time ?"