Marvel's 'The Defenders' Season 1: Netflix News, Cast, Story Details & Everything You Need To Know
Marvel's 'The Defenders' Netflix show is now streaming 8 episodes and sees Matt Murdock (Daredevil), Jessica Jones, Luke Cage, and Danny Rand (Iron Fist) finally team up as a unit all with a common goal, to fight an enemy called 'The Hand', together as the 4 members of The Defenders. Fans of Marvel Comics and the subsequent Netflix series for each hero will be familiar with the back story for each character who have already had their own separate shows and origin/aftermath stories, each one fighting crime, leading ultimately to the same adversary.
It's taken Marvel and Neflix quite a few years to get The Defenders gang together, after kicking things off with Marvel's Daredevil back in 2015—but now the crossover is finally here. And you know it was worth waiting for.
The Defenders series, created by Douglas Petrie and Marco Ramirez for Netflix, is eight episodes long (although it looks like it might become a web television miniseries) and features as our heroes' adversaries The Hand (a mystical organization of ninja warriors) who are up to no good in Manhattan. To carry out their, as yet undisclosed, activities they need something that Iron Fist has, and so his superhero buddies come together to help protect him as a sinister conspiracy threatens New York City.
Awhile back we were treated to The Defenders trailer (below) which gave fans their first proper look at the team of four solitary figures who all have one common goal: to save New York City. Now we finally find out if they can.
So What is The Defenders Netflix TV Show About?
The Defenders Marvel series runs eight episodes and sees Daredevil, Jessica Jones, Luke Cage and Iron Fist team up to save NYC. It follows on from events in the separate individual shows and begins a bit like a refresher course, re-introducing the four main cast members along with the new villain. Which means viewers get to check in where these superheroes are, along with what the supporting characters like Foggy are up to too.
Showrunner Marco Ramirez (the other showrunner is Douglas Petrie) told Entertainment Weekly that, "Every one of them is following their own trail of bread crumbs, trying to unpack a mystery in New York. We wanted them all caught off guard. Once they're in that room together, it's kind of like, 'Oh, s—, who are you?'"
You can see the beginning of that in the Netflix The Defenders trailer. "We knew it would take something massive to pull these four characters from their individual worlds to work together," Ramirez says, "but also small enough that it felt like it existed in our world." Check out the catchup vid / timeline overview below to get fully up to speed.
Head of Marvel TV Jeph Loeb also explained to EW that he was inspired to make the series after seeing The Avengers movie (it's been in the making since 2013). But that their dynamic as a group would be very different. "The Defenders didn't have a 'D' on their belt buckles and a Defenders Tower," Loeb said. "We agreed from the very beginning that these folks could at the very end go, 'I never want to see your face again.'"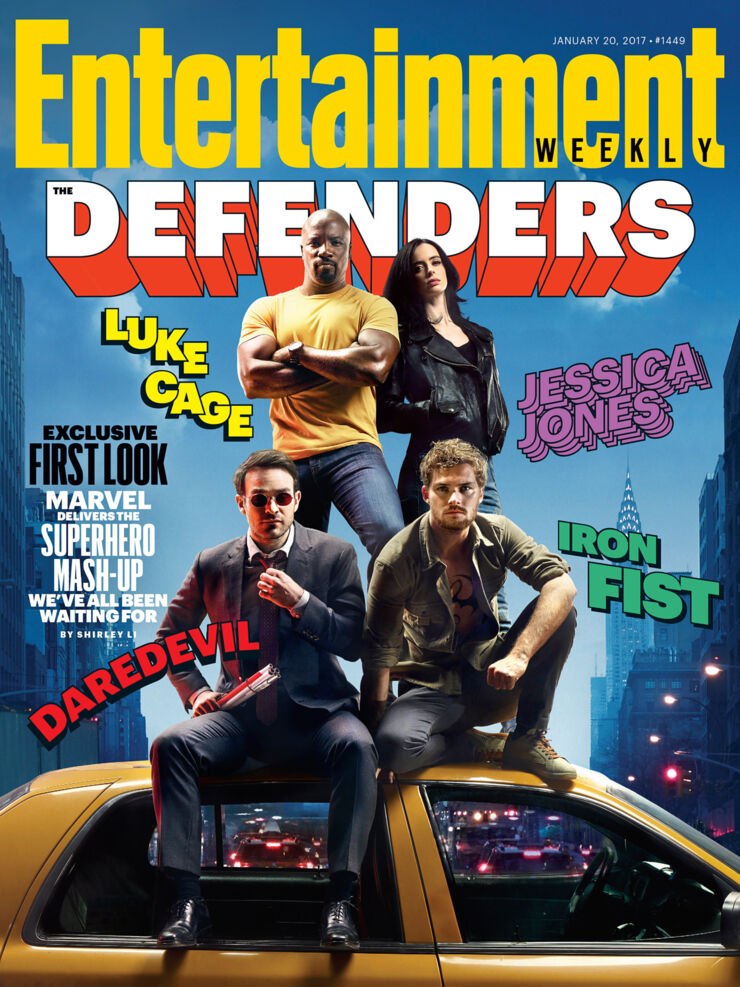 Marvel The Defenders
Meet Marvel's The Defenders Cast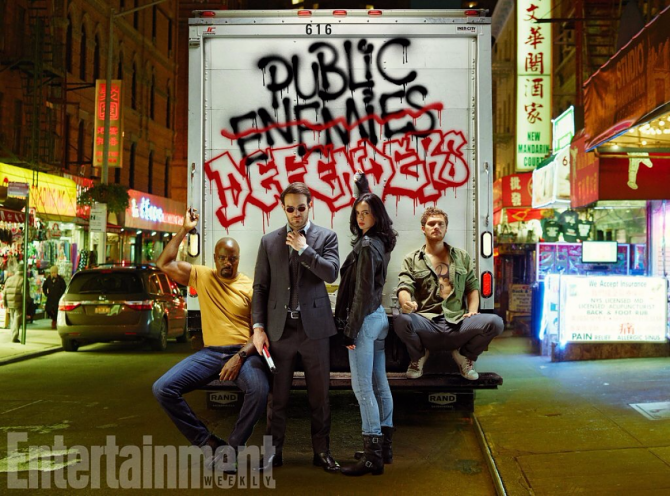 Marvel's The Defenders sees Charlie Cox as Daredevil, Krysten Ritter as Jessica Jones, Mike Colter as Luke Cage, and Finn Jones as Iron Fist. Also joining the cast will be Sigourney Weaver who plays villain Alexandra, an "utter badass" according showrunner Marco Ramirez.
Also in the cast will be Élodie Yung as Daredevil's love interest Elektra Natchios, Deborah Ann Woll as Karen Page, Elden Henson as Foggy Nelson, Scott Glenn as Stick, and Rosario Dawson as Claire Temple.
Eka Darville will play Jessica Jones' assistant Malcolm Ducasse, Carrie-Anne Moss will be Jeri Hogarth and Rachael Taylor will play Trish Walker.
The Defenders Marvel Cast - Daredevil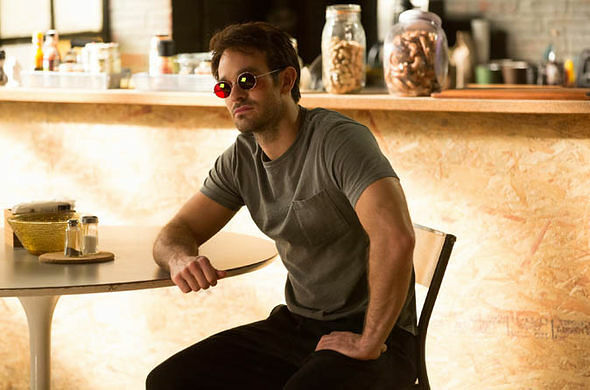 Charlie Cox plays Daredevil.
Daredevil (Charlie Cox) is lawyer Matt Murdock who fights crime in his suit by day, and by night fights crime as the Devil of Hell's Kitchen using his fists and enhanced hand-to-hand combat skills. He's the only Defender to have two seasons of a show so far. Season 1 saw him take on crime kingpin Wilson Fisk while also coming to terms with his vigilante lifestyle. By the end he'd donned the Daredevil suit and put Fisk behind bars.
Season 2 saw him face two new adversaries who came to challenge the relative peace he'd installed and ensure that Hell's Kitchen was a criminal epicenter once again. The two in question are Frank Castle and old flame, Elektra Natchios. Castle becomes The Punisher, another crime-fighting vigilante who's brutal sense of justice happens right on Murdock's home turf. Further conflict is seen as Murdock tries to balance a life of crime fighting as a lawyer and a life of crime fighting as a superhero maverick. The latter makes him feel guilty and conflicted and generally not a happy man.
The Defenders Marvel Cast - Jessica Jones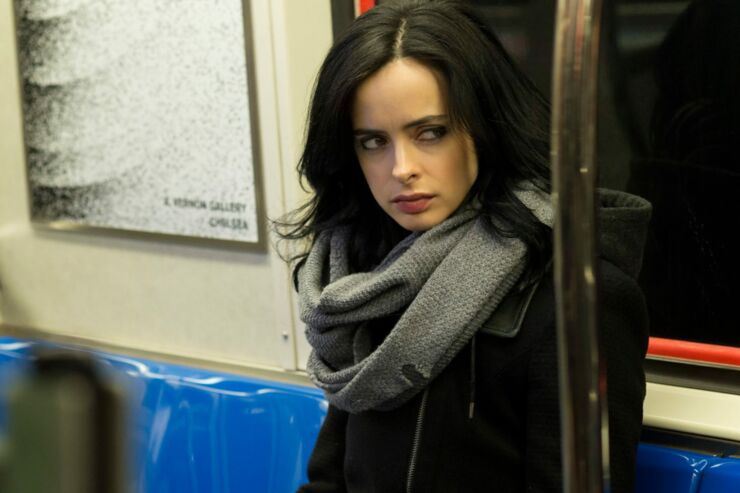 Krysten Ritter plays Jessica Jones.
We join the Jessica Jones series not for an origin story because Jones (played by Krysten Ritter) has already tried, and failed, at being a superhero. Jones has superhuman abilities—super strength, endurance, and flight. In the Netflix series we find her trying to rebuild her life, which sees her making a career as a sardonic private detective in Hell's Kitchen, New York City (where else?).
She's full of self-loathing, embittered, and has PTSD, fighting inner and outer demons. The series introduces actor Mike Colter as Luke Cage who also serves as a romantic interest. And David Tennant stars as the villain Zebediah Killgrave. Killgrave has already featured in Jones' life, tormenting her psychologically and leaving her the broken shell of a woman that we find her as in the series.
The Defenders Marvel Cast - Luke Cage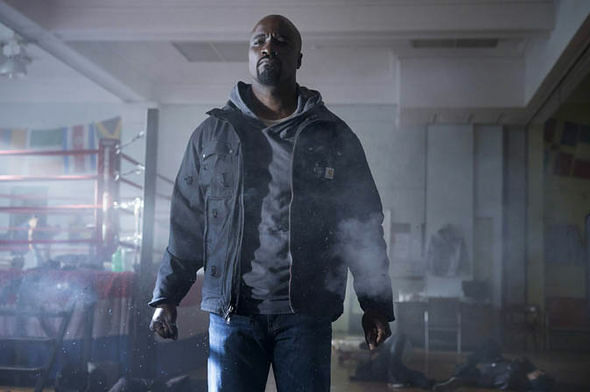 Mike Colter plays Luke Cage.
After appearing in Jessica Jones, Cage (Mike Colter) now stars in his own show. It follows the man who has unbreakable skin and super strength (due to a laboratory experiment gone awry) as he battles crime in Harlem, taking on a drug and arms dealing criminal called Cottonmouth.
By the end of the series he's become romantically involved with character Claire Temple, who's in all four Netflix Defenders series, and has landed himself in jail thanks to a crime that happened before he was Luke Cage, when he was known as Carl Lucas.
The Defenders Marvel Cast - Iron Fist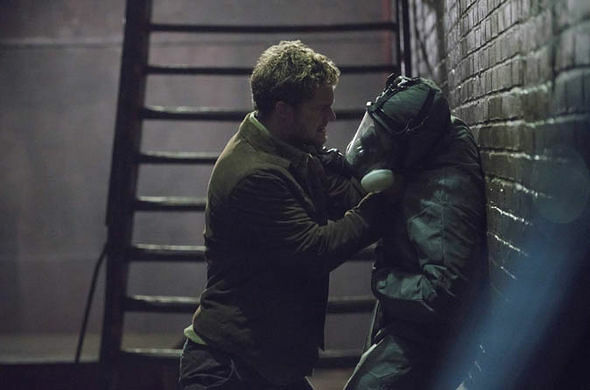 Finn Jones plays Iron Fist.
The Iron Fist series delves into the superhero's origin story, which sees Danny Rand (played by Finn Jones) as presumed dead for 15 years. This is due to a plane him and his parents were on crashing and disappearing over the Himalayas.
He then suddenly returns to NYC and shows up at the company he is heir to, only to find his friends are running it. He tells them that while on route to China his plane crashed, his parents died, and he was trained in a magical fighting style while in the mystical city of K'un-Lun. From his time there he eventually is able to "summon the awesome power of the fiery Iron Fist" which he uses to fight the crims of New York City.
The Defenders Marvel Cast - Alexandra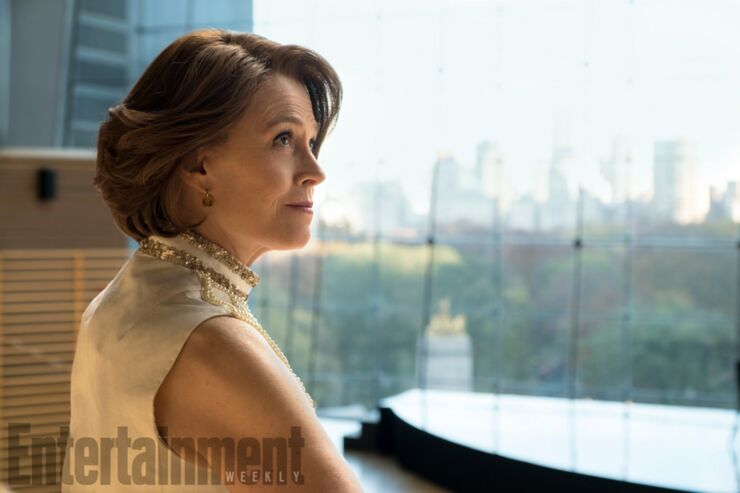 Sigourney Weaver as Alexandra.
Alexandra Reid (played by Sigourney Weaver) has spent time herself at the mystical city of K'un Lun where she discovered the dark arts of resurrection. There were four others who also learned this, Madame Gao (Wai Ching Ho), Bakuto (Ramon Rodriguez), Sowande (Babs Olusanmokun), and Murakami (Yutaka Takeuchi).
This bunch would later form the Five Fingers of the Hand, where they used the power of resurrection to wreak chaos. Alexandra has led the Hand since the beginning and has also been around for quite some time. Probably the 1800s.
"Sigourney is the kind of person you can buy as the smartest person in the room, who you can also buy as a person holding a flamethrower." showrunner Marco Ramirez told EW. "Her character is a very powerful force in New York City. She's everything Sigourney is: sophisticated, intellectual, dangerous."
Marvel's The Defenders Featurette
The stars of the Marvel Netflix shows—Charlie Cox, Krysten Ritter, Mike Coulter, and Finn Jones—discuss their characters and where they're at by the time The Defenders begins in this behind the scenes featurette.
The featurette was released a few days before the new show premiered and as such acts like a catchup for fans to recap what's motivating these superheroes— and what it is that's brought them all together.
We know they're all in New York City, but the video delves into where these characters are on a more emotional level.
The Showrunners on The Defenders Netflix Show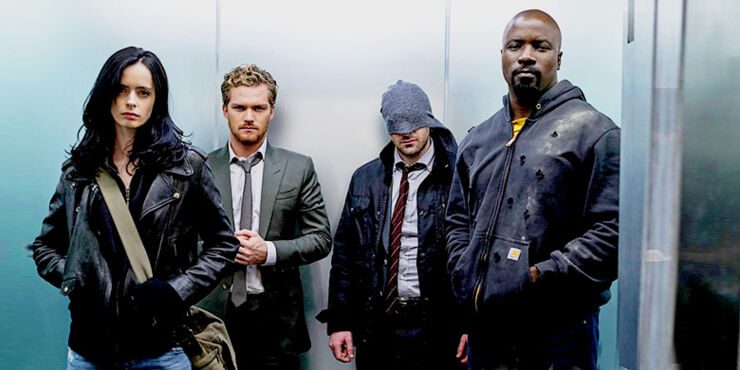 "We're incredibly excited to be able to bring our four street level heroes together in an epic tale woven by Doug and Marco whose work on 'Marvel's Daredevil' speaks for itself," said Executive Producer/Head of Marvel Television, Jeph Loeb. "They write and produce not only great action and adventure, but also the heart and touch of humor that's makes us Marvel. With the inclusion of Drew Goddard, we've got a team that's as formidable as the Defenders themselves."
"This is the big one. Four amazing casts, four amazing series, now all in one amazing story," said showrunners and Executive Producers Douglas Petrie and Marco Ramirez. "We are thrilled at the opportunity to deliver the show that both we and the fans have been waiting for."
Marvel The Defenders Official Trailers
The original 16-second teser trailer (above) showed us the New York-based vigilantes, blind lawyer and crime-fighter Matt Murdock, hardcore PI Jessica Jones, Luke Cage, and martial arts master Danny Rand standing in a lift, seen from a CCTV camera. Jones then punched the camera but not before the time stamp of 08:18:20:17 was seen. The stamp itself was a hint at The Defenders first episode date.
Also in the teaser was an IP address which directed people to a fake website for the New York Bulletin. The website contained info relating to Iron Fist.
Since then each of the official Netflix trailers (below) give viewers a bit more, showing a first look at Sigourney Weaver as villain Alexandra. With each subsequent trailer we get to see the plot unfold on what is in store for The Defenders (with the latest one at the top of this article). Below is the official synopsis from Netflix:
Blind ninja. Smart-ass detective. Bulletproof ex-con. Kung Fu billionaire. Marvel's The Defenders centers on four outsider heroes that have to put aside their personal issues and come together when a villainous sect threatens to destroy New York City as we know it.
Marvel The Defenders Trailer 1
Marvel The Defenders Trailer 2
The Defenders Release Date
All episodes of The Defenders Netflix stream on Netflix from 18 August 2017.