New Season 3 Rick and Morty Trailer Is Here And It Is Seriously Trippy
With the new season 3 Rick and Morty imminent we're treated to a shiny new Rick and Morty Trailer. But unlike the previous one when Adult Swim announced the duo's return, this one is far more surreal and, well, just very, very weird. It's the perfect teaser for the new series of Rick and Morty, which is out 30 July, and it's totally crazy.
Titled Exquisite Corpse the season 3 Rick and Morty trailer is a collaborative experimental journey through various animation styles. Directed by Matt Taylor and animation studio Titmouse, it starts with Morty accidentally spilling some liquid on the floor, which Rick has asked him to put on a shelf.
We later find out this was pure LSD that Rick made and it sets off a crazy, trippy excursion through 22 different animation techniques and artists. Tied together in a sequence of scenes that range in subject from Rick biting off Morty's face, to hundreds of Ricks having a fistfight, Morty as a giant insect, and all kinds of messed up but mesmerizing craziness. For anyone longing for season 3 Rick and Morty, it's definitely something you're going to enjoy.
"Take a trip through the Rick and Morty multiverse." the video's description says. It's all set to an instrumental version of "Thursday in the Danger Room" by Run the Jewels.
Matt Taylor On The Season 3 Rick And Morty Trailer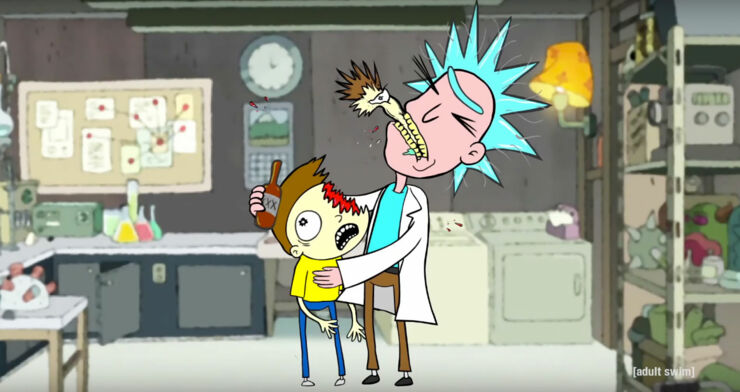 Writing on his Tumblr Taylor said about the clip, "I'm excited to finally share the Rick and Morty Exquisite Corpse. I had the honor to be the Creative Director on this and personally select artists from around the world to contribute animated segments that would all link together. An amazing puzzle to solve and the process went incredibly smooth and resulted in a beautiful work of visual art."
It certainly did. Taylor also lists the artists involved who are, in order of appearance: Nigel Clark, Greg Sharp, Hombre McSteez, Simon Landrein, Andy Baker, Scorpion Dagger, Sick Animation, Jisu Kim, Daniel Britt, Max Winston, Ryan Quincy, Alex Schubert, Richard Mather, David Gemmill, Amy Lockhart, Genis Rigol Alzola, Sander Joon, Devin Flynn, Marco Imov, Shogo Tsuri, Bendik Kaltenborn, and Lale Westvind.
Rick and Morty season 3 returns 30th July 2017 on Adult Swim.
Check out some stills from this insane Rick and Morty trailer below.
Stills From Rick And Morty 'Exquisite Corpse' Trailer