Watch The New Trailer For Guardians Of The Galaxy, Marvel's Cosmic Misfits
"I was only a kid when I left earth. I had no idea what the universe had in store for me." And so begins the latest trailer for Marvel's latest assault on the box office, Guardians Of The Galaxy. They've already teased us with two trailers (way gone are the days of one trailer for one movie), and now the third comes rocketing along.
Marvel have done incredibly well at winning over fans (apart from the Ant-Man fiasco) and newbs alike, and this looks like it should continue that trend. Even though it seems to be a bit more leftfield and have something of a cult movie about it, firmly landing on the lighter side of the Marvel Cinematic Universe™—although this trailer treats things a little more seriously than the first two.
But they can't help throwing in some Rocket Raccoon humor at the end, because it's already clear that he's one of the best things about the film.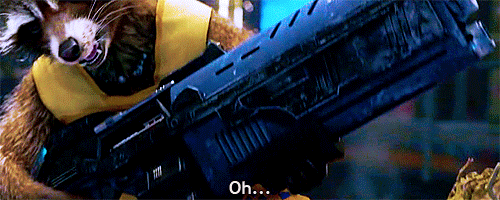 GIFs via