Boy With Cancer Requested UK Comedian Russell Howard Attend His Funeral Dressed As Giant Penis
A 14-year-old boy who had suspected terminal cancer sent comedian Russell Howard an email asking if he could come meet him. No doubt comedians get some strange requests from their fans, but for RussellHoward this was a particularly unusual one from the young teenage fan called Deryn, who he has since befriended.
So the comedian went to visit Deryn and discovered that the boy was a huge fan. He even had a list of his favorite jokes by the comic. And there was one particular joke, a sketch, that he especially enjoyed. It was when Russell Howard dressed up as a giant penis called Mr. Dildo as part of a pretend kids TV show. It was from the BBC series Russell Howard's Good News.
Howard visited Deryn a few times and they became friends, with the comedian learning more about the boy's sense of humor and learning of some of his last wishes too. One of those involved Russell Howard attending his funeral, which the boy was planning due to the severity of the cancer. But there was one condition, he had to attend the funeral dressed as Mr. Dildo, wearing the giant penis costume.
Russell Howard Wasn't The Only One In Fancy Dress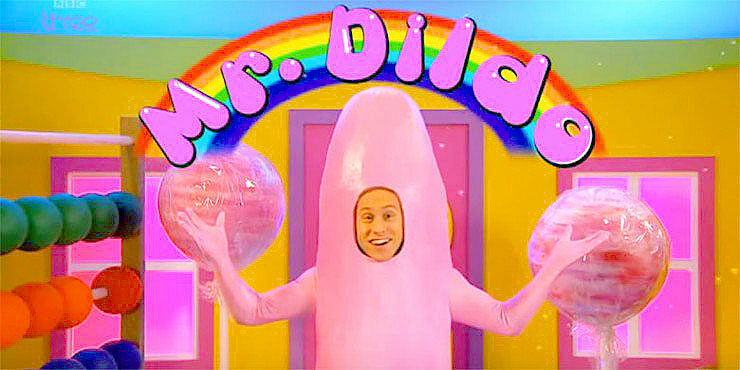 It wasn't just the comic who had to attend in costume (although his costume sounds by far the most ridiculous). Because in a shining example of laughing in the face of adversity Deryn wanted various people, friends and family, to attend the funeral in fancy dress costumes too. For example he wanted his dad dressed in a Grim Reaper costume and to point his scythe at anyone who coughed.
As he recounts in the standup show about the story, Russell Howard had a few concerns about turning up dressed as a huge penis. Which is understandable. Like, for instance, what if this was the ultimate prank and Howard would turn up dressed up and everyone else would be there in normal attire?
But there's more to the story and although it starts out tinged with tragedy, it has a much more upbeat ending. Because Deryn was initially given only three days to live after Christmas, but amazingly was then told by doctors that the cancer was in remission and he was going to survive.
So, to celebrate and to thank Deryn for the friendship Russell Howard asked Deryn to come on stage for his show in Bristol, UK where Deryn was from. The 14-year-old agreed, but he made an error. Because he asked the comedian what he should wear...
You can probably guess how this story ends, but watch the video to experience the full hilarity.
And you can check out a clip of Mr. Dildo below.
Russell Howard's Good News Mr. Dildo Show