'He's a Lumberjack And He's OK' – The Growing Popularity Of The Lumberjack World Championships
The 'Lumberjack World Championships' held annually in Hayward, Wisconsin sounds like some sort of obscure sporting event, akin to, especially if you are a parent, you will have no doubt thought, at some point, to encourage your child to practice for the prestigious 'World Championship Tidying Up Contest', which you really wished existed, and stood by smiling smugly at your fantastic blend of parenting and salesmanship, as the toys littering the floor were tidied away at the speed of light. But chances are that your child's interest for this fictitious event would never have made it past the first training session. Alas, parents of the world can but hope.
But, coming back to reality, initially, the Lumberjack World Championships sounds like something similar and believe it or not it's a real annual event, born of a logging company's cynical strategy to boost productivity. However, many of the most popular sports originated from the human competitive spirit and an aim to complete what would otherwise be mundane day to day tasks better, faster or more effectively than the next man.
Without this attitude, sports such as fishing, archery and even many aspects of athletics would never have come into being. And who knows, maybe one day the 'World Championship Tidying Up Contest' might actually happen.
The Rise In Popularity Of Timber sports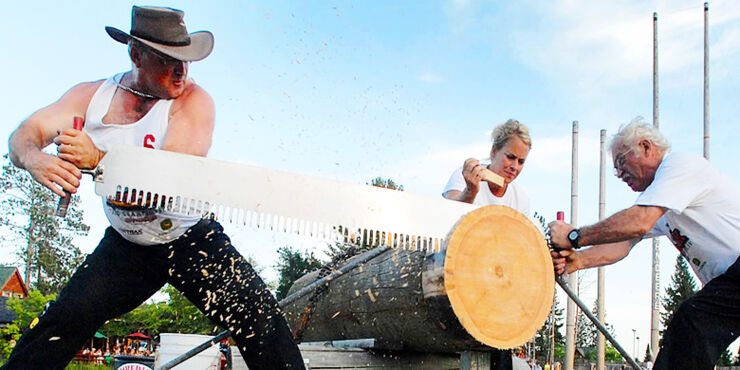 Lumberjack World Championships 2017 / via lumberjackworldchampionships.com
Whatever their origins, the fact is that timber sports have grown in popularity across North America, Europe, Australia and everywhere there is a thriving timber industry. As such it's become a highly competitive sport.
With the advent of the internet, popularity and focus on these types of events has grown massively to the extent that sports fans and keen gamblers can add this to the list of sports they can place bets on through a simple online transaction via sites like www.casinoreviews.co.uk/paypal/. This increased interest means more bets, and more bets means bigger marketing – so if you have not heard much about timber sports so far, you can expect their profile to steadily grow over the coming years.
The term timber sports is not just about chopping down trees. It essentially covers just about everything you can think of that involves handling timber. This includes logrolling, axe throwing, the boom run, where competitors try to make it back and forth across a chain of floating logs, and a variety of other events.
The Lumberjack World Championships
Opening night highlights from the 2017 Lumberjack World Championships
The biggest event in timber sports is the Lumberjack World Championships, which has taken place on the last full weekend in July every year at the Lumberjack Bowl in Hayward, Wisconsin every year since 1960, it was started as a way to acknowledge the rich history of the logging industry across the United States. From humble beginnings, the event now attracts entrants from all around the world and carries a $50,000 prize fund.
This year's Lumberjack World Championships event took place over three days in July. 130 participants descended on the small town to compete in 21 male, female and mixed events. There was also the small matter of an estimated 12,000 spectators, who injected around $1.5 million into the local economy.
Chris Ruckdaschel is Executive Director of the Hayward Area Chamber of Commerce. He told local reporters: "The Lumberjack World Championships is something that you don't see everyday, and it's also unique to our area. And I think that's part of the secret I think that makes it captivating to folks. We've got families and individuals that come back year after year to attend. We've got obviously a lot of first time visitors that come in."
Timber Sports Exist Elsewhere As Well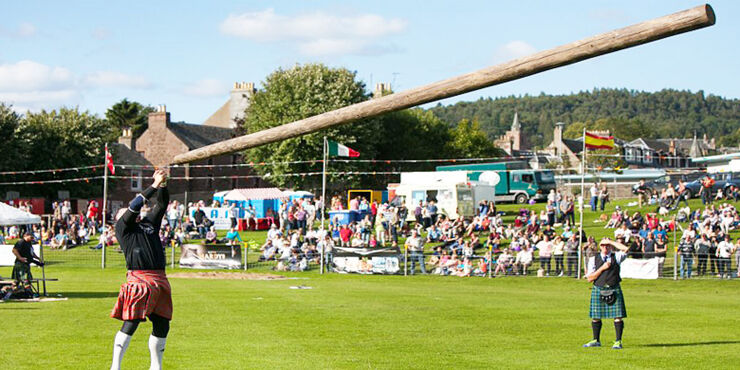 Scottish Heavyweight Championship / via crieffhighlandgathering.com
TV audiences will be more familiar with the STIHL Timbersports series, at least, by name. Launched in 1985, it is sponsored by ESPN and attracts a TV audience of 20 million viewers across 60 countries. It's a series of woodsman or wood chopping competitions where the athletes compete in the use of axes and saws in manners typical for lumberjacks.
But for the ultimate timber sport, you will need to travel to Scotland. The Highland Games have been running annually since time immemorial and take place from Cowal to Tomintoul and all points in between. They are a unique mix of sports, culture and community and references go back well over 1,000 years.
Speaking on this famous event, which take place from Cowal to Tomintoul and all points in between, Scotland.org report "The Games, of course, are as much about music and dancing as they are about sports. Dancing, piping, fiddling, and playing the clarsach (Gaelic harp). There was a competitive element here too. The clan chieftains pitted their pipers against those of other clans and the prestige that came from success was considerable."
One of the most famous and exciting events to watch is the caber toss, where men in kilts throw wooden logs, usually made from a Larch tree and typically 19 feet 6 inches tall and weighing 175 pounds, as far as they can.