Norwegian Comedians Ylvis' Epic Elevator Prank Hilariously Freaks Out These Hotel Guests
The Ylvis elevator prank 'Intelevator' is a prank to beat them all in the Norwegian duo's latest comedic stunt. You may remember the comedy brother's from their hilarious 2013 viral video called 'The Fox' (an EDM song featuring people dressed in animal costumes doing silly dancing), well now they've gone viral again with these very amusing playful tricks on the unsuspecting public.
Ylvis, brothers Vegard and Bård Ylvisåker, are talk show hosts in their native Norway and this latest stunt involving an elevator prank is called the 'Intelevator'. It involves Ylvis freaking out and toying with the guests at the Clarion Hotel in Norway as they enter to go up or down to different floors.
Once the guests enter then the elevator prank begins, as Ylvis tell them that they've enterted a voice-activated elevator called the Intelevator (Intelligent Voice Activated Elevator). Now that they have this cover in place they use it as an excuse to get the guests to do all manner of ridiculous things.
For some passengers that means doing a quiz or playing a game of charades before they can get to their chosen floor. Other passengers get foreign languages thrust upon them. There's photoshoots, Donald Duck mode, people are asked to dance or hop, or get balls thrown at them or a giant fan blown in their face.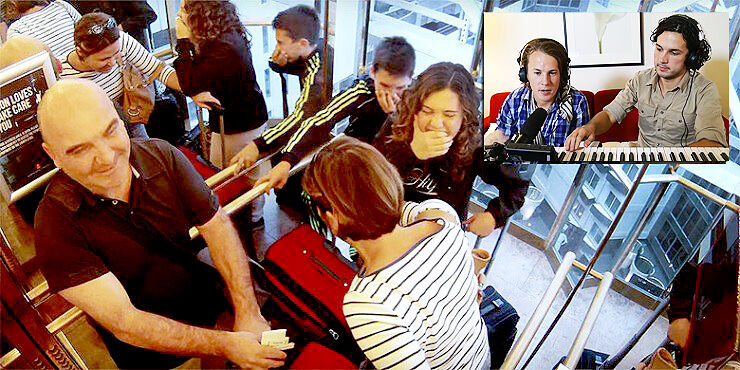 Ylvis 'Intelevator' prank Image: YouTube / TV Norge
It is undeniably hilarious. And what also makes it work so well is the guests are totally game to join in on Ylvis' absurd elevator pranks (check out the 3 elevator prank videos below which are all part of this series).
There are a couple of people that look a bit put out by it all—there's always a few—but mostly people are happy to play along. Perhaps it's the Norwegian temperament or perhaps there's a whole editing floor full of angry outtakes. Whatever, this elevator prank is thoroughly entertaining to watch.
Chances are if you live outside of Norway you have probably never heard of Ylvis before. According to their official website "Bård and Vegard Ylvisåker grew up in Bergen and Africa. The boys began their career at Fana gymnas, where they took part in the school choir and theater. It was Peter Brandt who discovered Bård in one of his performances at Fana school theater. Six months later, Ylvis made their professional debut."
For more hilarious videos from the Ylvis brothers head on over to the TV Norge YouTube channel.
You can watch the first episode of the Ylvis elevator prank ('Intelevator') above and see the rest below:
Ylvis Elevator Prank ('Intelevator') - Part 2
Ylvis Elevator Prank ('Intelevator') - Part 3
Ylvis Elevator Prank ('Intelevator') - Part 4