Asthmatic Sea Otter Learns To Use Inhaler After Smoke From Wildfires Blows Into Seattle Aquarium
Back in August Washington State's wildfires grew into the largest in it's history, hundreds of firefighters were deployed to the front-lines to tame the devastating blaze that threatened the homes and lives of many residents.
Not all of them human
Poor Mishka the otter suffered trouble breathing after smoke from wildfires became so abundant it began clouding the Seattle skies, eventually making its way to the Seattle Aquarium and Mishka's lungs.
After giving the otter a checkup, the staff veterinarian diagnosed Mishka's problem as asthma, and decided to give the one-year-old sea otter her own inhaler. She had to learn how to use the same kind of inhaler device that humans use by pushing her nose against the spacer.
It was then down to aquarium biologist Sara Perry to teach Mishka how to use it. As with the training of most animals, she used food to coach Mishka.
"We try to make it as fun as possible," said Perry. "Anytime you're training a medical behavior, you want to make it nice and positive."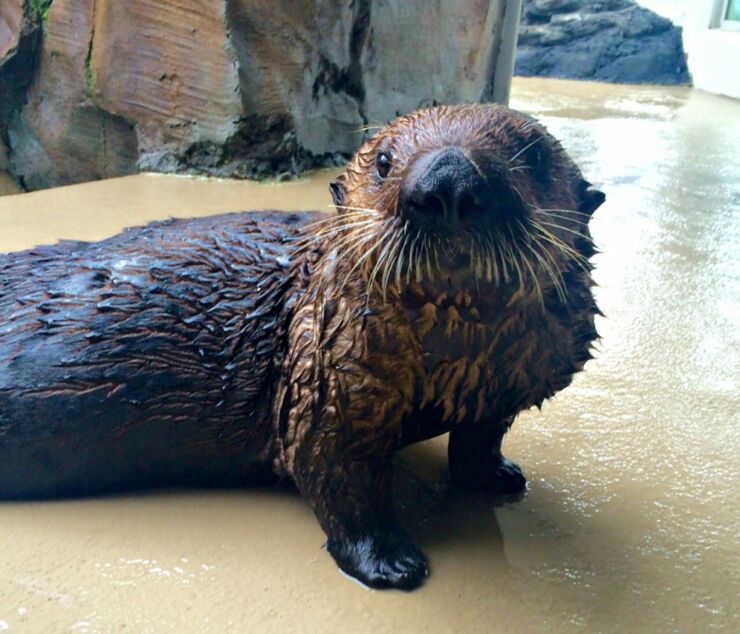 As to why Mishka developed asthma, which isn't common in sea otters, the zoo thinks it might come down to genetics. From the zoo's website:
Why does Mishka have asthma? It's difficult to say exactly… we know that humans develop asthma for many different reasons. Sometimes it's a mixture of genetics and environmental exposure or sometimes it's just exposure to an irritating substance such as smoke from wildfires. It could also be related to reduced genetic diversity in sea otters, which has the potential to impact their immune systems and make it harder to fight off disease. Washington sea otters became extinct in 1910 as a result of rampant hunting related to the maritime fur trade...Washington was without otters for 60 years—until in 1969 and 1970, 59 otters were moved from Alaska to areas along the Washington coast. It's believed that most of these animals died; many were found washed ashore, dead, soon after. Because of that, it's estimated that the sea otters on our state's coast today are descended from as few as 10 animals.