Cartoon Monsters Invade Our Ordinary Lives With The Injection Of These Cute(ish) Weird Creatures
Daily life can be a bit of a drag. No cartoon monsters or weird creatures to be seen anywhere, not one. We pass by the same shops and scenery on our commute to work, then we pass by them again on the way home.
Rinse and repeat.
So it's nice to inject a bit of the fantastic into the everyday, which is exactly what Australia-based artist Jasper St Aubyn West (aka Tail Jar) does. He likes weird creatures. And he also likes cartoon monsters a LOT.
West takes photos and then draws in his strange cartoon monster creature creations on his iPad afterwards.
The characters are integrated into the scenery, using objects as props. So a bowl of baked beans becomes some orange insects, or the stage in an outdoor concert becomes a gaping monster mouth giving the devil's sign. And you have to admit the results are pretty amazing. You have to admit, weird creatures rock.
Jasper St Aubyn West Talks About His Creations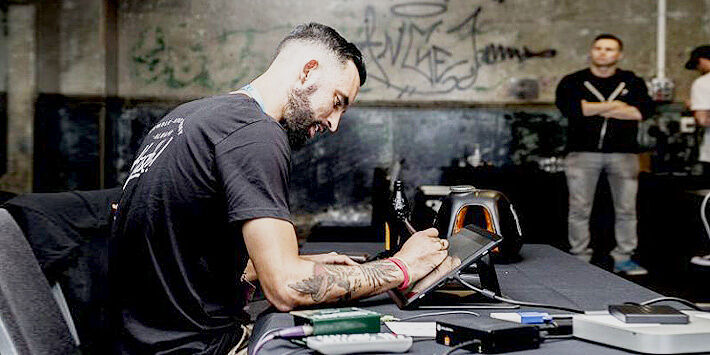 Jasper St Aubyn West working at the Wacom Rooftop Terrace in the Brisbane Powerhouse
"I realized there must be countless thousands of photos out there taken from exactly the same angle of exactly the same thing," West told Mashable about how he began the project. "It got me thinking about trying to find a slightly more unique way to document my journeys."
You can see exactly how the whole fascinating cartoon monster creation process works in the time-lapse video above as West slowly integrates his weird creatures into everyday objects and scenes, in this case a metro train pulling into a platform gets eaten by a huge monstrous tunnel snake. The perfect subway snack.
You can also check out Tail Jar's work on his Instagram and website.
But before you do that check out some of our favorite Daily Cartoon Monsters series pictures below.
Tail Jar's Cartoon Monsters & Weird Creatures