Two Female Canadian 'Cospainters' Transform Into Body Painted Superheroes Using Just Paint
It's time to get ready for the arrival of body painted superheroes. You've probably heard of cosplay but Canadians Lianne Moseley and Kay Pike, two makeup artists and designers, are taking dressing up as fictional characters to new, more paint-y levels. They have been getting the internet's attention lately thanks to their "cospainting."
Both use body paint to transform themselves, in the case of Pike, and themselves and others in the case of Moseley, into body painted superheroes from the Marvel and DC universe, or any other well known pop culture characters. The results are incredible, they look like they've stepped off the comic page or from out of a cartoon.
Both have Instagram accounts, Moseley is @lustredust and Pike is @kaypikefashion, where they showcase their impressive work, and Pike livestreams her painting sessions on Twitch where people can ask questions about the process. Sometimes these sessions can last for up to 14 hours. She also uploads time-lapsed versions of the sessions to YouTube. You can check out her Lady Deadpool above and more of her videos on Youtube..
Why Lianne Moseley & Kay Pike Like Cospainting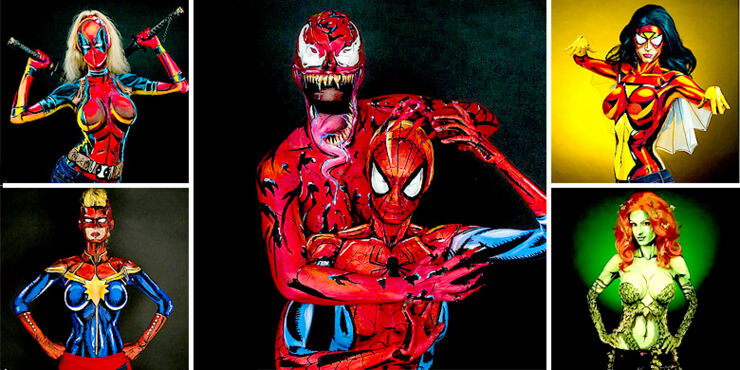 Moseley tells Mashable.com that she grew up, thanks to her brother, watching, "X-men animated series, Batman cartoons, Tim Burton movies, Power Rangers, the works! As a 80's baby and a 90's kid, these were all the characters I fantasized about."
Pike only started "cospainting" last year, she told Metro.co.uk. "I started painting myself in early December 2015 with my Attack On Titan face paint (the character with a skinless body). It went viral and I got invited to stream painting live online. I have been doing a body painted superheroes paint session twice a week ever since."
Both of them deserve all the praise and attention, because the results speak for themselves. You can check out some examples of their body painted superheroes below and go to Moseley and Pike's Instagram accounts.
Meet The Canadian Body Painted Superheroes
Painting today on http://www.twitch.tv/kaypikefashion/ Right now! Come and watch and chat! Ask every Question! This is Spider woman from last paint!
I Painted a Lady Deadpool on http://www.twitch.tv/kaypikefashion on Tuesday and I am painting again tomorrow! Please hang out and chat ;) Here is one of my favorite photos from the photo-shoot. It was the first off of the card. I love Deadpool's character and it just shines through on all these poses. Ill post some more right away #ladydeadpool #deadpoolmovie @vancityreynolds @robliefeld #robliefeld #fabiannicieza #rhettreese #paulwernick @briannahilde @edskrein @teenagemillionaire #morenabaccarin @ginajcarano @stefankapicic @deadpoolmovie @deadpool_4real @deadpoolfacts @deadpool.marvel @calgaryexpo @cineplexmovies @kryolanofficial @mehronmakeup @mehroncanada @sephora @bennyemakeup @marvel @marvel_pics #makeupartistsworldwide #makeup @makeupcoach #bodypaint #mua #makeupartist #comic #comicbooks #makeupcoach #cosplay #cospaint #bodyart @twitch #marvel #fanart #marveluniverse @amazingmakeupart #beauty #makeupaddict #artwork #makeupjunkie #model #instamakeup #cosmetics #makeuplover #myartistcommunity
Poison Ivy I painted on http://www.twitch.tv/kaypikefashion last time, and I am painting Again Tomorrow! I really like Pamela IRL. Ivy fights for the world itself, she is like Captain Planet... but a bit of a sociopath. :D Poison Ivy=planeteer haha.  I actually really prefer the New 52 Origin to the old one, its a little more twisted and human and convoluted. Shows she is indeed a neutral character, and ironically very human.  You'll find the animation appropriate as it refers to her M.O. *blows you a kiss* and personally my M.O., long time lurkers know what I am talking about :D This is the exact same wig I used for Starfire too~ a matilda in pumpkin from @ardawigs #poisonivy #bodypaint @ithurman @neilhimself @jimleeart @clarefoley123 @claregrant @milano_alyssa @tarastrong514 @jimmypalmiotti #redhair #yyc #calgary #bodyart @twitch @kryolanofficial @mehronmakeup @mehroncanada @sephora @bennyemakeup #mehronmakeup #kryolanofficial #mehron @wolfefaceartfx @ardacanada #makeupartistsworldwide #makeup #mua #makeupartist #comic #comicbooks #cosplay #cospaint #twitchcreative #twitch #dc #fanart @amazingmakeupart #beauty @comicbookresources  @geekfantasymagazine @comicsandcoffee @comicbookresources @geekculture @badasscosplay @epiccomicpics #wig @suicidesquadmovie #suicidesquad #ArkhamKnight #GothamCitySirens #dccomics #batman #PamelaIsley #green
Daredevil I Painted on ? http://www.twitch.tv/kaypikefashion ? (Oct 1st) I AM PAINTING AGAIN Tomorrow December 3rd Here is the Print:? http://bit.ly/Print_Daredevil ? Help Support Future Artworks : ? http://bit.ly/doantionlongterm ? http://bit.ly/Patreon_Kay ? ???? Daredevil was a very-very difficult. You know how I always say I try something new to challenge myself every paint, this was my first Colour-limit. I Used only 6 colours, it was one for the hardest things I have ever tried to do. I normally use between 20-30 colours so six was a brutality. One of those... WELP Ive done it, now its done! ????????????? Paint Supplies are from @sillyfarm , for 10% off and to show your love use KAYPIKE10 as a code ????????????? Blad cap is from @melproductsusa , for 15% off use code KAYPIKE ???? #daredevil #cospaint #bodypaint #bodypainting #bodyart #facepaint #facepainting #art #artist #makeup #makeupartist #mua #comicbookmakeup #comics #comic #yyc #twitchcreative #twitch #streamer #twitchtv #cosplay #cosplayer #comicmakeup #specialeffectsmakeup #sfxmakeup #sfx #SigmaPro @marvel.arts @marvel_pics @marvel @marvel_entertainment @marvelcomic_fans @marvelbrasil @daredevil @daredevil
Laura X-23 Wolverine I painted on ? http://www.twitch.tv/kaypikefashion ? Here is the Print:? http://bit.ly/Laura_Print ? Help Support Future Artworks : ? http://bit.ly/doantionlongterm ? http://bit.ly/Patreon_Kay ? ? ? ? ? Alright, So we all loved Logan, But I really got into it. They finally let wolverine be wolverine, and I resultantly went full nerd over researching Laura for the bodypaint. So many hours of material are available for her. She is so much more then just a "female wolverine" Shes the BETTER wolverine, Logan says so at one point in the comics even! Gods I love her. ? ? ? ? ? ? ? ? Paint Supplies are from @sillyfarm , for 10% off and to show your love use KAYPIKE10 as a code ????????????? Wig is from @ardawigs , for 5% off use code KAYPIKE ? ? ? ? ? ? #Laura #x23 #wolverine #loganmovie #xmen #bodypaint #cospaint #bodyart #facepaint #comicbookmakeup #twitchcreative #twitch #cosplay #comicmakeup #SigmaPro @tarastrong @andrealibman @leisha.medina @joeydaq @simondavidkinberg
Batgirl I painted on ? http://www.twitch.tv/kaypikefashion ? October Here is the Print:? http://bit.ly/BATGIRL_Print ? Help Support Future Artworks : ? http://bit.ly/doantionlongterm ? http://bit.ly/Patreon_Kay ? ???? Batgirl Was a fun little project, she turned out so glossy and cute. I really really love the colours in theis one. Stellar character design I hope I did it Justice :D ????????????? Paint Supplies are from @sillyfarm , for 10% off and to show your love use KAYPIKE10 as a code ????????????? Wig is Wefts in Warm Light Brown from @ardawigs use KAYPIKEARDA as a code ?????? #batgirl #dc #gotham #batman #cospaint #bodypaint #bodypainting #bodyart #facepaint #facepainting #art #artist #makeup #makeupartist #mua #comicbookmakeup #yyc #twitchcreative #twitch #streamer #twitchtv #cosplay #cosplayer #comicmakeup #specialeffectsmakeup #sfxmakeup #sfx #SigmaPro @aliciasilverstone @mistergarf @alysonstoner @tarastrong514
Bizarro-Girl I painted on http://www.twitch.tv/kaypikefashion last night! This bodypaint was lovely, I got excited to do a Bizarro. AM HATE BIZARRO. The paint took about 13 hours to complete, I tried so very hard to get the broken mirror skin look right. So much love. I would like to say that I'm painting characters I really find beautiful (not producing bodypaints) with the love I get for the effort comic artists put into their work, my obsession with light and shadow, "In it for the art" allows for time to fly soooo fast XD Had a lot of fun with the fan during the photoshoot. This paint was a suggestion in my livestream as character with the same hair colour as me.. Reminded me of the Htrae!  Seriously though the Bizarros are really fun and cool plot devices and one of the best moves by DC. But will we see her in Supergirl? #bizarrogirl #Htrae #bizarroworld #injusticeleague #dc #dccomics @dccomics #supergirl @supergirlofficial @melissabenoist @andrewkreisberg @gberlanti #comic #comicbook #tv #drawing #art #artist #paint #painting #yyc #twitch #twitchcreative @twitch @mehronmakeup #cospaint #cosplay #cosplayer #bodypaint #bodyart #body @dcgramm
This is the Two-Face we painted on http://www.twitch.tv/kaypikefashion last night (and today technically) this one was very detailed, very very detailed. But a beautiful image, (thanks twitch chat for suggestion) . I am Really looking forward to the photos on this one, even though it isn't full body the feedback so far has been good! If you want to have a look at the images right now I'm streaming on twitch #getmygoodside #dontgetexcited #wetwetwet @dccomics #batman #gotham #twoface #harveydent @twitch #twitchcreative #art #artist #paint #makeup #twoface @batman #dc @batman.official 3bodyart #yyc #streaming #live #kaypike #painting
Part 2 of Spider-Man animations!  Painting again today on twitch!  http://www.twitch.tv/kaypikefashion starting in about an hour! Today's painting challenge: blend fibre arts in with the project. its going to be very exciting to see if it turns out, so please have a look! #twitchcreative @epiccomicpics @marvel #kryolan #kaypike #twitch #creative #cosplay #cosplayer#marvel #marveluniverse #marvelous #marvelcomics #yyc #yycmua  #comics #spiderman @twitch  #video #chat @mehronmakeup @marvel.arts @marvel_pics @marvel_entertainment @kryolanofficial #amazingspiderman #peterparker #dailybugle
High Quality look at Carol, Captain Marvel body paint for you wonderful supportive people out there. She is an awesome fun character to pose in, everyone that has been thinking about a cosplay recently think about making a captian marvel. Shes super cool. and that hair. THAT hair. Just dooo it. JUST DO IT #caroldanvers # CaptainMarvel #marvel @marvel @marvel_art @marvel_pics #hero #fly #bodypaint #bodyart #twitchcreative #makeup @twitch #kaypikefashion #wierd #fun #stream #live #artist #comic #comics #fauxhawk #blond #hairstyle #fashion #yyc #2d #specialeffects #comicart #cosplay #paint #art #timeconsuming #soworthit #yyc
Here is my cheetara bodypaint from last night, I was streaming on http://www.twitch.tv/kaypikefashion ;. This is a motivational cospaint I did for my friend and amazing cosplayer  @spencervoykin https://www.facebook.com/spencevalliant We love lion-o!  If you want to join me on twitch.tv right now I'm doing the phtotoshops and social media for cheetara if you want a sneak peak #twitchcreative #twitch #stream #livestream #cospaint #bodypainting #cheetara #interactive #makeup #thundercats #excitement #video #chat #streaming #cosplay #entertaining #tips #conversation #allday #comfortzone #friendship @twitch @thundercatsorg #liono
Dark Phoenix is who I painted last time on http://www.twitch.tv/kaypikefashion This insanely powerful very complex character was a joy to create in paint. I used a viscous amount of ambient orange lights and back-lighting of red. Light was affecting every paint choice :D It was a Challenge as always to to the extreme contrasts with the style. I last did it with Robin. The animation was fun too, We turned up the gel lamp and tied it into the blowing animation. Fire and Drama :D The Wig is a Matilda in Crimson from @ardawigs #darkphoenix #jeangray #marvel #xmen #comics #StanLee @shadesofjeangrey @halesbells @sophiet @sirpatstew @thehughjackman @bryanjaysinger @therealstanlee @gregpakpix @ryanstegman @stanleecomikaze @therealstanlee #JackKirby @xmenmovies @xmengeek @comics @comic_con #redhair #yyc #calgary #bodyart @twitch @kryolanofficial @mehronmakeup @mehroncanada @sephora @calgaryexpo @bennyemakeup #mehronmakeup #kryolanofficial #mehron @wolfefaceartfx @ardacanada #makeup #mua #makeupartist #comic #comicbooks #cosplay #cospaint #twitchcreative #twitch #fanart @amazingmakeupart #beauty @comicbookresources @geekfantasymagazine #Dark #Phoenix #bodypaint #paint
Had so much fun on http://www.twitch.tv/kaypikefashion Thanks everyone that came out to hang with me and chat. Most importantly you motivated me to keep going on thanos even when the paint got crumbly? Thanks for giving me ideas during the photoshoot too. And thank you Eleine for suggesting I try this wierd tv PBS type deal. I learned so many things it was a great expirience. I hope I contributed to your day too! @twitch #thanos #marvel @marvel @marvel_art @marvel_pics #jimstarlin #bodypaint #bodyart #twitchcreative #makeup #villan #comic #art #yyc #chat #interact #opticalillusion #model #photoshoot #comments #streaming #new #n00b #paint #kaypikefashion #wierd #fun
JUSTICE LEAGUE ?? Who's your favorite? ✔Green Lantern✔Batman✔The Flash✔Superman✔Aquaman✔Wonder Woman✔Cyborg Call me a dork if you want, I don't even care. So stoked on this! Wishing I could be at #sdcc this weekend. #lifegoals for next year! In the meantime I think I need to do a full body Wonder Woman. It's time we get some full body ladies up in here ? #justiceleague #wonderwoman #superman #batman #aquaman #cyborg #greenlantern #TheFlash #batmanvssuperman #new52 #dccomics #dc #power #yyc #yycartist #calgary #nerd @sir_ray_fisher @batman.official @the_justice_league_of_america @dccomicsunited @dcentertainment @dccomicsfinest @dccomics @argenapeede #cosplayer #cosplay #sdcc #nycc #comiccon #comiccon2015 #sandiegocomiccon #bodypaint #bodyart #dupemag #annalingis
Chewbacca and C-3PO! Who do you want to see next? @starwars MUA/?: @lustredust Models: @lustredust & @kaypikefashion #100daysofmakeup #100daysofmakeupchallenge #lustredust #c3po #c3pomakeup #chewbacca #theforce #theforceawakens #rebel #rebelalliance #droid #wookie #bodypaint #bodyart #illusion #artist #cosplay #cosplayer #Kryolan @kryolanofficial #mua #makeupartist #muotd #photooftheday #photography #yyc #calgary #yycmua
Last one.. I just love him so much ?? check previous posts for details!?? #tmnt #michelangelo #raphael #goninjago #halfshell #kryolan #neon #uv #bodyart #bodypaint #twitch #creative #cosplay #cosplayer #cosplaygirl #makeup #muotd #artofinstagram #calgarymakeupartist #dehsonae #kellyjurado #twistinbangs #luvekat #zombie #pizza #brains