36 Crazy Conspiracy Theories That Are Guaranteed To Have You Reaching For Your Tin Foil Hat
In an age when Donald Trump is president, crazy conspiracy theories seem to be heading towards the new normal. Especially when the POTUS has been known in the past to retweet the King of Conspiracy himself, Alex Jones' Infowars website. With Trump using it as a source to reaffirm his own views.
It seems that in these post-truth times, crazy conspiracy theories are a legit way to fashion a political movement. Or, at least, to cry foul at FAKE NEWS! While muddying the waters of what's real and what's false.
But still, there are some conspiracies that are so far out, so wacky, so bizarre and extreme that not even Donald Trump has retweeted them. They are so zany that you think 'maybe' there might be some truth in them.
They're conspiracy theories that have been floating around the internet for some time and wuite possibly before that. Resurfacing on blogs, coming up in stoned conversations across the globe.
They involve Bigfoot being an alien, the Beatles never having existed, dinosaurs building the pyramids, and the Queen of England being a cannibal. Donald trump being an alien does sound like it's true though.
They are, well, hilarious. And possibly true. Depending on how many tin foil hats you might own. Take a look at them below, courtesy of Imgur user Ricardo884, and make up your own mind.
Some Totally Crazy Conspiracy Theories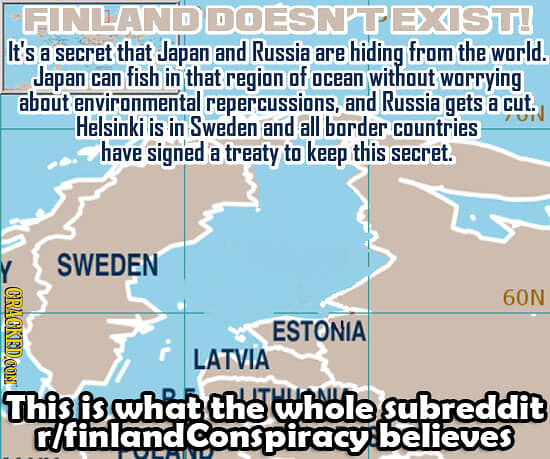 Finland doesn't exist!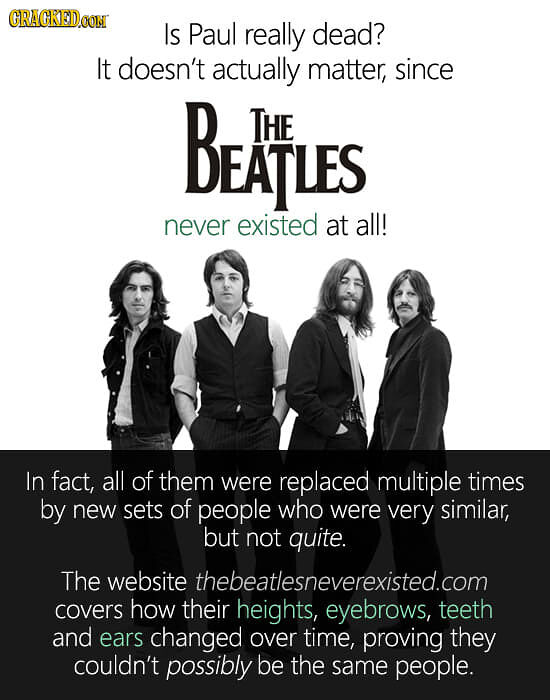 The Beatles never existed at all.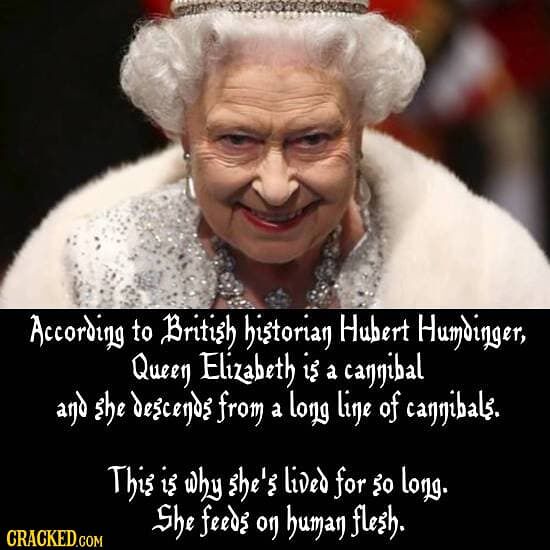 The Queen is a cannibal.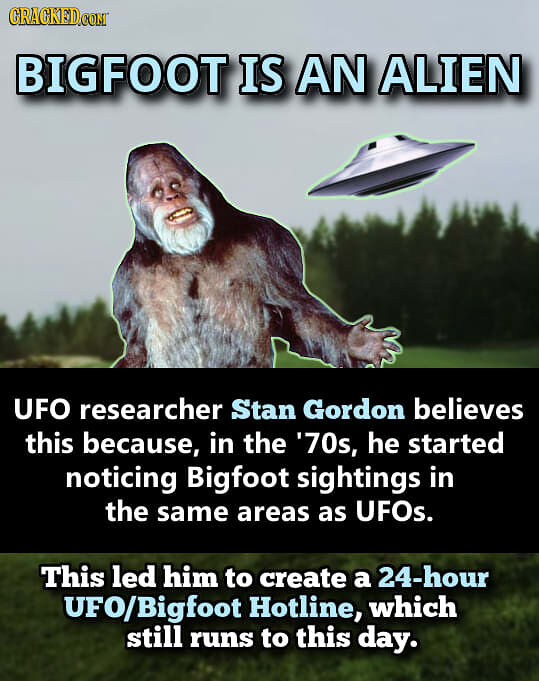 Bigfoot is an alien.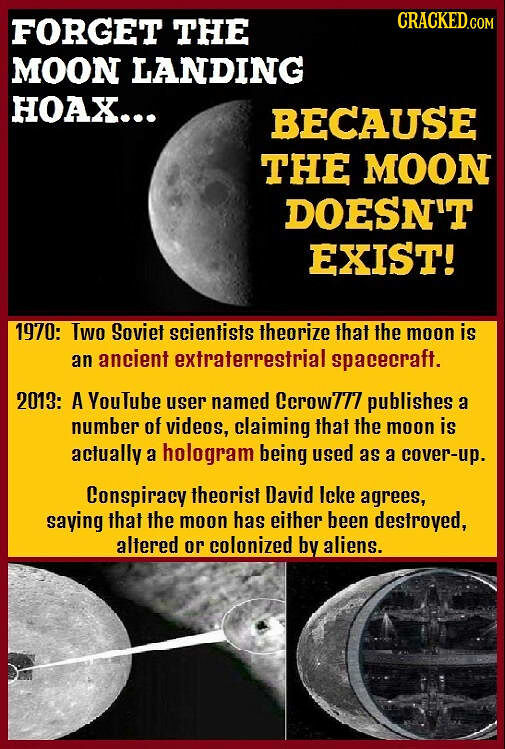 The moon doesn't exist.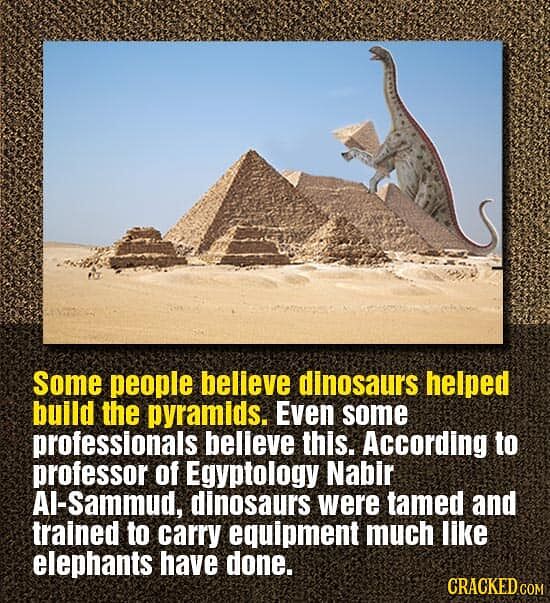 Dinosaurs helped build the pyramids.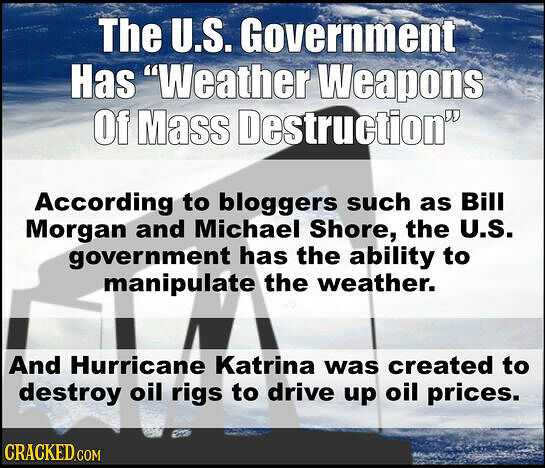 US government has weather weapons of mass distruction.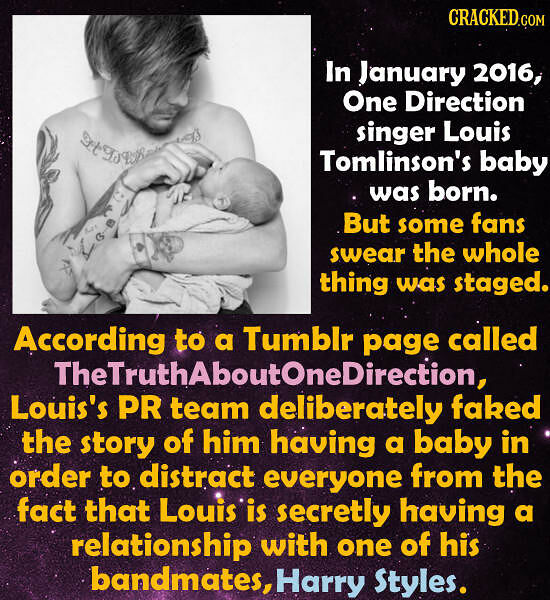 The truth about One Direction.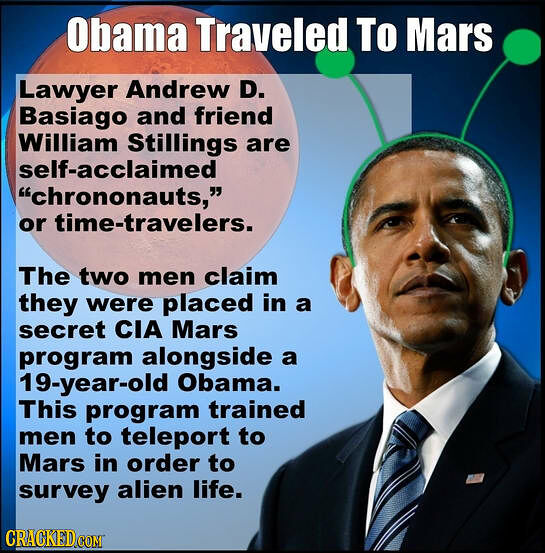 Obama traveled to Mars.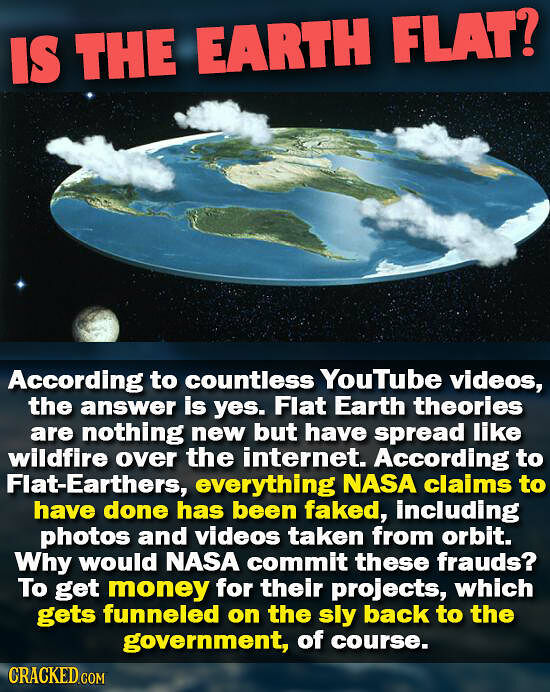 The Earth is flat.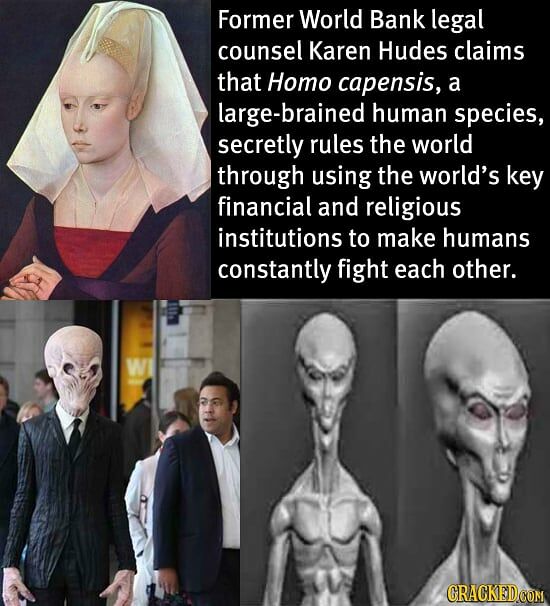 Bomo Capensis rule the planet.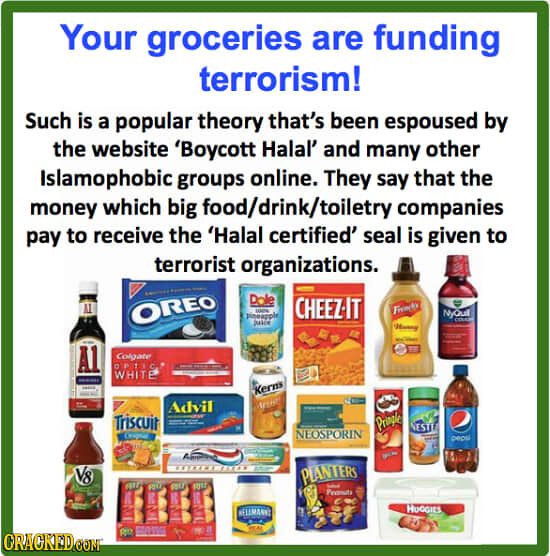 Your groceries are funding terrorism.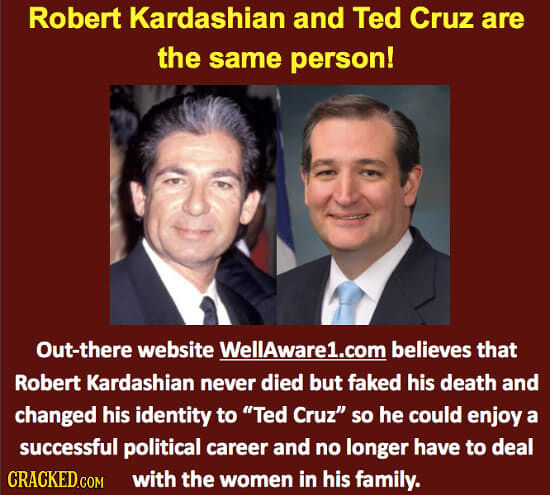 Robert Kardashian and Ted Cruz are the same person.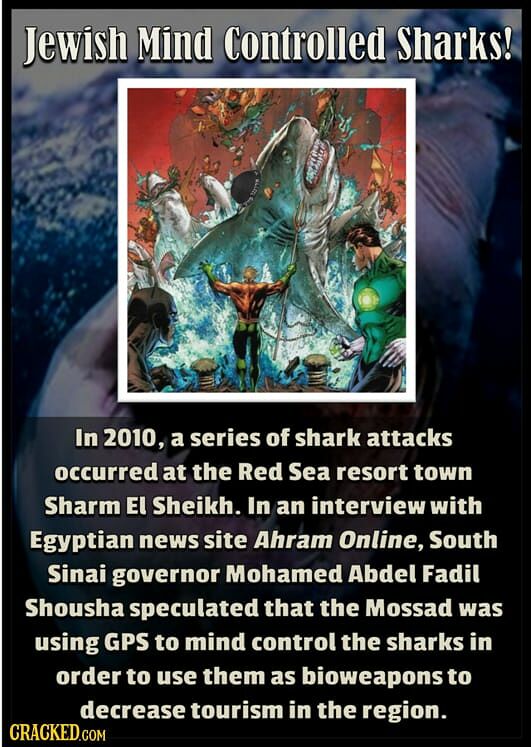 Jewish mind controlled sharks.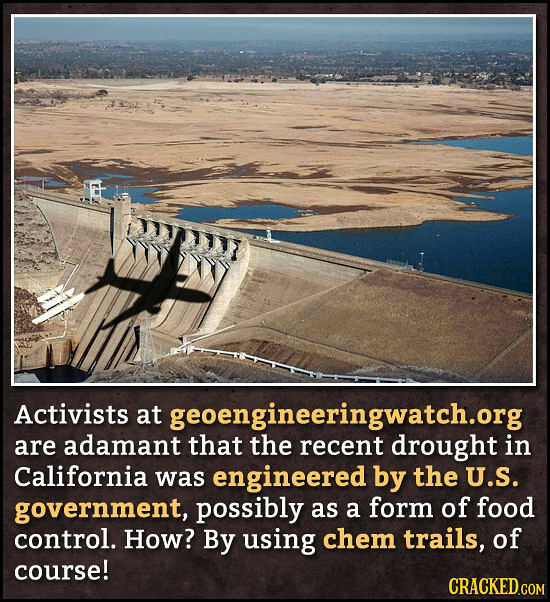 Drought in California caused by chem trails.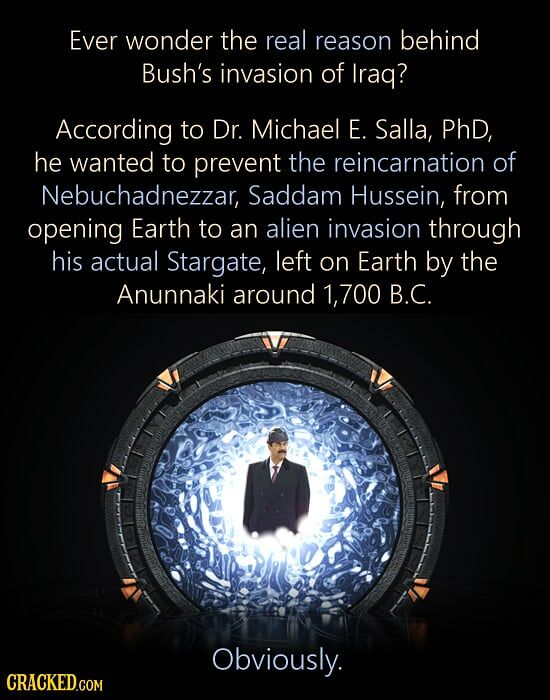 Why Bush really invaded Iraq.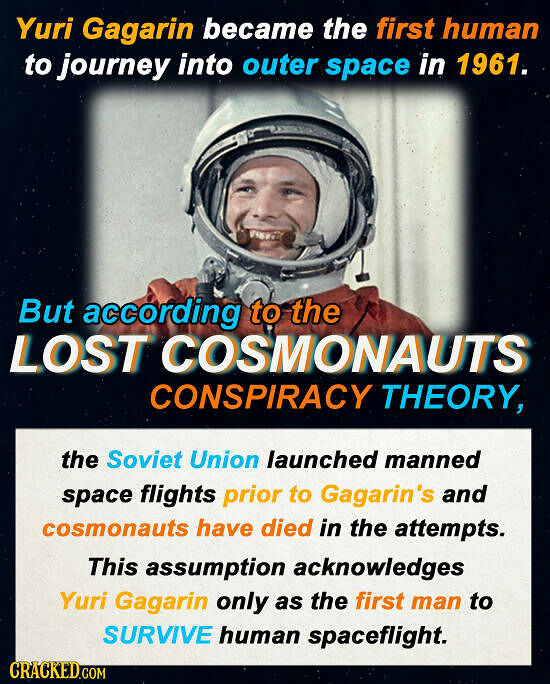 Yuri Gagarin was not the first man in space.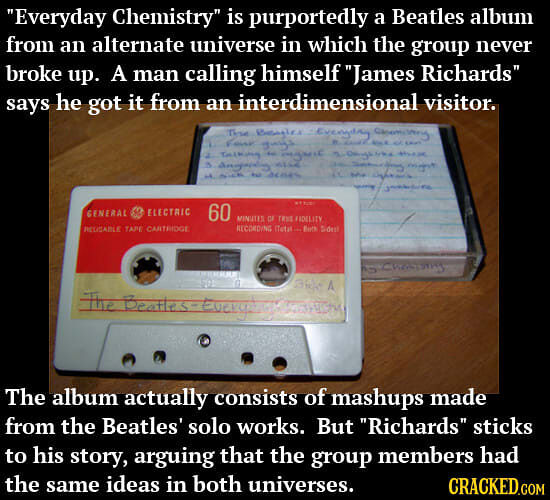 'Everyday Chemistry' is a Beatles album from an alternate universe.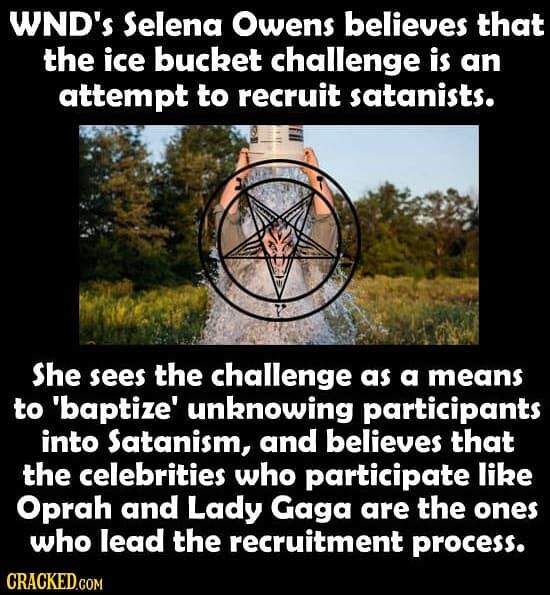 'Ice Bucket Challenge' was an attempt to recruit Satanists.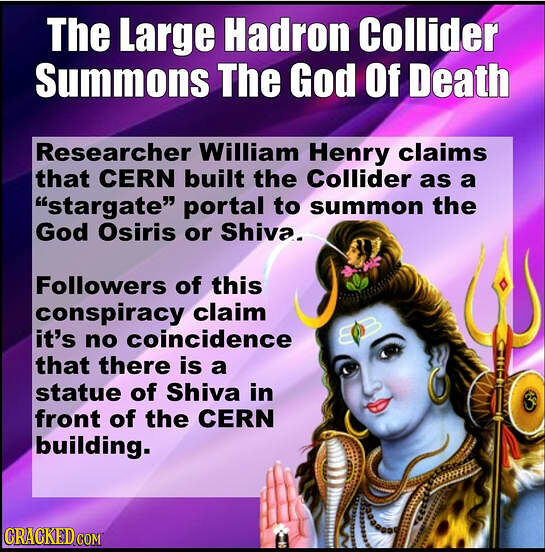 The Large Hadron collider summoms the God of Death.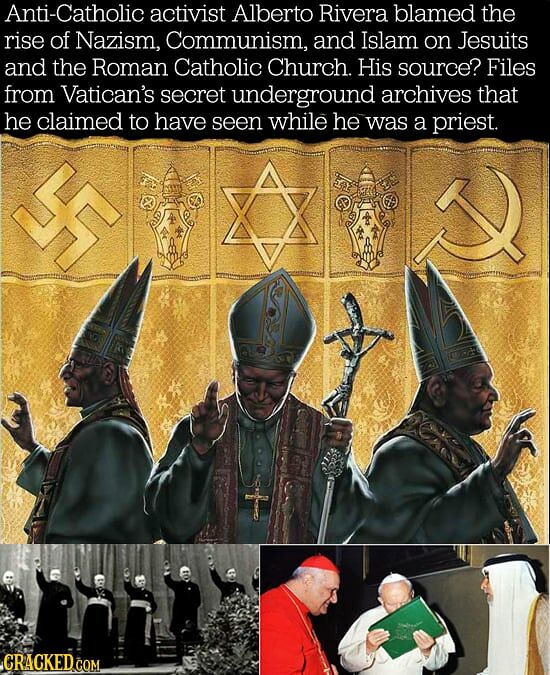 Jesus was to blame for Nazis.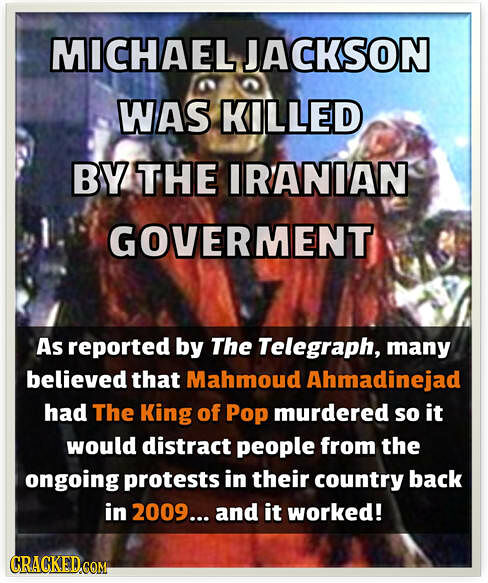 Michael Jackson was killed by the Iranian government.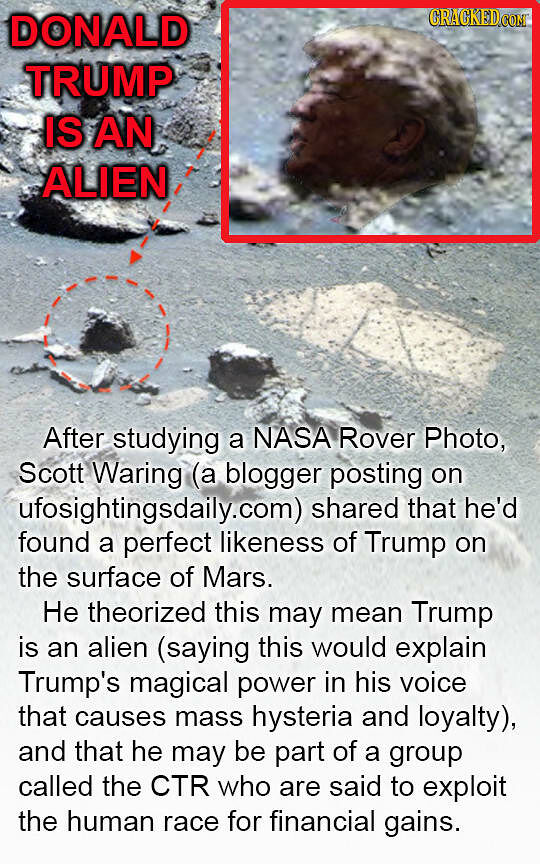 Donald trump is an alien.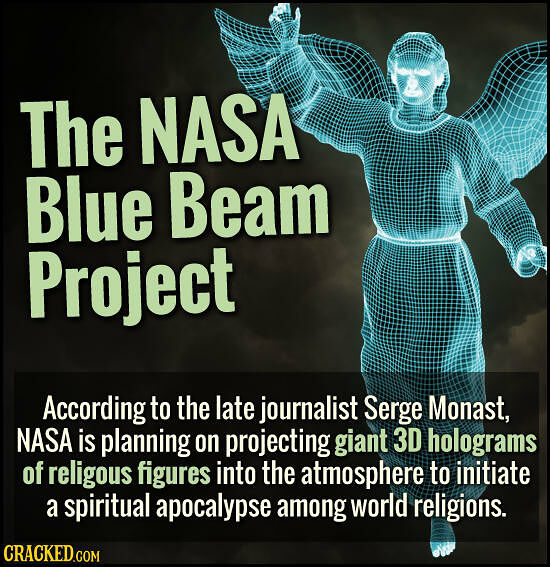 The NASA Blue Beam project.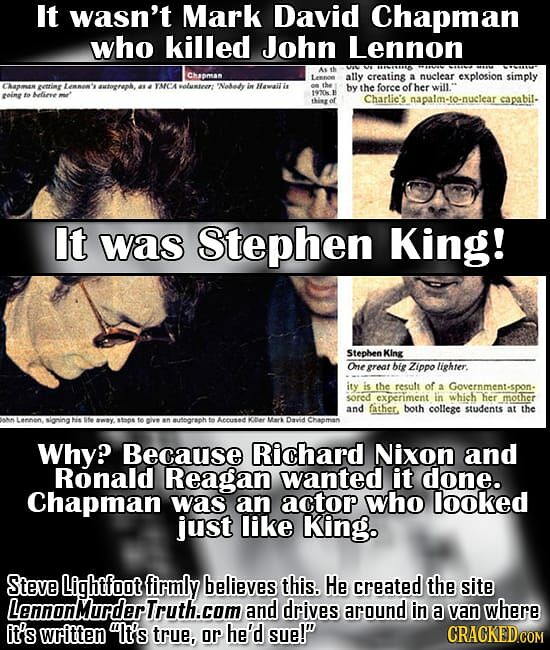 Stephen King killed John Lennon.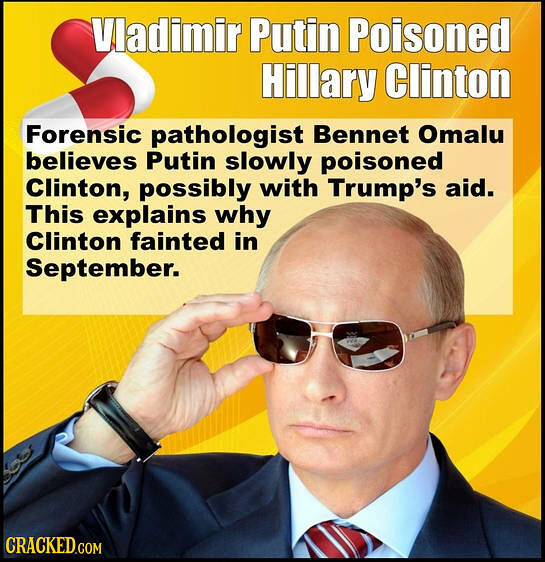 Vladimir Putin poisoned Hillary Clinton.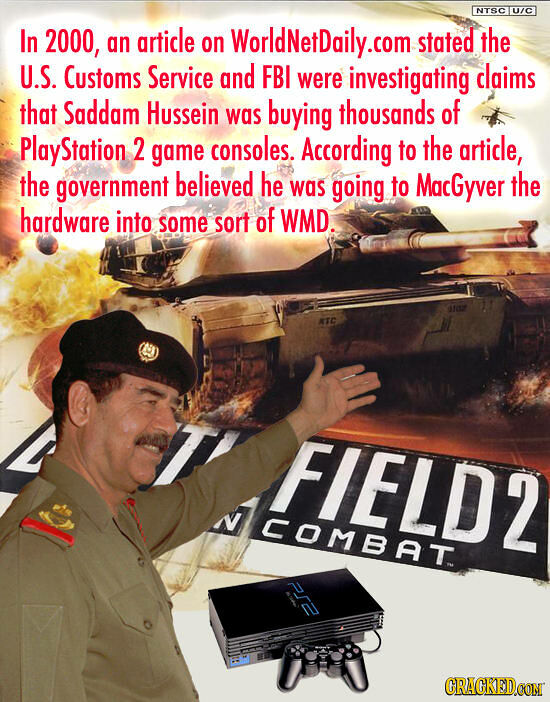 Saddam Hussein's weapons of mass destruction.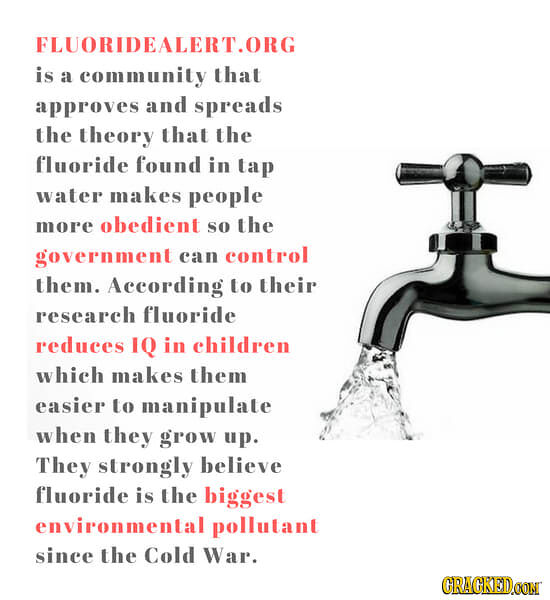 Government controls children's IQs.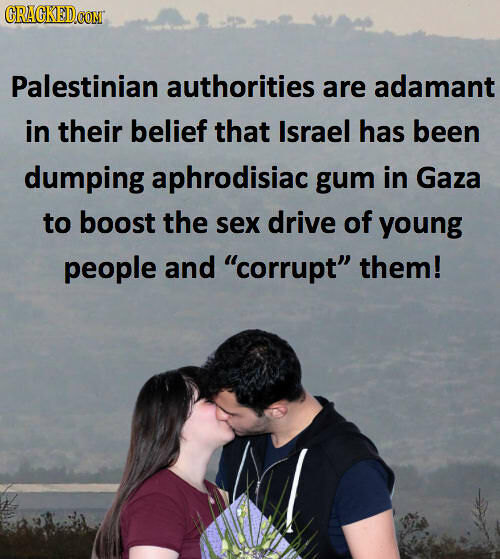 Israel controlling Palestinian sex drive.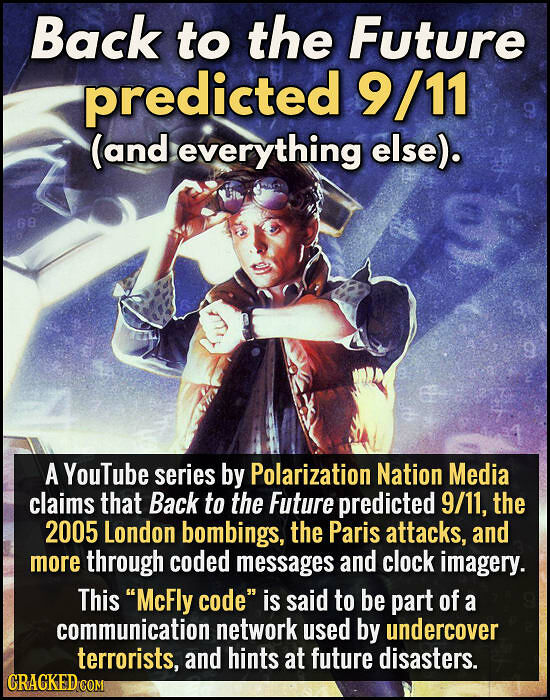 Back to the Future predicted 9/11.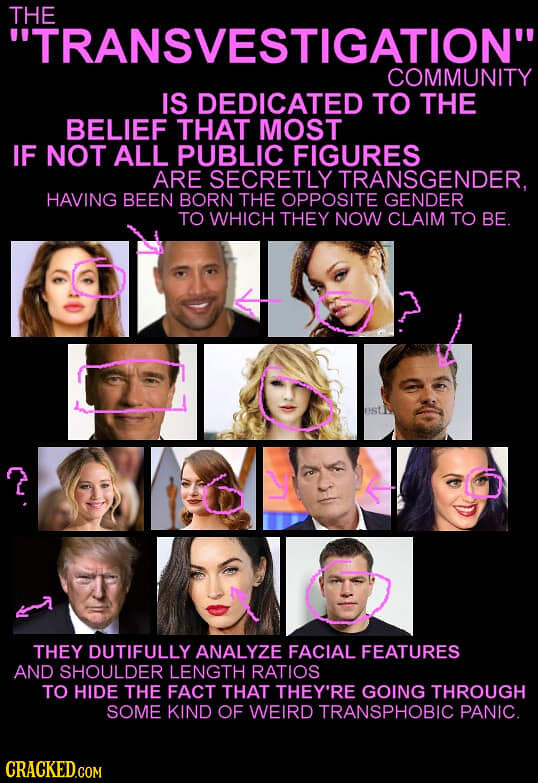 Transvestigation.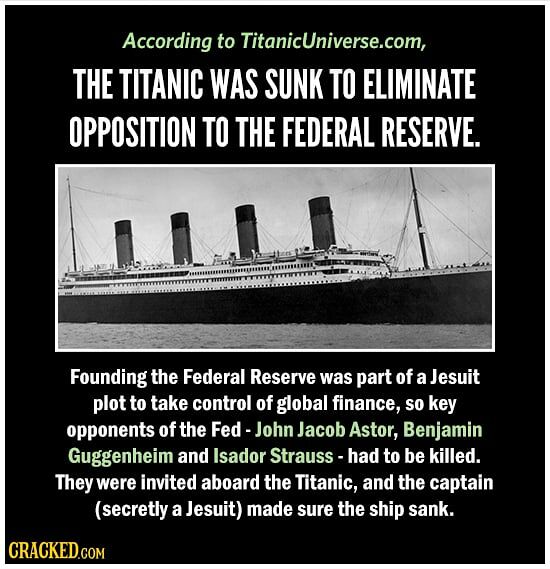 The Titanic was deliberately sunk.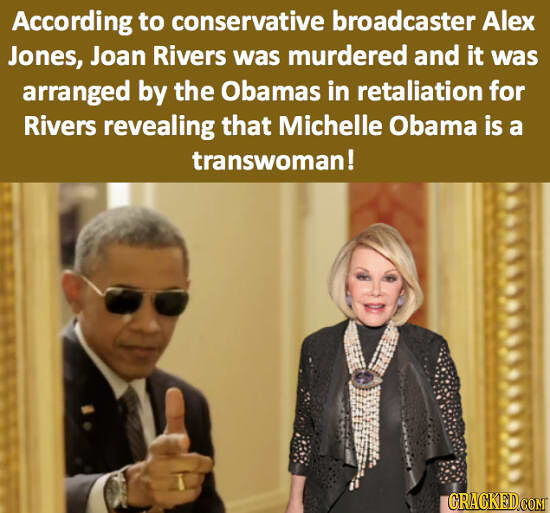 Joan Rivers was murdered by the Obamas .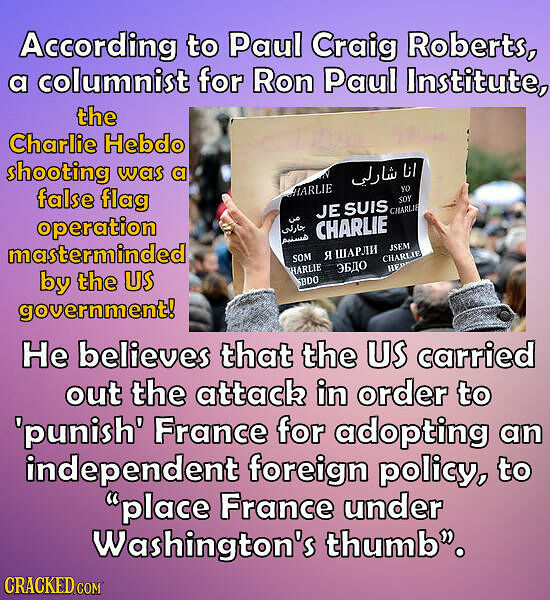 Charlie hebbo shooting masterminded by US government.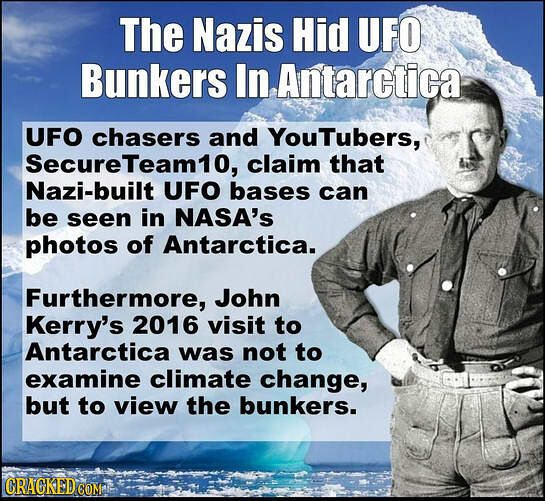 Nazis hid UFO bunkers in Antartica.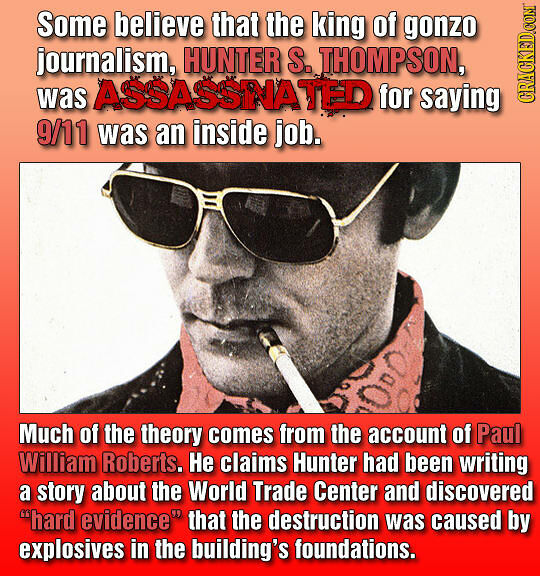 Hunter S. Thompson was assassinated.