The New Narcos? Netflix Series 'El Chapo' Will Focus On Mexican Drug Kingpin Joaquin Guzman
If you're a fan of Narcos then you might be intrigued by a new series co-produced by Netflix and Univision's Story House Entertainment called El Chapo. The original drama series, which premiered on Univision in April, sees actor Marco de la O playing Mexican drug lord Joaquin 'El Chapo' Guzman who headed the Sinaloa Cartel.
Guzman is at this moment in jail in New York, after being extradited to the US under Barack Obama. In his time Guzman, better known as El Chapo, headed up one of the largest and most notorious drug cartels the world has ever seen. His Cartel transported multi-ton cocaine shipments from Colombia through Mexico to the United States, the world's top consumer, and had distribution cells throughout the U.S.
Far outdoing, in reach and acts of violence, Pablo Escobar, the Colombian drug lord who is the subject of the popular Netflix Narcos series. It starred Wagner Moura as the infamous kingpin of the Medellin Cartel.
On January 19, 2017, Guzman was extradited via aircraft to the United States to face criminal charges there related to his leadership of the Sinaloa cartel. As such El Chapo is now facing charges for trafficking, kidnapping, torture, murder, and money laundering—which is thought to go into billions of dollars.
Bringing The El Chapo TV Series To Netflix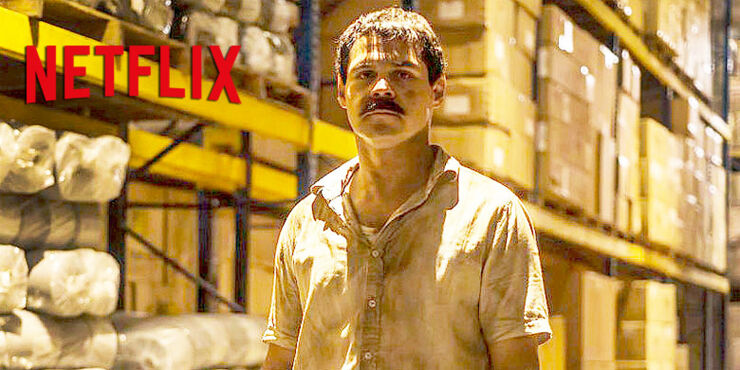 Marco de la O as Joaquin 'El Chapo' Guzman
Now Guzman's life will be dramatised in the new show which is airing on the Univision TV channel and will be available on Netflix too. Similar to Narcos it is a Spanish language show, and the team behind it are hoping it will prove as popular as Netflix's runaway hit.
El Chapo is created by Silvana Aguirre Zegarra, produced by Daniel Posada and its first season is directed by Jose Manuel Cravioto and Ernesto Contreras. According to Deadline, "It explores the life story of El Chapo, one of the world's most notorious criminals, over a span of three decades. From 1985 when he was a low-level member of the Guadalajara Cartel, his rise to power, and his ultimate downfall."
"We are thrilled to have Marco take on the role of 'El Chapo' as we begin to unfold the story of the most notorious drug lord of our times, revealing the man behind the myth," said Christian Gabela, GM of Story House Entertainment. "We think viewers will be truly captivated by both Marco's performance and this story of power, ambition, corruption, secrecy and deception."
"The truly inspired casting of Marco de la O puts the last piece into place for bringing this innovative production to life," president of Entertainment, UCI Lourdes Diaz, said. "By combining the world-class reporting and insights from Univision News' investigative team with an outstanding team of talented storytellers and producers, Marco will dramatically help us pull back the curtain on the life of one of the most well-known criminals in modern history."
Is The El Chapo Show Univision's Narcos?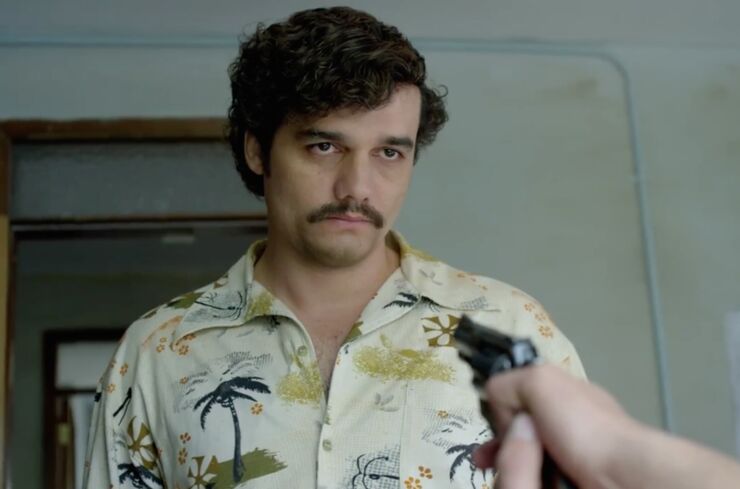 Wagner Moura as Pablo Escobar in the Netflix Narcos series
Univision is a popular channel for Hispanic-speaking audiences in the US and Netflix are going after more Spanish-language programming after the success of Narcos. So it makes sense they would want to team up with Univision for a TV show about one of the most notorious drug lords ever.
"Narcos is a huge global success on Netflix and sampling the series to every single Spanish-speaking living room in the US will give additional viewers the opportunity to fall in love with its unique storytelling." said Ted Sarandos, Netflix's chief content officer. "Promoting these original shows on Univision is a great way to further reach Hispanic audiences and help them discover Netflix."
Shows about the cartels of South America are becoming increasingly popular. Former Narcos showrunner Chris Brancato is also producing a drama, called #Cartel, about El Chapo for the History Channel.
And there's already been speculation that after Narcos season 3 we could see the Narcos TV show focus on the Sinaloa cartel that El Chapo headed up before his arrest late in 2016. With season 2 vying for an Emmy, along with Wagner Moura's portrayal of Pablo Escobar, taking on such a modern narco terrorist as Guzman could see more vindication on the awards front for the Netflix show.
But if the Netflix series does follow that path, it'll have to compete with all these series too.
How Did El Chapo Guzman React To It All?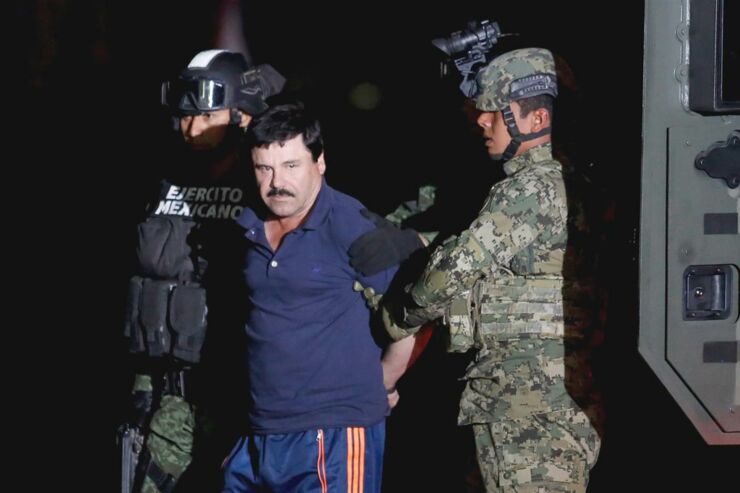 The real Joaquin 'El Chapo' Guzman
So what does El Chapo himself think of it all and his new rise to stardom as he is portrayed as a TV villian? Well, being in jail he won't be able to watch them himself and he hasn't responded personally. But Guzman's lawyers have already threatened legal action with regards to the El Chapo show.
"If they air this, they are immediately going to be sued," a lawyer for Guzman, Andres Granados, told Associated Press. "They, by necessity, need the authorization of Mr. Guzman, because he is not dead. With great pleasure, we have the greatest willingness to negotiate with them."
Another of Guzman's lawyers, Jose Refugio Rodriguez, has said, "If they are producing something that (Guzman) has not authorised—if they start attacking him, or publishing things from his private life, then there will be a legal response."
Neither Netflix or Univision have yet made a comment on the issue.
UPDATE: El Chapo Guzman is now planning on suing Netflix and Univision for defamation over the TV series, saying it's damaging his image ahead of his upcoming US trial.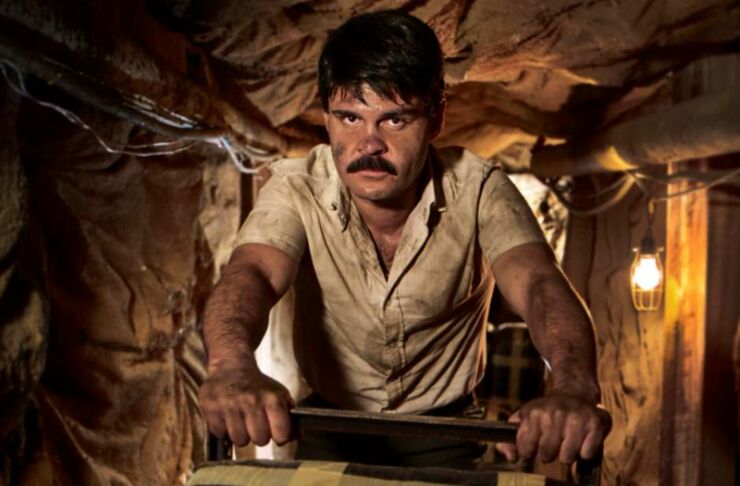 Marco de la O as Joaquin 'El Chapo' Guzman

Related

Narcos Season 3 On Netflix "The Blow Must Go On!" Release Dates, Spoilers, Cast, Trailers & More

Narcos At The Emmys – Will The Pablo Escobar Netflix Show Win Big For Season 2?

Mexican Drug Lord El Chapo Guzman To Sue Netflix For Defamation