Netflix Narcos Season 4 Location Scout Was Shot And Killed in Mexico Cartel Territory
A Narcos location scout, Carlos Muñoz Portal, has been shot and killed in Temascalapa, central Mexico. Portal was sourcing settings to film for Netflix's fourth season of the Narcos series, which will move the narrative from Colombia to Mexico. In a statement Netflix confirmed the death of Narcos location scout Muñoz saying, "We are aware of the death of Carlos Muñoz Portal, a respected location manager, and offer our condolences to his relatives. The facts are still unknown as authorities continue to investigate what happened."
Portal has worked for a number of years for the US film and TV industry, finding locations for various productions shooting in Mexico. His credits include Fast & Furious, Sicario, Apocalypto, and more. The news of the Narcos location scout's death was first reported by El Pais who said it is unclear as to what happened to bring it about. A friend of his told the Spanish newspaper that he got into his car on Monday 11 September and headed to the State of Mexico to take photos for the Narcos Season 4 production centering on Mexico's Juarez cartel.
Hours later his dead body was found with several bullet shots. According to El Pais, "The vehicle was on an unnamed dirt road in the community of San Bartolo Actopan, in the municipality of Temascalapa. The site is located to the northeast of the State of Mexico, very close to the border with Hidalgo. That entity, the most populated of the country, is the one that has [the] most homicides. Last July, 182 cases were registered, a rate of 12.2 per 100,000 inhabitants."
About Narcos Location Scout Carlos Muñoz Portal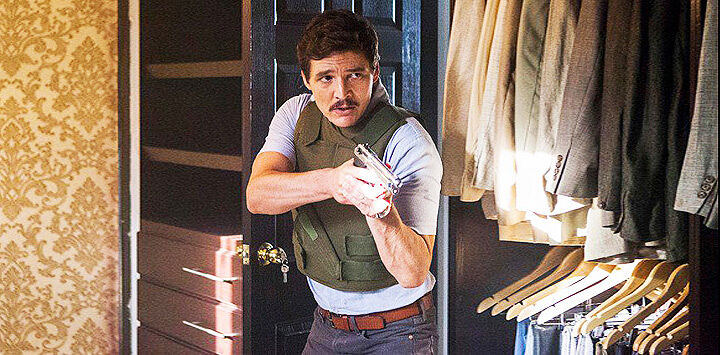 Pedro Pascal in Narcos season 3. Image: Juan Pablo Gutierrez / Netflix.
Narcos season 4 will focus on Mexico's Juarez cartel, its origins and the rise of El Chapo, the notorious Mexican drug kingpin who was arrested last year. It follows on from Narcos season 3 which looked at Colombia's Cali Cartel, who succeeded Escobar in running the cocaine trade before the Mexican's took over.
The murder of Muñoz has cast some doubts as to whether the production will still go ahead in Mexico. Or whether it might be moved to Colombia. According to Variety, "Such a decision would imperil hundreds of jobs that the series' production would have generated in Mexico."
As to solving what happened to the Narcos location scout, due to the remoteness a spokesman for the Attorney General of the State of Mexico says, "Given the depopulated we have no witnesses." El Pais also reports that Muñoz's friend, who has remained anonymous, thinks that a stranger with a camera may have made local inhabitants uncomfortable. "Maybe they thought he was collecting information and they started tracking him in a car." he said.
While a police spokesman said, "We do not know if he was in Hidalgo and from there they followed him or if he was in the State of Mexico and tried to flee towards Hidalgo." Spanish journalists have also posted photos since the news of the Narcos location scout's death broke (see below).
En parajes #Edomex, Carlos Muñoz Portal (37), buscaba locaciones para serie . Fue encontrado muerto, por balas, en automóvil
​Pablo Escobar's Brother on Location Scout's Death
Following the news of Carlos Muñoz Portal's death in Mexico, Pablo Escobar's brother, Roberto De Jesus Escobar Gaviria (see a recent interview with him in the video above), has spoken up about it. Known as the 'chief of the hitmen' and former lead accountant for Escobar's 1980s cocaine empire, in an interview with The Hollywood Reporter Gaviria said that "Netflix should provide hitmen to their people as security."
Along with this the 71-year-old also issued his own warnings to Netflix about filming the show Narcos, saying, "I don't want Netflix or any other film production company to film any movies in Medellin or Colombia that relates to me or my brother Pablo without authorization from Escobar Inc. It is very dangerous. Especially without our blessing. This is my country."
THR also asked Gaviria about his demands last year that Netflix pay $1 billion for using his brother's likeness with the family's permission. "Netflix are scared. They sent us a long letter to threaten us. Right now, we are in discussions with them through our attorneys Browne George Ross LLP to obtain our $1 billion payment. If we don't receive it, we will close their little show."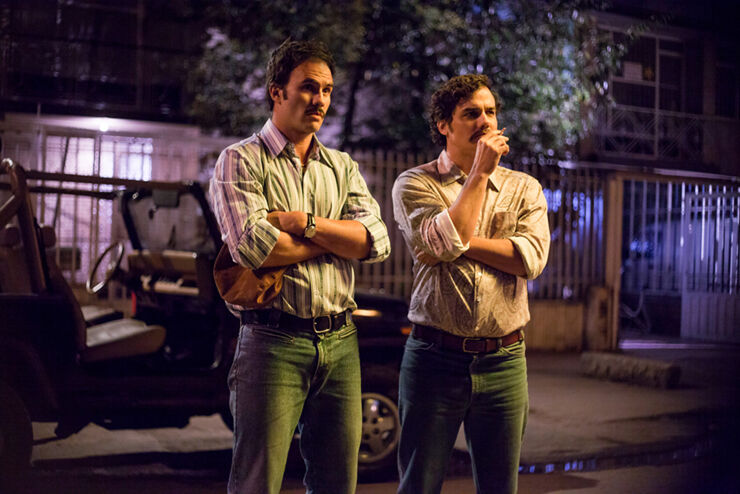 Juan Pablo Raba and Wagner Moura. Photo credit: Daniel Daza/Netflix.