Narcos Season 4: Release Date, Trailer, Cast, El Chapo, Juarez & the Rise of the Mexican Cartels
When is Netflix Narcos Season 4 release date? When's the trailer out? Well, for those of you who binged-watched Netflix Narcos Season 3, know all about the Cali Cartel and are up to date with the show, you have probably been wondering when Netflix's Narcos season 4 is out and where the narrative is heading. Well, even before the Season 3 premiere on September 1, 2017 when Narcos season 3 was available to stream, Narcos showrunner Eric Newman spoke about his interest in the Mexican cartels, both their origin and their development into what they have become today.
Newman also said that the Cali cartel were the ones who used smuggling routes through Mexico and as such got the Mexicans into the cocaine business—they were already using the routes to smuggle heroin. So it's the obvious direction that Narcos season 4 would take. "There is sort of a natural evolution there." Newman said. "As to whether or not I would move directly into Mexico, it's certainly a possibility."
Although Netflix currently has a show about the most notorious Mexican drug lord of our times, Joaquín 'El Chapo' Guzmán, it's unlikely Narcos won't make a show about the Mexican Cartels without featuring him as a main character. Although whether he'll feature in Narcos season 4 or whether that season may focus on before his time, and end with his introduction, remains to be seen. The good news though is that 'The blow will go on.'
Narcos Season 4 and the Rise of the Mexican Cartels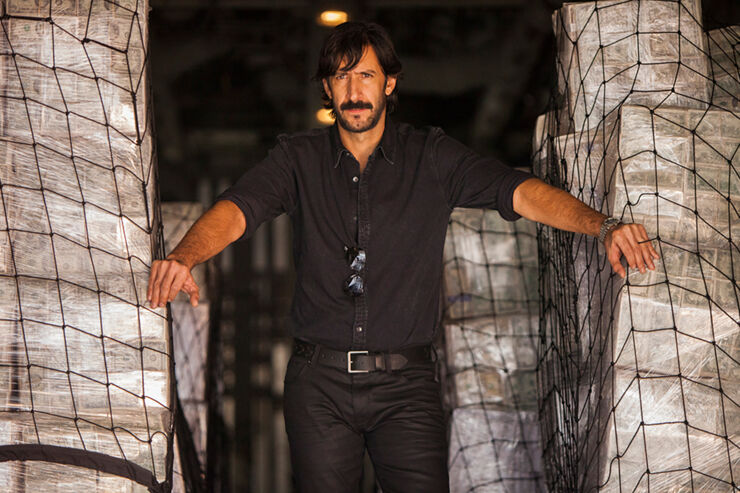 Still from Narcos season 3. Image: Juan Pablo Gutierrez/NETFLIX
Since the release of Narcos season 3 Newman has spoken with The Hollywood Reporter about where season 4 may go. Which, although not official, looks increasingly like it will focus on the Mexican cartels. Especially after the season 3 finale paved the way for the Mexican cartels to come along.
It did this by introducing Amado Carrillo Fuentes after character Pacho Herrera, one of the Cali cartel godfathers, went to Juarez. Mexican drug lord Amado took control of the Juárez Cartel after killing his boss and the cartel's leader, Rafael Aguilar Guajard.
"Amado Carrillo Fuentes, aka the Lord of the Skies." notes Newman to THR. "If and when we go to Mexico — and obviously the end of the season and the final scene suggest that trafficking is much closer to home than we thought. That's the great irony, that you go down to Colombia to try to confront head-on the threat of cocaine trafficking, and you end up actually bringing it closer to home. The battle you thought you were fighting over there has now, largely as a result of your efforts, moved closer to our shores."
Explaining further why the show would focus on Mexico, Newman remarks, "Past a certain point, and I think we've just reached that point in our show, Mexico became the kings of the cocaine game. You realize that you shut down the Miami-Caribbean corridor where they were bringing all their cocaine in for years, and that cocaine is going to find another way in. Why not this country of 130 million people with a 2,000-mile border they share with us? That seems to make the most sense, and that's exactly what happened. There is definitely a natural passing of the torch to Mexico, who at the time were already very successful as heroine and marijuana smugglers. It makes perfect sense that you would employ what they call the Mexican Trampoline to bounce cocaine into the States."
When Is The Netflix Narcos Season 4 Release Date?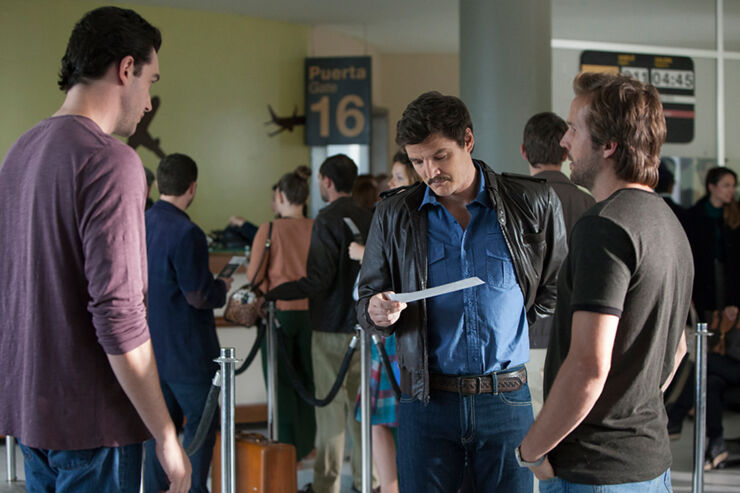 Pedro Pascal and Michael Stahl-David in Narcos season 3. Image: Juan Pablo Gutierrez / Netflix
Although there has been no official release date yet for Narcos season 4, looking at when the previous seasons premiered there is a definite pattern—season 1 was 28 August 2015, season 2 premiered on 2 September 2016 and season 3 was 1 September 2017,
So it's looking likely that if production begins soon, we may get Narcos season 4 streaming around the beginning of September 2018. Given this timeline, it's probable that Season 4 will premiere on the first Friday of September (Because Friday is the day when Netflix releases all its originals)
Will Pedro Pascal And The Cast Return In Season 4?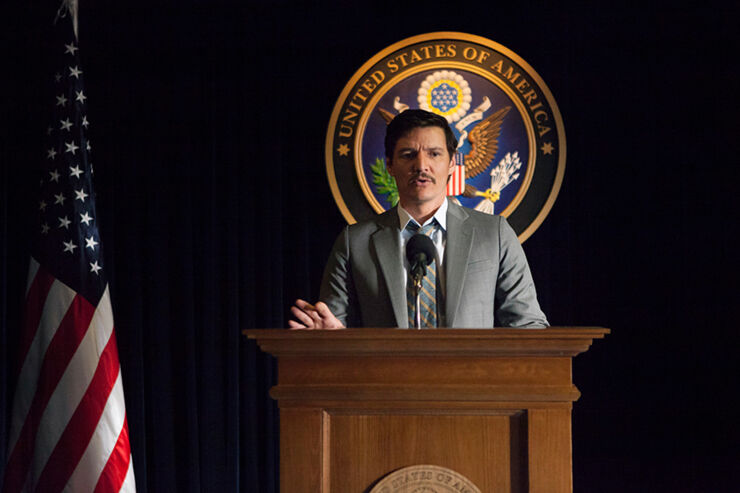 Pedro Pascal in Narcos season 3. Image: Juan Pablo Gutierrez / Netflix
After the conclusion of Narcos season 3 you might think it safe to assume that Pedro Pascal's Javier Pena is still in for a fourth season, whether that be focusing on Mexico or else.
"I would not assume that." Newman told THR when they asked about whether Pena would be heading to Mexico. "I think we may do something really interesting that surprises people." Newman also said that an entire new cast may come on aboard for Narcos season 4. "It's definitely on the table." he noted.
And remember (spoiler alert), towards the end of Season 3, in a conversation with his father about Mexico, Pena says he's "through", even though in real life, he actually wasn't through at all and continued working for the DEA in Puerto Rico, Texas and Colombia until his retirement from the DEA in 2014.
But let us not forget that Season 3 of Narcos did the almost unthinkable for a TV series (and it's audience) when it killed off drug lord Pablo Escobar, the protagonist on Narcos season 1 and 2. So we have come to expect that in the Narcos universe nothing is for certain when it comes to our favorite cast members returning.
Will There Be a Narcos Season 5 Series?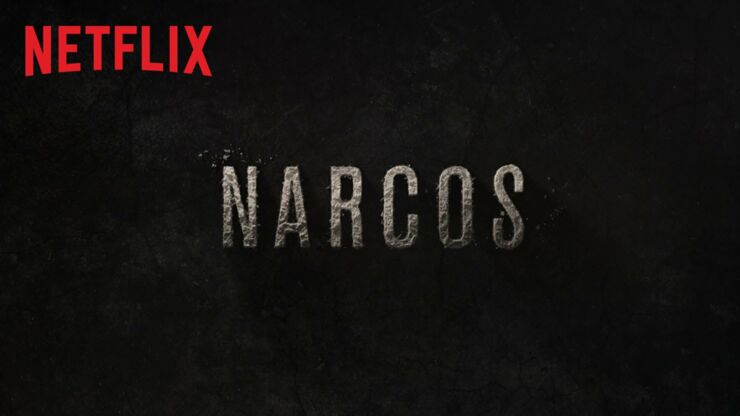 Image: Netflix
Although Narcos season 4 is definitely on the cards as Netflix have already renewed the show for it. They haven't yet given the go ahead for season 5. But it's something Newman would certainly be interested in. "I would very much like the show to go beyond season four. It seems like there is an opportunity to pretty much go into the present." he said.
This is something that was also reiterated when Newman spoke with CNN, saying, "We plan on stopping when cocaine stops." It would also give the show ample opportunity to bring the drug trade up to the present day, possibly finishing on the dramatic arrest of El Chapo by the Mexican Navy's Special Forces. Which happened at a hideout house in the city of Los Mochis in northern Sinaloa on 8 January 2016.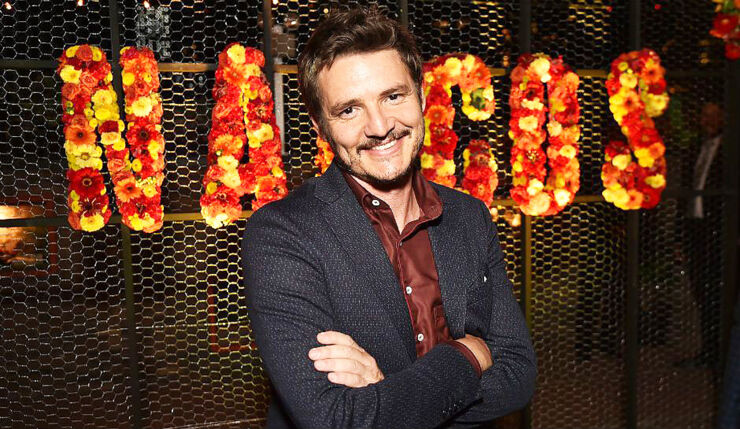 Pedro Pascal (Javier Peña in Narcos) - Image/Theo Wargo/Getty Images