Roberto Escobar, Pablo Escobar's Brother, Is Suing Netflix For $1 Billion Over 'Narcos'
On 11 September 2017 Carlos Munoz Portal, a location scout for Netflix's Narcos show was shot and killed. Since it happened Roberto Escobar (drug kingpin Pablo Escobar's brother) has revisited a trademark dispute the Escobar family is having with streaming service Netflix, over the show that's depicted his brother's rise and fall as leader of the Medellin Cartel and Colombia's cocaine kingpin. in a letter to Netflix Roberto stated "If we don't receive it, we will close their little show."
In an interview with The Hollywood Reporter the 71-year-old Roberto Escobar (aka Roberto De Jesus Escobar Gaviria) said that Narcos producers aren't fully equipped to deal with the dangers and film in places that are cartel territory in Mexico and Colombia. He suggested hitman should be hired to accompany location scouts.
Munoz was looking for locations in Mexico for Narcos season 4, which is expected to follow the rise of the Juarez cartel, and possibly its infamous leader El Chapo. It follows on from Narcos season 3, which started streaming recently, and which deals with the Cali cartel who filled the vacuum and headed up Colombia's cocaine trade after Escobar had been killed.
Roberto Escobar Demands $1 Billion From Netflix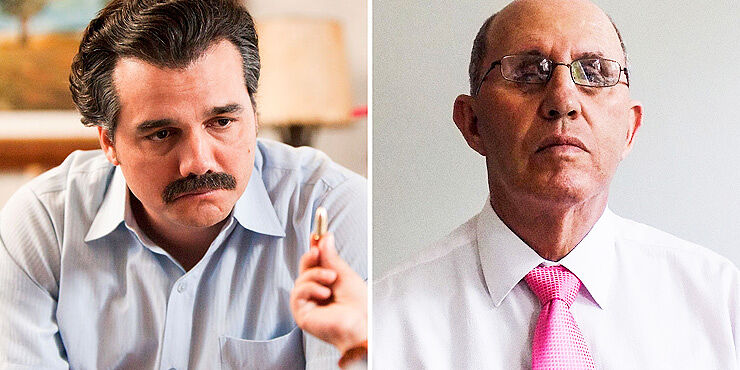 Wagner Mouras as Pablo Escobar (left) & Roberto Escobar (right) / Images: Netflix & Hollywood Reporter.
Roberto Escobar also said in the interview that he was seeking $1 billion from Netflix for intellectual property violations, which he wants paid to his company Escobar Inc. "Netflix are scared.' he said. "They sent us a long letter to threaten us. Right now, we are in discussions with them through our attorneys Browne George Ross LLP to obtain our $1 billion payment. If we don't receive it, we will close their little show."
Since then THR have published an article stating they have obtained the letter sent by Netflix and referenced by Roberto Escobar in the quote above. According to THR the letter was sent by Los Angeles firm Sheppard, Mullin, Richter & Hampton LLP and the site explains, "In it, lawyers for Narcos Productions, LLC (NPL) — the company behind the series and its popular video game spinoff Narcos: Cartel Wars — contend that without NPL's 'knowledge or consent, on Aug. 20, 2016, Escobar filed use-based applications to register the marks NARCOS and CARTEL WARS with the [U.S. Patent and Trademark Office] covering a range of goods and services.'"
They are services which include, "everything from 'downloadable ring tones' and 'sunglasses, decorative magnets' to 'temporary tattoos, bookmarks and sheet music,' according to the trademark application documents included with the letter."
What Was Disclosed In Roberto Escobar's Letter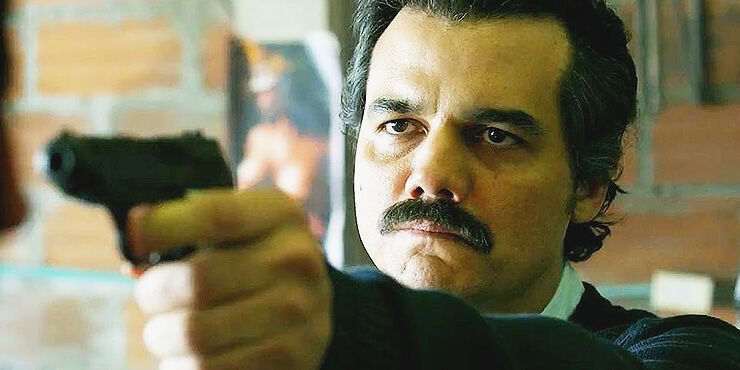 Image: Wagner Mouras as Roberto Escobar's brother Pablo Escobar in Narcos. Courtesy of Netflix.
The letter also says Roberto Escobar's claims are fraudulent stating, "Escobar claims that it has used NARCOS in connection with things like 'operating a website' and 'game services provided online from a computer network' since Jan. 31, 1986. However, the internet had not been developed for widespread consumer use in 1986, nor was the capability to provide audiovisual works nor game services available at that time." In the letter lawyers for Netflix say the company will retaliate if the claim is pursued by suing the Escobar family.
It all seems to be getting quite heated, especially now that Netflix are taking the threat seriously, after they initially ignored it according to the CEO of Escobar Inc., Olof Gustafsson. Gustafsson also noted that, regards murdered location scout Munoz, no one at Escobar Inc. has any knowledge of what happened. "No comment on that. But Escobar Inc. cooperates with all law enforcement." he said.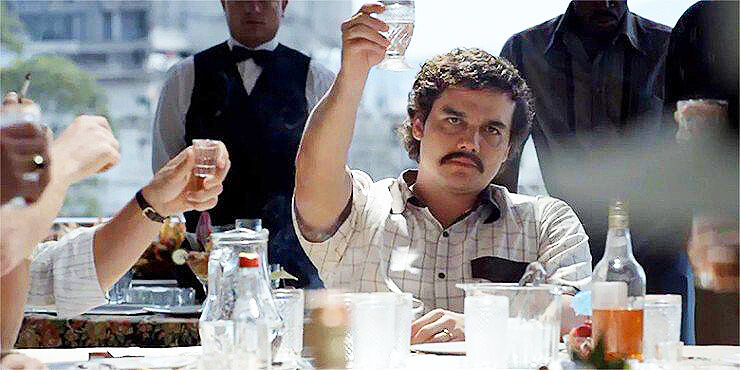 Image: Wagner Mouras as Pablo Escobar in Narcos. Courtesy of Netflix.