The Big Max: Guy Creates Biggest Possible McDonald's Burger—A Huge 3.8 Pound Meat & Cheese Beast
McDonald's has decided to let its diners experiment with their food, inviting them to make their own burger with "Create Your Taste" kiosks at selected restaurants. So you get to choose whatever toppings you want for the staff to then make.
Naturally such a system is open to abuse and so, someone went ahead and abused it.
Moshe Tamssot is that man, who decided to create the most monstrous, ridiculously OTT burger the system would allow. There are some rules he had to abide by, namely, you're only allowed two Quarter Pounder patties and you only get one bun.
BUT, with most of the toppings you can get up to 10 times the amount.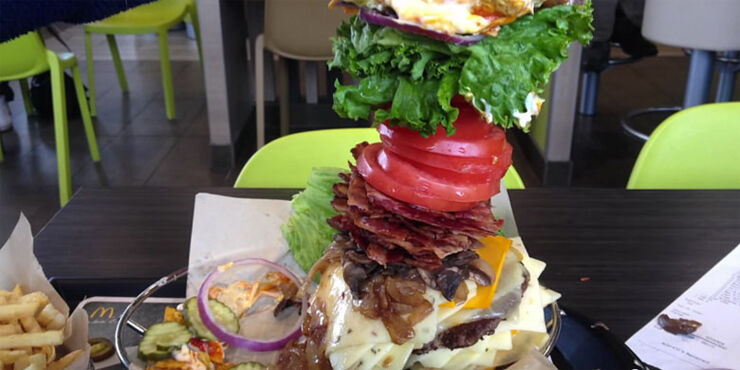 So Tamssot let his creativity run wild and his heart fear for its life, creating what he's called The Big Max. It broke down like this: 10 slices of bacon, 10 slices of white cheese, 10 slices of American cheese, 10 slices of pepper jack cheese, then 10 servings each of red onions, tortilla strips, lettuce, pickles, guacamole, tomatoes, jalapenos, grilled mushrooms, grilled onions, mayo, spicy mayo, mac special sauce, creamy garlic sauce, mustard, ketchup, and sweet BBQ sauce. Oh and a Diet Coke (gotta watch that weight!) and fries too.
He then got a bit of a shock when he took it to the till and it was costed up as $890.90. Fortunately that was soon corrected to $24.89, a bargain for such a mountain of a burger.
Murica. F*ck yeah.