Guy Finds An iPhone On Cliff Edge, Makes Hilarious Video In Attempt To Track Down Its Owner
You have to admire this man's dedication (and his cute accent). David Laffargue lives in Lauterbrunnen, Switzerland and basejumps as a hobby. One time when he was out basejumping his girlfriend noticed an iPhone about 20 meters down a cliff face.
Rather than just shrug his shoulders and chalk it up as a lost cause, Laffargue rose to the occasion. He decided to undertake a search and rescue mission to retrieve it. Such was his enthusiasm he even learned rock climbing so he could scale down and get it.
After a brief setback when he failed his first attempt, he then managed to climb down and grab it.
Naturally, after doing that he looked through the pictures to see if there was anything of interest and discovered a) the iPhone's owner was called Chelsea and b) Chelsea was "hot."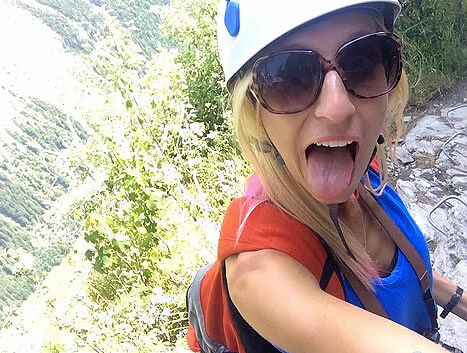 Chelsea
So he then set about finding Chelsea so he could give her the phone back—even though her email was in one of the pictures, he opted for what he called the "fun way" by making the above video, posting it online and letting the internet do the rest.
"I can understand that some people think it's a setup." he explains, "But for me it's just a cool way to contact someone that lost a phone. I had fun rappelling down on that rock, and I'm having fun sharing that video. It's the only thing that matters to me."
Go him. The good news is, after posting the video Chelsea was quickly found after friends and family contacted David. She's currently still traveling but as soon as he gets sent her address David will send the phone back.
She said in a YouTube comment on the video, "THANK YOU David Laffargue!!! You found my phone!!! I sent you a facebook message as soon as I saw this video! You are the coolest guy ever for making this video and for climbing that mountain to get it!! I watched it drop and and knew there was NO way of getting it back. I am so grateful and now I have a really great story to tell everyone!"
And everyone lived happily ever after. The end.