Legless Skateboarder Kanya Sesser Is Also A Lingerie Model & In Training To Become A Paralympian
24-year-old Kanya Sesser was born without legs but that hasn't stopped her from learning to skateboard, model for the likes of Nike, Billabong and Rip Curl Girl, and also begin training for the 2018 Paralympics.
Kanya Sesser's backstory makes her an even more inspirational figure because after being born legless, she was then left by her parents on the steps of a Buddhist temple in Pak Chong, Thailand when she was only one week old. She was raised there by monks for a year then taken to Bangkok hospital. After living with an older couple in Thailand she was eventually adopted and went to live in Portland, USA when she was 5.
Over the years she grew to love sports and now practices a variety of them, along with doing her modelling. One of those sports is skating and she even uses a skateboard in place of a wheelchair to get around. Sesser surfs too, hikes, plays tennis, wheelchair rugby, wheelchair racing, and wheelchair basketball. She also learnt to walk on her hands. She now lives in Los Angeles and more earning $1,000-a-day working as a lingerie model.
The Kanya Sesser Story Is About Beauty & Strength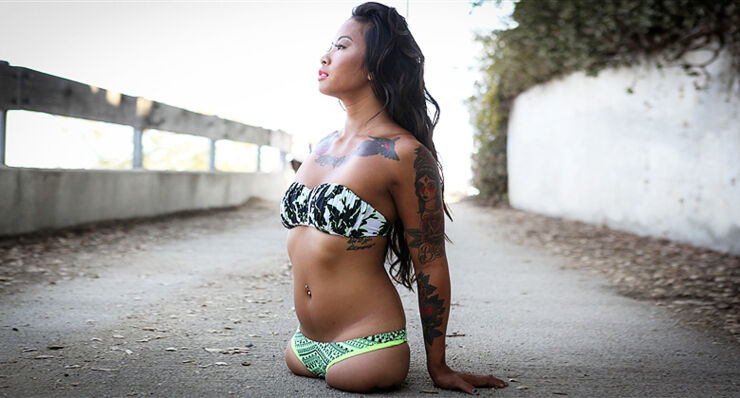 Her modelling began firstly with sportswear but now she models lingerie too. "I love showing people what beauty can look like," Kanya Sesser said. "I don't need legs to feel sexy."
Along with this she's also a motivational speaker, has acted in medical drama Code Black and, as mentioned, is in training for the 2018 Winter Paralympics which are taking place in Pyeongchang, South Korea. She's training to qualify for Team USA for an event known as mono-skiing which uses a single wide ski for going downhill.
She started out modelling when she was 15 and has since become something of an icon, challenging people's notions of beauty. "I was mainly doing athletics shoots then as I got older I got into lingerie modeling," Sesser told New York Daily News. "It's something fun and it shows my story — I'm different and that is sexy. I enjoy making money from it and I love showing people what beauty can look like. These images show my strength."
Check out Kanya Sesser's Instagram page for more. And see some pictures of her below.
Kanya Sesser - The Lingerie Model with no Legs