Daredevil Season 3: Netflix Release Date, Teaser Trailer, Cast & What The Defenders Means For S3
Marvel's Daredevil season 3 trailer, although just a teaser with no release date as yet, confirms there going to be a new season of the Netflix show with the core Daredevil characters Matt Murdock (Charlie Cox), Foggy Nelson (Elden Henson) and Karen Page (Deborah Ann Woll). The 30 second Daredevil 3 teaser trailer (above) was released at San Diego Comic-Con 2016, and the feeling among all Daredevil fans is that season 3 can't come soon enough. There's even rumors of Daredevil Season 3 following the 'Born Again' story arc from Frank Miller and David Mazzucchelli's 1986 Marvel comic books. The bad news is it won't be released this year.
Not a huge amount has been revealed about the plot, but some details have been teased out which fans can mull over. One of which is that Vincent D'Onofrio, who plays Wilson Fisk, is likely to make a return, and be out of jail too after we left him behind bars at the end of Daredevil season 1, which is where he spent season 2.
As for when filming might start, MCU Exchange are reporting that production will begin in October 2017. With Luke Cage and Jessica Jones Season 2 already filming, and the Defenders now streaming, it's a busy time for the Netflix Marvel TV shows. MCU Exchange say they got their information from a source close to the production who tells them that filming is likely to begin in the latter two weeks of October.
What this means for the upcoming Daredevil Season 3 TV show release schedule MCU Exchange conclude, "The 2018 Marvel Netflix release schedule we see is this: Jessica Jones sometime in the spring, Luke Cage in the summer, and Daredevil in the fall."
Marvel's Netflix Daredevil Season 3 Plot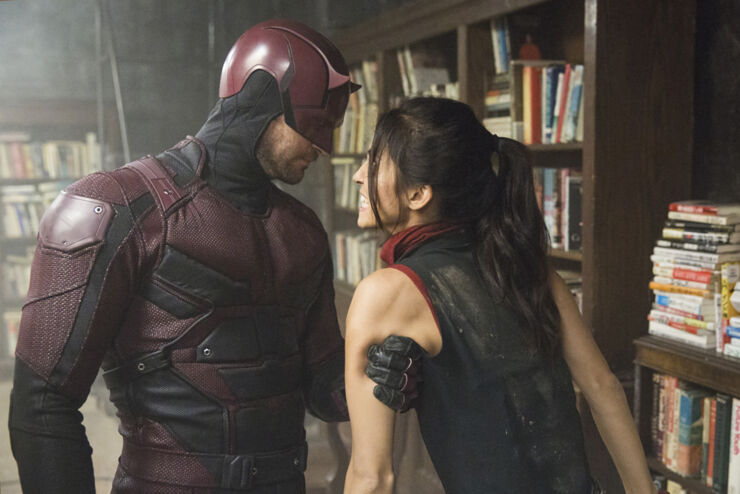 Charlie Cox and Elodie Yung in Marvel's Daredevil season 2. Photo credit: Patrick Harbron/Netflix
In season 3, we can probably expect further development on Matt and Karen's relationship, as well as Wilson Fisk's ominous promise in Daredevil season 2 of making Matt's life a living hell. He also has to deal with the death of his former love and his continuing relationship with Elektra as her demise and subsequent resurrection by the Hand the primary antagonist in The Defenders has caused him to contemplate both his feelings for her and his religious background.
Daredevil and Defenders co-showrunner Marco Ramirez had this to say about Matt's religious beliefs "I think, at the end of the day, one of the things that's always been interesting to me is he is the rare character, not only in comics but in television, that openly and actively believes in God. That's really quite unique in the world of heroes, and especially in the world of prestige cable TV — there just aren't many who openly talk about it; there are people who ironically go to church or who ironically talk about that stuff, but he's an absolute believer. Even in his moments of quiet self-doubt, he's a believer. "
Speaking about Fisk and his possible appearance in Daredevil season 3, actor Vincent D'Onofrio told Collider that he will "eventually" return. "He will, eventually." he said. "Honestly, I wish I knew 'cause I could plan my year better. I know he will come back, I just don't know when. I can't wait to find out. I'm totally into the Marvel stuff, big time. I want to do Marvel, all the time. I love it so much 'cause they're so creative over there. They let you bring this whole new thing to an iconic thing that they invented. It's just so much fun. I love it to death."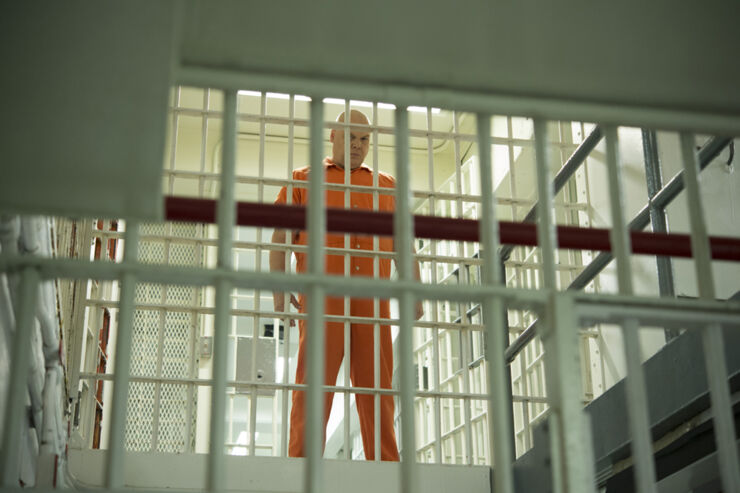 Vincent D'Onofrio as Kingpin in Marvel's Daredevil season 2. Photo credit: David Giesbrecht/Netflix
As for who else might appear, Charlie Cox has hinted previously that he would love to see the Marvel villain Bullseye appear on Daredevil Season 3. "It's no secret, I've said it before and I get in trouble every time I say it, I'd like to see Bullseye make an appearance at some point." he told a crowd at Wizard World in Pittsburgh. "I think it's a really interesting opportunity. Deborah Ann Woll obviously does not want Bullseye to show up for obvious reasons. Elodie Yung, who plays Elektra, doesn't want Bullseye to show up either."
It's not the first time Cox has made comments about his enthusiasm for Bullseye. He's also spoke with Screen Rant too saying, "If we are fortunate enough to continue making the Daredevil series, I can't imagine doing a run of Daredevil where Bullseye doesn't show up at some point. It would be great to have him around at some point. Who would play that part I have no idea but I just think there's such an interesting, rich character there, and also of course, the history that Bullseye has with Karen Page is an interesting dynamic. When you read the comics it's etched in a Daredevil memory all that stuff."
Daredevil Season 3 - Black Widow Appearance?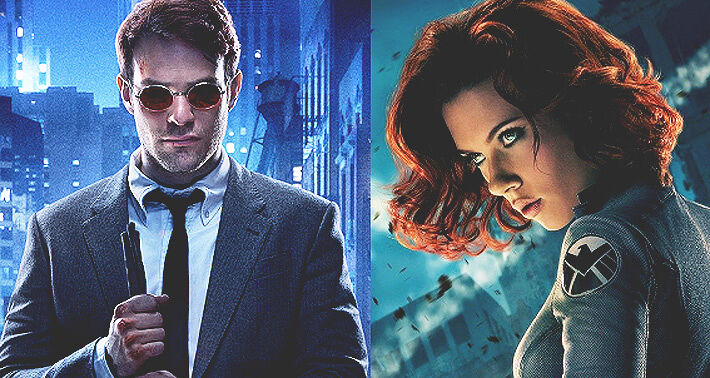 Along with expressing a desire for Bullseye, actor Charlie Cox has also mentioned in an interview while promoting The Defenders in Mexico, when asked who he would like to see brought into the series, that if the series was to mirror the comics, it should also feature Scarlett Johansson's Black Widow in the future. Cox was heard saying how he thinks it makes perfect sense for Natasha Romanoff to drop by Hell's Kitchen.
In the Marvel comics Daredevil and Black Widow date on numerous occasions. Check out the interview below:
Charlie says he wants to have Scarlett Johansson in the Netflix shows since Daredevil and Black Widow have dated in the comics and Finn says "Nice!" They also agree that Mark Ruffalo is the best Hulk! My very rough translation of the question: What Marvel character do you want to have appear in the series? #marvel #netflix #defenders #thedefenders #daredevil #mattmurdock #charliecox #ironfist #dannyrand #finnjones #darefist #randock #jox #bromance
Daredevil Season 3 - 'Born Again' Arc Explained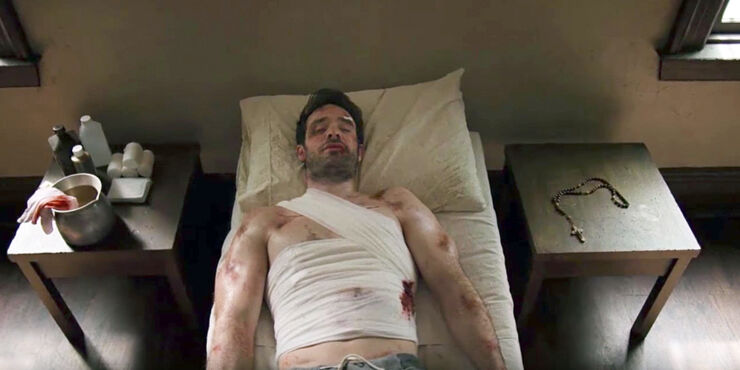 Matt Murdock in the Defenders / Season 1: Episode 8
Although Netflix have been very tight-lipped, so far, about what to expect in season 3 it's certainly going to address the consequences of what happened in the finale of The Defenders miniseries.
The shock ending of the series is thought to have likely set up a story arc from the iconic 1986 Marvel comic books 'Born Again' by Frank Miller and David Mazzucchelli.
It's not been officially confirmed but it's thought that enough clues have been laid that fans have spotted the similarities. For instance the final scene in The Defenders is a mirror of a scene in the comic.
In Born Again arch-enemy Wilson Fisk finds out Daredevil's secret identity after it's sold to him (indirectly) by a heroin-addicted Karen Page. With this information Fisk closes in on Murdock and pushes him to breaking point. He gets the IRS to freeze Murdock's accounts, causes the bank to take his apartment, and gets a police lieutenant to say he witnessed Murdock commit perjury.
Speaking with The Hollywood Reporter about the legendary plot line Cox said:
That's such an amazing story. Everyone who loves Daredevil loves Born Again. You can't not. And if that's the case, then the implications of that would be very exciting to me. That would be great. Having said that, I know we don't tend to follow any story blueprints too closely, because if you do, then you become a foregone conclusion.

There may be elements from Born Again, but I'm sure there will be elements that are unfamiliar and surprising and different in order for the show to be compelling to fans who know the comics very well. If we start making Born Again page-for-page, then the people who have read it and loved it — the hardcore fans — they won't have too much drama.
For more on this check out the videos below.
Daredevil Season 3 Teaser Trailer Explained
Daredevil Season 3 Born Again Teaser Breakdown
Marvel's Daredevil Series Storyline So Far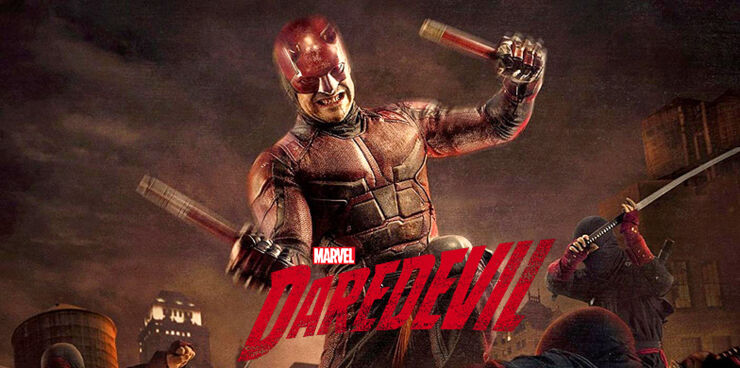 Charlie Cox in Marvel's Daredevil season 3. Photo credit: Patrick Harbron/Netflix
Daredevil season 1 premiered in 2015 and introduced us to the TV show version of Marvel's blind superhero, the alter ego of New York City lawyer Matt Murdock. It also introduced us to Daredevil's nemesis, the villain Wilson Fisk who is also known as Kingpin.
Daredevil season 2 came out the following year in 2016 and showcased Frank Castle, who became The Punisher by the season's end. It also intro'd Matt Murdock's ex-lover and female ninja anti-hero Elektra. Since the first Daredevil Netflix show premiered, the streaming service has also brought out shows on Jessica Jones, Luke Cage, Iron First, all leading up to their superhero teamup, The Defenders.
The Netflix Defenders series is due to air in August 2017.
Along with Daredevil season 3 Netflix are also working on a Jessica Jones season 2 and a Luke Cage season 2, all scheduled to come out after The Defenders.
"I think ideally there will be a rhythm of about every six months you'll get a new season or a new series from the Defenders group." Netflix chief content officer Ted Sarandos has said about the Marvel TV shows. "And then they'll crossover into a combined [Defenders] season once we've launched the first season of each of the four characters. Some will selectively have multiple seasons as they come out of the gate. So they'll probably be two launches a year."
The Punisher Gets His Own Netflix Series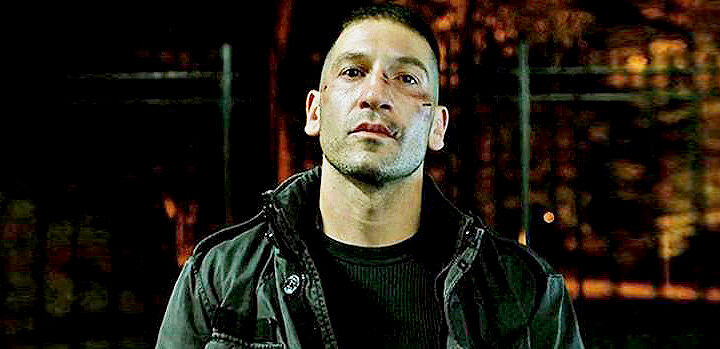 Jon Bernthal as The Punisher in Marvel's Daredevil season 2. Photo credit: Patrick Harbron/Netflix
A standalone Punisher series is also due to drop sometime probably in 2017. It's already finished principal photography, something confirmed by a Jon Bernthal fan site (he plays Frank Castle) who tweeted pics of The Punisher wrap party.
Speaking about the Punisher series showrunner Steve Lightfoot has said: "For me, the complexity and unpredictability of Frank Castle make him an incredibly compelling character and I couldn't be more excited to dive into his world. After watching Jon's performance in 'Marvel's Daredevil' I could not be more excited to be working with him to further develop and progress the story of this anti-hero in a show of his own."
Marvel's Season 3 Daredevil Cast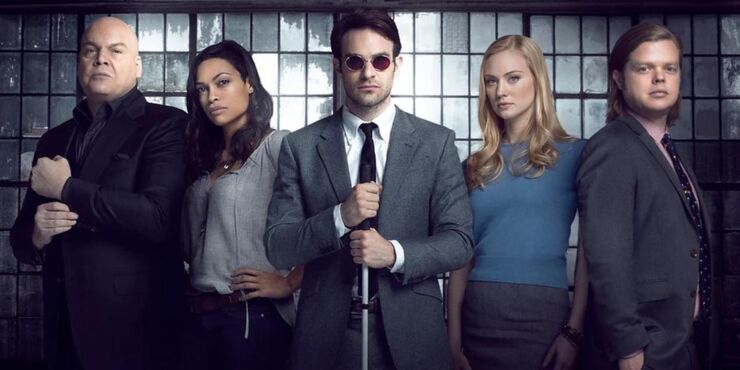 Marvel's Daredevil Netflix cast
Marvel's Daredevil season 3 will see Charlie Cox return as Matt Murdock/Daredevil, along with Elodie Yung as Elektra, and and Stephen Ridder as Blake Tower.
It's also likely that Deborah Ann Woll will be back as Karen Page, Elden Henson will appear as Foggy Nelson, and Rosario Dawson as Claire Temple.
Jon Bernthal may or may not return as The Punisher, but he has his own series coming out, so that probably means it's unlikely.
And as stated above, Vincent D'Onofrio could well be returning as Wilson 'Kingpin' Fisk for the new season of Daredevil. And some rumors have circulated that Jason Statham could star as Bullseye.
Daredevil Season 3 Trailer Breakdown
It wasn't much but after the official confirmation that there will be a new Daredevil season, Netflix released the teaser trailer, and boy did it tease. It does little more than reiterate the show will be returning, but it's all we've got at the moment.
However, for some fans that just wasn't good enough and YouTube channel Emergency Awesome made a complete Daredevil Season 3 Teaser Trailer Breakdown above to try and eek out any and all clues as to what we might be getting when the series airs. It does allude to the show being packed with lots of religious overtones.
Daredevil Season 3 Release Date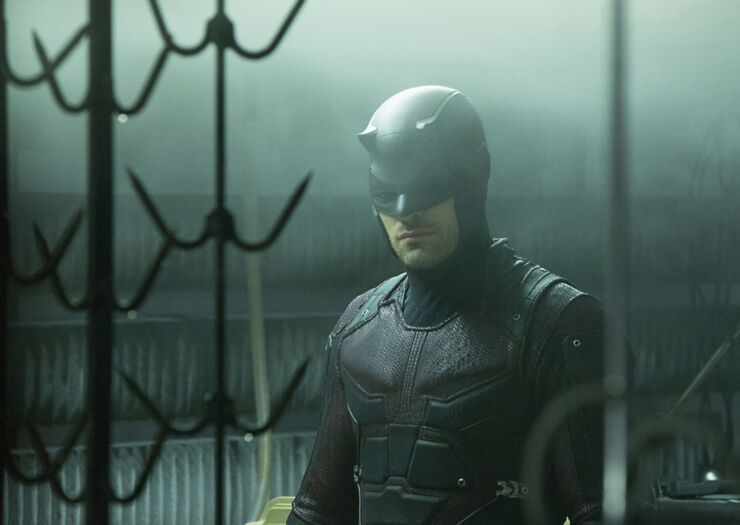 Charlie Cox in Marvel's Daredevil season 2. Photo credit: Patrick Harbron/Netflix
There is no official date just yet on when the Daredevil new season will arrive, but it's definitely going to happen after The Defenders.
Actor Charlie Cox who plays Daredevil told podcast Film and Telly Stuff with Luke and Al about Daredevil season 3 in an April 2017 episode of their show, it will begin filming in the fall. "I do that later in the year." Cox said. "We'll go back and do that."
The only information to come from Netflix about the release date was when the news for season 3 Daredevil was confirmed at San Diego Comic-Con—after it was announced the Netflix Daredevil twitter released a teaser with the only hint being "Next stop: Hell's Kitchen. Daredevil Season 3 is coming soon."
As for when is Daredevil season going to air, well 2018 is looking the most likely, probably sometime towards the end of that year. This is something Cox reaffirmed in his THR interview, saying, "My understanding is we hope to start shooting by the end of this year at some point. Hopefully that means it's out in 2018, but it's not confirmed yet."
For now all we can do is wait. And keep waiting.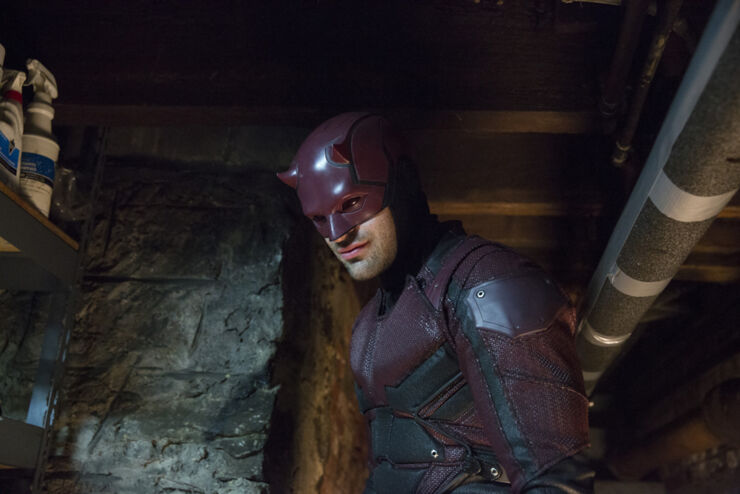 Charlie Cox in Marvel's Daredevil season 2. Photo credit: Patrick Harbron/Netflix