Daredevil Netflix Cast - A Role In The Defenders Points At Return For Father Lantom
Not much information has been released for Daredevil Netflix Cast, but a recent update on IMDB hints at a certain character's return for Daredevil season 3 which airs in 2018. In Daredevil season 1 Matt Murdock (played by Charlie Cox) goes to confession, it's the very first scene in the Netflix series, at a New York church.
Here's he speaks with a Catholic priest, Father Lantom played by Peter McRobbie, and tells the Father he has sinned. Murdock then speaks about his own father, who he says never backed down from a fight, and Father Lantom asks what Murdock has come to asked for forgiveness for. "I'm not seeking penance for what I've done, Father. I'm asking forgiveness…for what I'm about to do." Murdock replies.
After this introduction Lantom appears as a recurring character in the Daredevil Netflix cast for season 1, cropping up throughout the show to offer moral guidance to Murdock. It acts as a critical component in Murdock's transition into the vigilante superhero Daredevil.
In Daredevil season 2 Murdock turned his back on this guidance, and appears to suffer for it. With the season ending with Daredevil in disarray and having lost friendships and struggling with who he really is.
Daredevil Netflix Cast - Father Lantom Returns?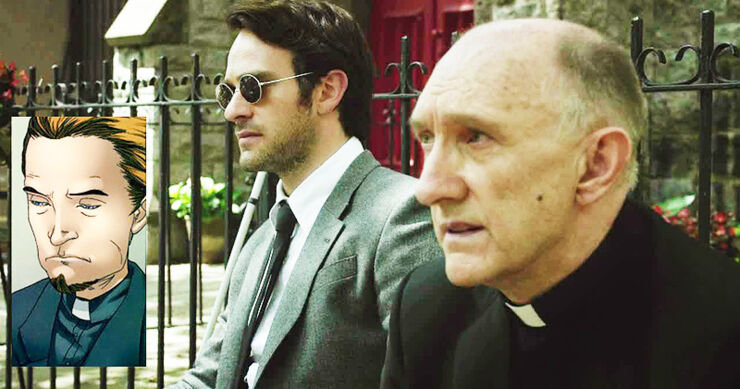 Matt Murdock and Father Lantom (plus how he appears in the Marvel comics).
But now, as MCUexchange.com has pointed out, it looks like Father Lantom is set to return to the Netflix Marvel universe. The site has pointed out that IMDB is listing the actor and his character as appearing in the first episode of The Defenders, the upcoming Netflix show that teams up Daredevil, Jessica Jones, Luke Cage, and Iron Fist.
"Charlie Cox has revealed that when we see Murdock again, in The Defenders, his character will be trying to focus on his non-vigilante life, having seen the ill-effects of Daredevilling." notes MCUexchange.com. So it seems Murdock may be seeking some further guidance from the church and Father Lantom, going back to them perhaps for some soul searching.
In reporting on the story Comicbook.com also said that Father Lantom is set to be returning to the Daredevil Netflix cast in season 3. Although, nowhere on IMDB does it mention this. So far the only names down are Charlie Cox as Matt Murdock/Daredevil, Deborah Ann Woll as Karen Page, and Elden Henson as Foggy Nelson.
Still, it wouldn't be completely off the cards to have Father Lantom return for Daredevil season 3. We'll just have to see what Netflix's The Defenders has in store for Matt Murdock and his priest first though.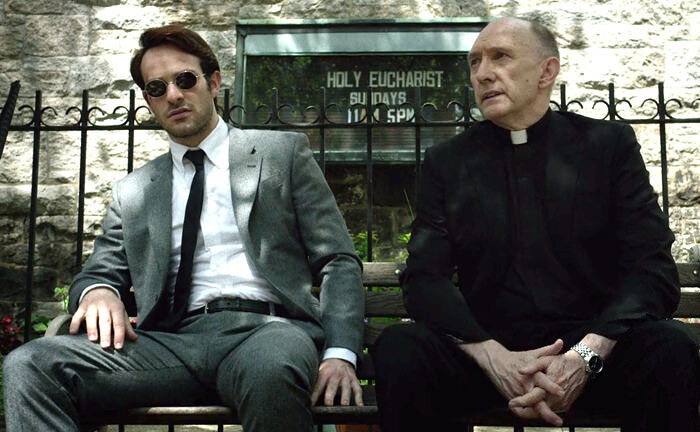 Matt Murdock and Father Lantom. Could the priest return to the Daredevil Netflix cast?