Nigel Stanford Visualizes Music Using Science Experiments Involving Fire, Water, Vodka, And More
In the video for his new track "Cymatics" musician Nigel Stanford uses the science of visualizing audio frequencies to, literally, give his music form. Cymatics is not only the name of Stanford's track but also the name for the science of studying visible sound using audio vibrations.
Stanford conducted the experiments with his friend and director Shahir Daud.
The pair used various different ways and materials to turn the sounds into visual patterns ranging from sand, water, vodka, ferrofluid (magnetic liquid), electricity, and fire.
Each result is visually arresting and very impressive—and you can find out more about how the pair achieved their stunning results on Stanford's website, where he gives a detailed breakdown of each experiment.
The song's not bad too.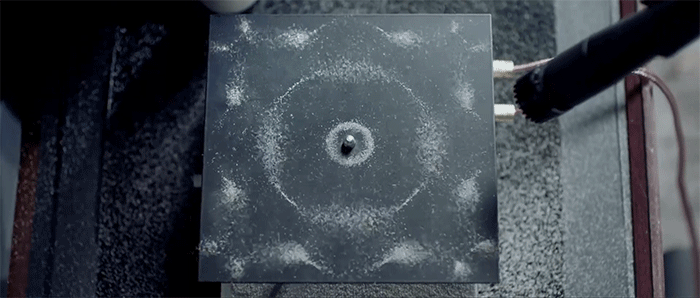 GIF via