How To 'Whip Up' Gin Cocktails With A Twist That Will Satisfy Even The Most Unusual Tastes
Not only are there many varieties of gin cocktails, there are many ways you can serve them too. Perhaps none more so strange (and by strange i mean 'STRANGE') than the one featured in this video, which comes courtesy of British wine and alcohol retailer Oddbins. it's proof that first impressions can sometimes be very deceiving.
It starts off innocently enough, with a woman informing us she's going to demonstrate how to make some gin cocktails, and chooses a notable one called a Kiwi Envy. She then begins to start the preparations and concocting the drink, muddling up the kiwi fruit that will go in it. And pouring in some Aviation American Gin.
Then, just before she adds three quarters of an ounce of elderflower liqueur, a groan can be heard off screen (making you wonder what sort of gin cocktails are being made there)—and is somewhat unusual to hear.
Our intrepid mixologist continues with her cocktail though, adding in syrup, then things get a little bit more suggestive as she puts a little too much emphasis on the word "hard" when she says, "Give it a good, long, hard shake." You also realize the tone of her voice and facial expession is conveying something altogether different.
When Your Gin Cocktails Start To Get Very Spicy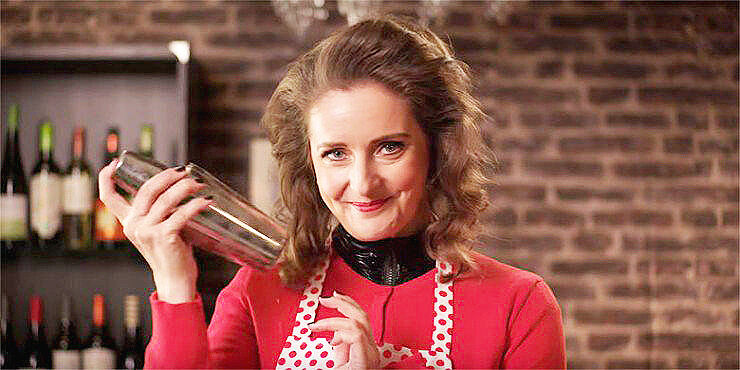 From here on the whole thing takes a slightly salacious turn of events, mixed with more groans off screen, before the cocktail is finally poured and then, comes the serving. And we finally find out the source of all that groaning.
For most of us it's probably not standard practice to serve your gin cocktails splashed in the face of a half naked man wearing a gimp mask, while you're dressed in a dominatrix outfit. But that's how the serving suggestion goes down here. Which is nothing if not unique, slightly strange, and possibly very British. So lets not judge.
"Everyone knows Oddbins for its wine and craft beer range. This video is designed to highlight our unique spirits proposition as well." explains Lyndsey Gibbons, Oddbins Marketing Manager. "Hopefully it will generate a few giggles as well. In a dangerous world that's gone completely off its rocker, 'Oddbins' is as good a safe word as any." If you're like me you immediately put 'Lyndsey Gibbons' into Google to see if she was the lady in the video.
If you want the recipe for the Kiwi Envy, you can find it on Oddbin's website here. As for the serving suggestion, that's entirely up to you. Personally, whenever i wear a gimp mask i prefer to drink a cocktail through a straw.