Meet Ryan Elder The Guy Behind The Weird And Wonderful Rick And Morty Soundtrack
The Rick and Morty soundtrack is mainly the work of one guy, and that guy is Ryan Elder. In this video interview from Great Big Story Elder recounts what it's like to compose a soundtrack for one of the most unconventional, hilarious, poignant, and absurd animated shows on TV there has been for a long time.
The video opens with Elder explaining that when he gets a music request for the Rick and Morty soundtrack, he never knows what to expect. And any fan of the show will know why. Because, as the show centers around a bored alcoholic scientist genius who goes on bizarre adventures across the multiverse with his grandkids, the narratives take place in all manner of strange lands.
It then cuts to Dan Harmon, one of the co-creators of the show along with Justin Roiland, who's on the phone to Elder asking to know what a frog planet's instruments might sound like. Cut to Harmon then tasking Elder with coming up with a Rick and Morty soundtrack for an intergalactic race riot that's also a love story. Or how about scoring a royal march for an insect species that thinks it's koalas?
Ryan Elder Creates The Rick And Morty Soundtrack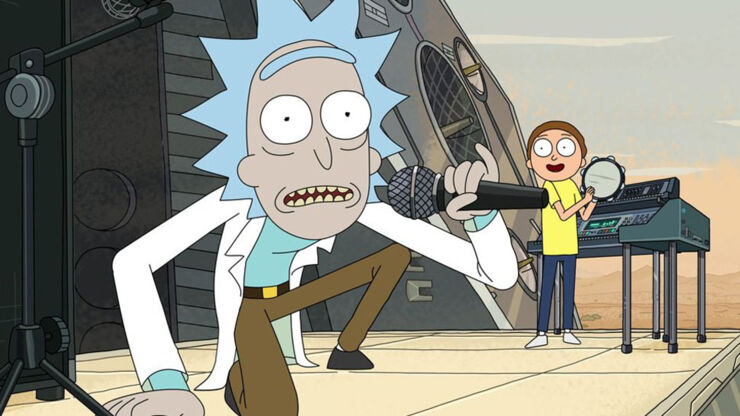 Yeah, not your average everyday composing requests, but then Rick and Morty isn't your average TV show. Elder is also responsible for the Dr. Who-esque theme song that accompanies the opening credits and is iconic among fans. But, although working on the Rick and Morty soundtrack no doubt sounds challenging, it also sounds like a lot of fun too. Like when Elder talks about in season 1 episode 2 where he had to score an alien bondage dream sequence. "Took awhile to figure it out," he notes. "But when I realised I could use a Gregorian chant as a background it really came together."
He also talks about the Get Schwifty episode and making an alien band's instruments sound like they were from another planet by using percussion instruments from across the globe. And he also mentions writing the brilliant David Bowie-esque "Goodbye Moonmen" (see video below) which he sings backing vocals on. In the episode it's sung by the character Fart—voiced by comedian and actor Jemaine Clement—a gaseous being who Morty befriends—and then has to kill.
Elder also reveals that in the Rick and Morty soundtrack he also likes to hide Easter Eggs. He reveals one such easter egg which is a background song in season 1 that also appears on the radio in a season 2 episode, but then leaves it for fans to hunt out the rest. You have to admit that Ryan Elder has a pretty great job.
Meanwhile, In Other Rick And Morty News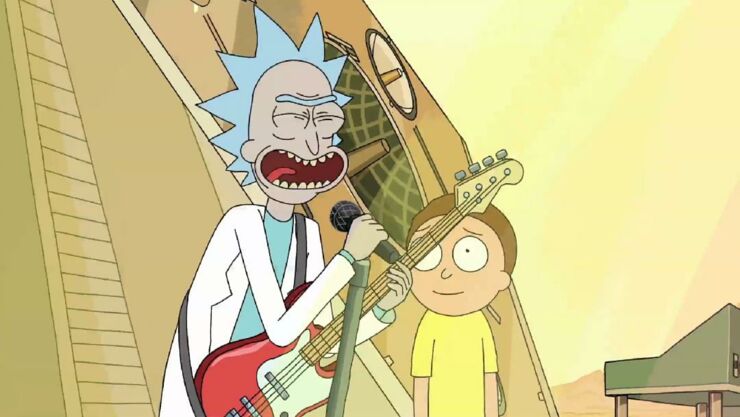 Rick getting schwifty. Image via Adult Swim
In other Rick and Morty news season 3 is finally back on our screens. So yay. And also, perhaps in one of the biggest signs of just how big a cultural influence the show wields on the real world, McDonald's have brought back the Mulan Szechuan sauce that was a running gag in season 3 episode 1.
The McNugget dip hasn't been around since 1998 and McDonald's brought it back especially for the show, sending Roiland his own jug along with a note full of Rick and Morty jokes. How frikking cool is that.
The Moonmen Music Video Feat. Fart And Morty
"Goodbye Moonmen" is about the cleansing. The lyrics are referring to our voyages to the moon and mankind's desire to "infect" as many other places as possible with our presence. Fart's species sees this as positive proof that we, like all carbon-based lifeforms, are a disease that needs to be eradicated for the good of the universe.