Netflix Stranger Things Season 1 Gets Summarized As 1980s 'Level Up' Video Game Trailer
If for some reason, say you've been trapped in a parallel dimension, you haven't heard of or seen Stranger Things season 1 on Netflix, then it's time to play some highly amusing catch-up by watching this summarized Nintendo-style video game trailer. The streaming service have turned the plot and the cast of Stranger Things season 1 'The Upside Down', with Will, Dustin, Mike, Lucas, Eleven, Chief Hopper, Nancy, Barb (RIP), the Demogorgon, and the rest into two-and-a-half minutes of Stranger Things 1980s style RPG video game.
Sure, it's probably going to confuse those who haven't seen the nostalgia-hued breakout hit from last year more than educate them. But it's still very well done, and completely on brand with why a lot of people feel in love with Stranger Things in the first place. Who could possibly resist Toaster waffles as power-ups and a Sass bonus.
Titled 'Stranger Things Level Up' it comes across like an 8-bit Nintendo game, complete with blip blop music, along with bonus points for sass or bravery. We also get Eggos as health items in your inventory, and the fate of Barbs becomes a choose-your-own-adventure. Which, of course, doesn't end with Barbs choosing life.
Netflix Stranger Things Season 1 Video Game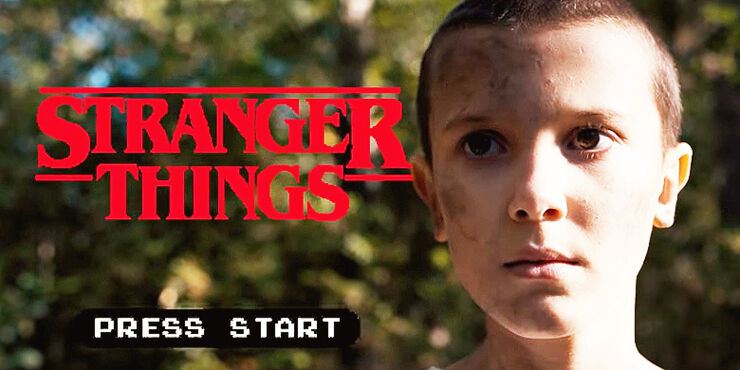 Stranger Things Season 1 | Level Up | Netflix - Image: YouTube / Netflix
All in all, it's a lot of fun. And makes you wonder why they haven't cashed in and made a tie in retro Stranger Things season 1 game for real, especially since it plugs right into the background of the boy characters in the show as well who are quite obviously gamers. Even Eleven (Millie Bobby Brown) gets in on the retro gaming action with multiple points scored for making school bully Troy (Peyton Wich) pee on himself.
Still, it should keep fans a little bit sated until the release of Stranger Things season 2 on Neftlix on October 27th, which they've been waiting on for some time, and getting teased with since February 2017.
As for what fans can expect, after the misadventures of Stranger Things season 1 the second season will see the return of Eleven, who has been communicating from the Upside Down using telepathy, along with promising an even more terrifying monster than the Demogorgon—a new spider-like giant beast that may or may not make it across the dimensions to terrorise Hawkins, Indiana.
The Duffer Brothers & Shawn Levy On 'Upside Down'
And for more on how the alternate reality that is the Upside Down works, check out the recently released video below. Where showrunners the Duffer Brothers, along with executive producer Shawn Levy, explain how it works.