The Undead Terrorize A Polish Town In SA Wardega's Epic Zombie Apocalypse Halloween Prank
People like uber prankster SA Wardega love Halloween, with the new series of The Walking Dead season 8 just kicking off Wardega knows that autumn is finally going to get interesting, suddenly the chill in the air and the nights drawing in earlier mean everything to him. Add to that the fact that Halloween is just around the corner as well makes Wardega get excited about all things un-dead and evil, especially when it comes to pranks.
But sometimes you get the feeling that you have to take things to the next level to get the point across, especially when it comes to the internet which is forever hungry, so what's better than a prank. A very evil mega prank?
Pure evil. That's what this prank is. Polish-born SA Wardega (full name Sylwester Adam Wardęga) is the evil genius prankster behind this elaborate and entirely convincing and totally terrifying looking zombie apocalypse, which takes place in a small town in Poland and wreaks havoc on these poor people—and their underwear.
SA Wardega's Zombie Apocalypse Halloween Prank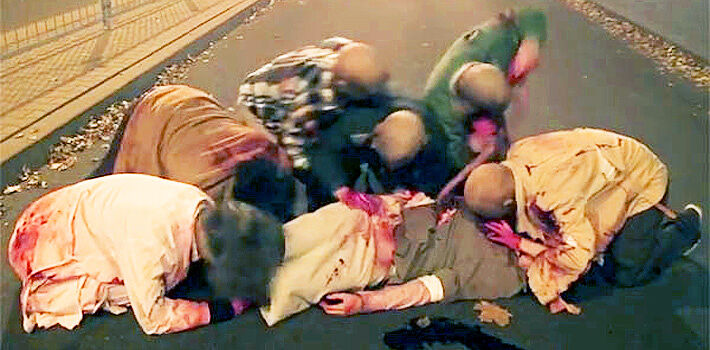 SA Wardega Zombie Apocalypse Halloween Prank / Image sourse: Youtube.
One man is out walking in the woods picking mushrooms, the next thing he's fleeing for his life from people dressed as zombies. In the woodland, on the roads, on the streets, even in a lift. No where is safe for these unwitting victims, who will never be able to watch an episode of The Walking Dead again—at least for a week.
And when they do, they'll get flashbacks to that time they were driving to pick up a take away when they came across a pack of undead monsters in the middle of the road, gnawing on human innards with their teeth.
SA Wardega is a bit of an ace when it comes to creating meticulously involved and terrifying pranks, his last one featured a totally horrifying dog dressed as a spider.
Which doesn't sound that scary but you wouldn't be saying that if you came across it in a foot tunnel late at night.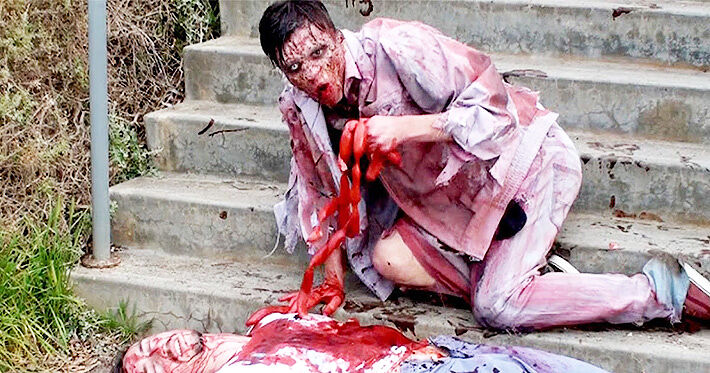 SA Wardega Zombie Apocalypse Halloween Prank / Image sourse: Youtube.