Weird Al Spoofs Robin Thicke's 'Blurred Lines' With Brand New Track 'Word Crimes'
Weird Al Yankovic has been spoofing pop music since pretty much forever—at least it feels like that with his spot on parodies over the years like "White & Nerdy", "Eat It" and "Like a Surgeon". Along with his tireless work ridding the world of bad grammars.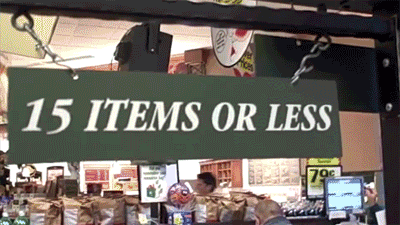 And his new track picks up where this GIF left off. Parodying Robin Thicke's "Blurred Lines" while stealing the bass and melody "Word Crimes" is all about crimes against the English language. Featuring sexy dancing punctuation marks Weird Al sets us straight on exactly what a contraction is and when not to use an apostrophe in "its". Thanks for the lesson, Al. The internet needs it.
Yankovic's new album Mandatory Fun drops today and he's releasing eight tracks over eight days to make sure we don't forget about it. The first video came out yesterday and was a spoof of Pharrell's "Happy" called "Tacky" chastising people with no social graces. It also features a twerking Jack Black. You can watch it below.