Satirical Life Coach JP Sears Has Some Hilariously Passive Aggressive Relationship Techniques
When it comes to spirituality in your life, emotional healing coach JP Sears is there for you. At least, it seems that way. But actually this "international teacher, world traveler, and curious student of life" is just a parody.
JP Sears has been making his very funny, and very spot on, satirical videos for a few years now. Putting them out on his YouTube channel in the long running series "Ultra Spiritual Life"—which is also a book too.
His perfectly pitched life coach character gives advice on all matters New Age. From how to become gluten intolerant to the best uses for coconut oil. Or answering the really important spiritual questions like "How to Take Yoga Photos for Instagram."
From the patronising hippy vibe to the faux-reassuring way he talks to the camera, JP Sears really nails that whole New Age guru thing. For his latest amusing video he tackles relationship matters, particularly the matter of how to be a passive aggressive a-hole and totally crush your partner's self confidence.
Because no one likes to know where they stand when it comes to having a girlfriend of boyfriend. Instead they like to just be threatened in a vague manner, while receiving back-handed compliments and snarky comments.
JP Sears Advice On Passive Aggressive Relationships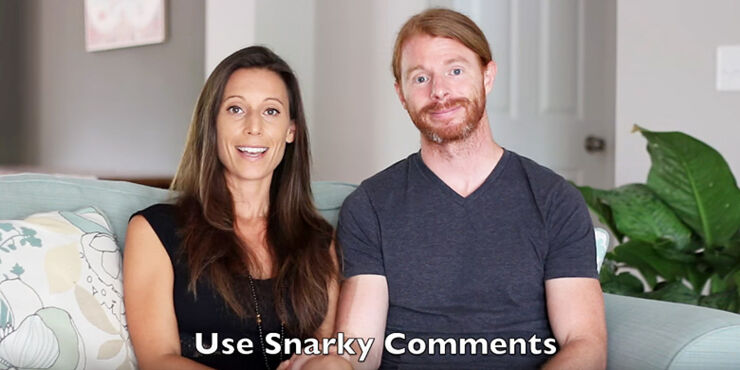 So if you were looking for ways to better your passive aggressive relationship techniques, JP Sears has got you covered. From the cold shoulder treatment like just walking away mid-sentence when your partner is talking to you, to throwing down some totally inappropriate snarkiness or just constantly putting them down. These are surefire ways to be a total jerk. All delivered in the manner of a self help video. It's brilliant.
"My work is intended to empower people to empower themselves to live more meaningful lives." notes JP Sears on his website. "I run a very busy one-on-one client practice (most sessions are via skype) where I'm fortunate enough to work with people everyday on healing their hearts, resolving self-sabotage, and stepping into their true power. And if the formal credential side of things is important to you, I hold certification as a Holistic Coach Advanced Practitioner through the Holistic Coaching Institute in Columbus, OH. I also served as a faculty member for the C.H.E.K. Institute from 2006-2013. Most importantly, I have red hair, blue eyes, a caring heart, and a warped sense of humor."