Lonely, Single And Male? Learn How To Master Online Dating With This Expert Advice
For guys, finding a date can be tough. And things become especially crappy around Valentine's Day when, if you're me, you find yourself surrounded not by the joyous adulation of your partner who you've showered with gifts and love. But by sad, lonely guys. Drunk, sad, lonely guys.
And you have to look at them and yourself and think, why can't we get a date? Why are we single? We wash daily, we don't look like monsters, we eat with our mouths closed. Mostly. Just what is it that we're doing wrong? Are we destined to spend every Valentine's Day drowning our singledom sorrows with shots of tequila followed by introspection and liver failure?
No. Because help is at hand. And you don't even have to pay for it. Online fashion retailer and style-guru mavens The Idle Man know a thing or two about looking and feeling attractive, appearing desirable, and all that good stuff. They've gone to the trouble of distilling exactly what it is you might be doing wrong—and what you need to do right—and putting it in handy digestible infographic form to teach you how to master online dating.
"When we looked at online dating we found that 8 out of 10 times a man initiates the contact, but only 1 in 4 of those get a response." explains Alex Outlaw from The Idle Man. "So we asked ourselves, why is that? And it's obvious, but so many people get it wrong—it all comes down to your profile. It's integral you get that right. Not too much info but enough for a woman to make a decision on whether you're dateable or just a fleshy, trumped-up portal for your ego."
Writing Your Profile
Make sure you think carefully about how your sentences might be interpreted by a potential date. They're going to read meaning into your words whether you intended it that way or not.
So have fun, but don't be offensive. Write well, but don't be pretentious. Don't write like you're 15 years old either, i.e. lose the txt spk. And pose questions. People like to help.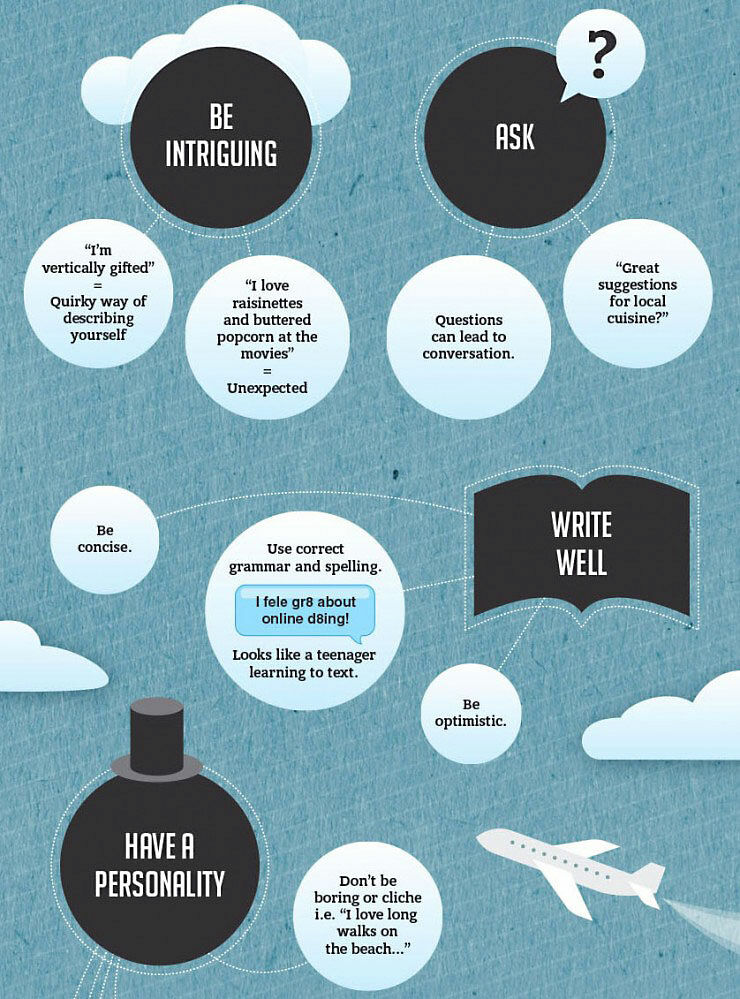 Profile Pictures
A picture speaks a thousand words. An online profile picture is what you're going to be judged on almost immediately. The right pic can be the difference between eating pizza alone in your underwear for the rest of your life, or sharing pizza in your underwear for the rest of your life.
Make sure it's clear, features just you (no exes or better-looking buddies)—preferably smiling but not like a maniac—and go easy on the visual gags. And definitely no shirt-off, abs-out, look-at-this-bulge-in-my-pants wannabe sexiness.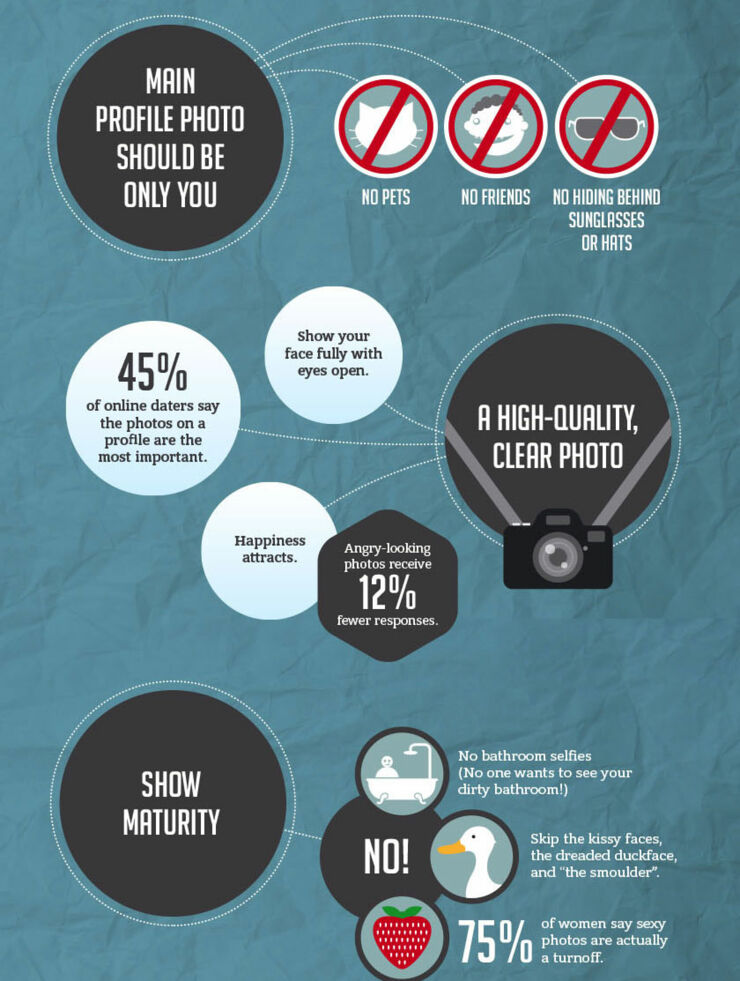 Going on the Date
OK, so you sorted your profile, initiated contact, you're ready for your first date. No problem. You nail the body language—be confident and assured without being douchy—and you're halfway there to making a great first impression.
Keep your arms uncrossed, listen rather than constantly drone on about yourself, and nod along to show you're interested in what they have to say.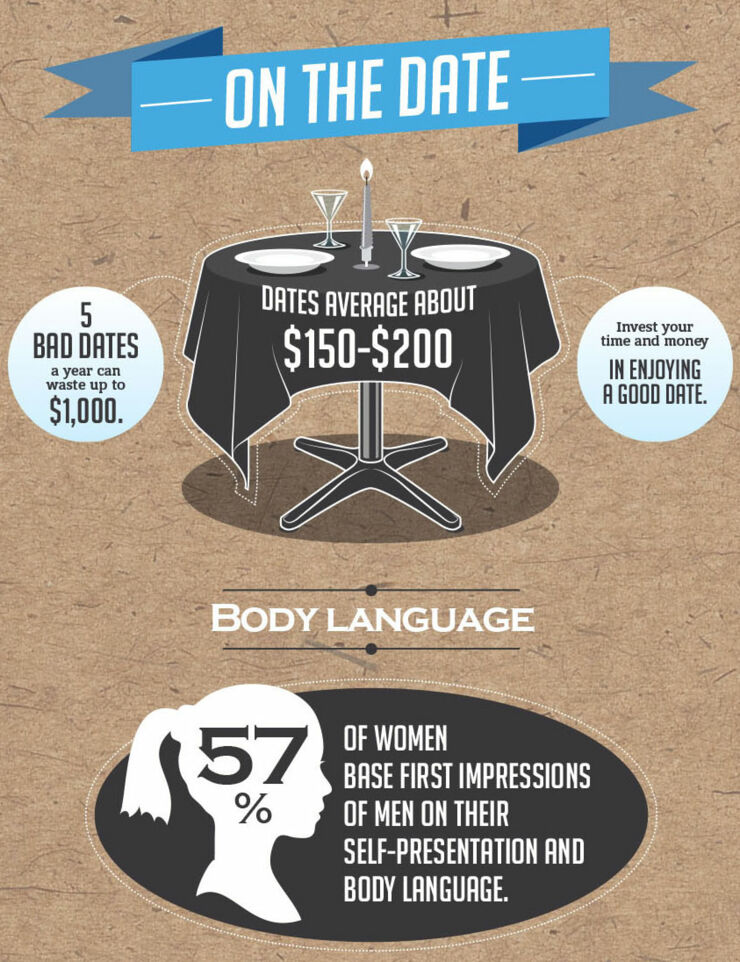 Lastly, Don't Do These Things
It should be as obvious as the crippling loneliness in your woeful life, but there are certain things you never, ever, ever, EVER want to do on a first date. That includes burping loudly, lighting your farts with the candles on the table, going into explicit detail about that time you took a shit in a stranger's tent at Coachella cos you were so wasted.
And make sure to trim your nose hair. Your nose hair may want to be free, but polite society thinks otherwise.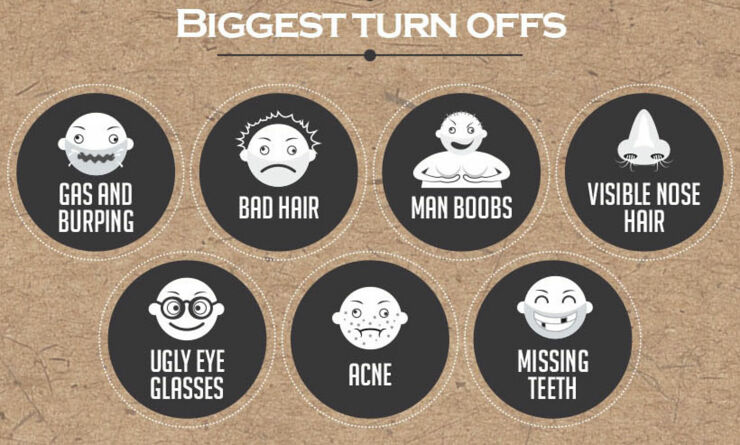 Check out the full infographic from The Idle Man, below. Heed its advice and you'll hopefully avoid growing old alone in a house festooned with empty takeaway containers.

H/T - The Idle Man