This Is What happens When A Rabbi, A Priest & A Gay Atheist Smoke Weed Together & Get Stoned
Everybody must get stoned sang Bob Dylan, and that's exactly the advice these three people take in the latest weed smoking video from Cut Video. It just so happens that these particular three people who smoke weed and get stoned have three completely different ideologies when it comes to religion.
One is a rabbi, one is an Episcopal priest, and the other one is a black gay atheist. The rabbi reveals he's smoked weed before but it was a very long time ago, while the priest smoked back in high school. The atheist? Well he had a joint about an hour prior to the shoot.
So here they all are, ready to get stoned together and have some deep conversations about God and stuff, man. Cut Video are no strangers to these strangers smoking weed together videos. We've seen people on blind dates get baked together, grandmas getting high, and retired cops getting chonged.
Smoking Weed, Getting Stoned & Religion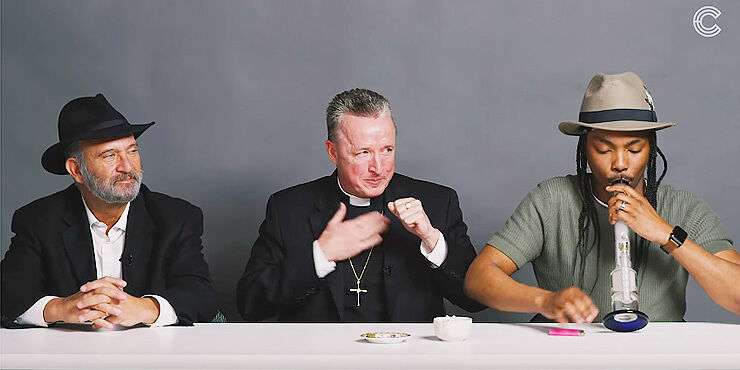 Like those previous stoners, all three of the participants, no matter what their religious preference, are open minded. "I'm here to experience one of God's creations." says the rabbi, James Mirel. The recording of the video takes place in Washington state where marijuana is legal. It's also where Mirel lives and, according to the Washington Jewish Museum has a life "steeped in music and social justice."
The priest, Rev. Chris Schuller, is a former rector of St. Thomas' Episcopal Church in St. Petersburg, Florida but has now left to "minister outside of its boundaries." He didn't curry favor with Bishop Dabney Smith, head of the Episcopal Diocese of Southwest Florida when he posted a video to YouTube in 2015 saying "thank God for marijuana" and asked people to stop "throwing stones at people who are already stoned."
Together with atheist Carlos Dillard they show that getting stoned can bring people together to have some crazy discussions, man. As anyone who's ever smoked a joint will know.
"If it helps you become a better person, if it lifts you up, gives you a new view of life, it's a very positive thing." notes Mirel about smoking weed. Amen to that.